From rustic charm to modern elegance, these Wooden Spool Table Ideas have it all! Your perfect piece of furniture is just a project away!
Instead of discarding empty cable spools, turn them into functional and statement-making furniture with these Wooden Spool Table Ideas! These are budget-friendly and easy-to-make projects.
Read the Best Wooden Cable Spool Ideas here
---
Wooden Spool Table Ideas
1. DIY Stacked Big Wooden Spool Table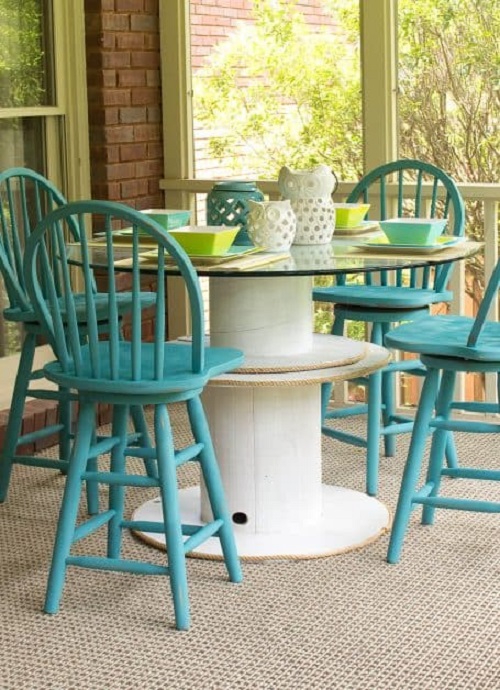 In this project, different-sized wooden spools are stacked on top of each other to create a unique multi-level table. It's a sturdy, versatile option for displaying items or storing books and fits well in industrial or rustic settings. Read the details in this article.
2. Farmhouse-Style DIY Wood Spool Table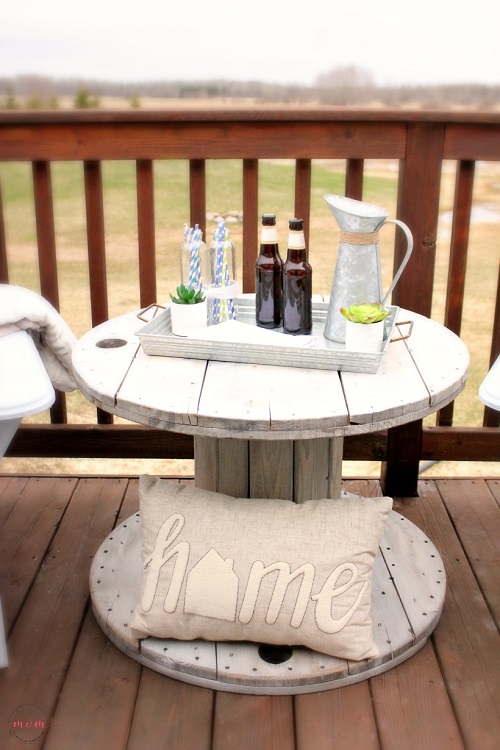 Add farmhouse charm to your space with this wooden spool table. It's an excellent addition to indoor and outdoor settings. You can accessorize the table with throw pillows, metal trays, and other items for added appeal.
3. Industrial Spool Table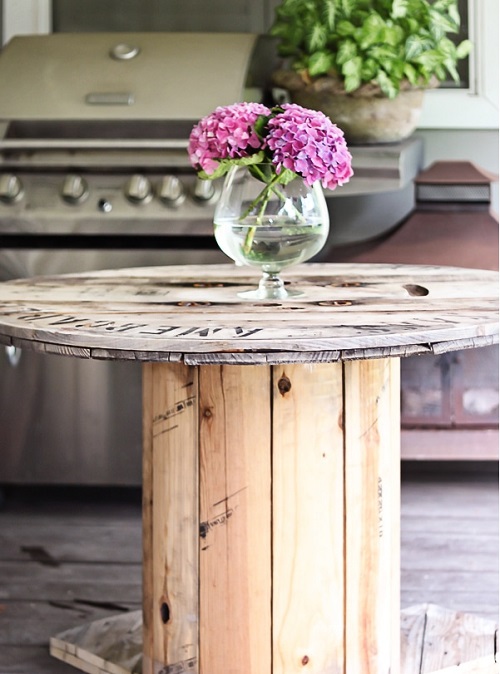 You only need a weathered cable spool with industrial accents to create a statement-making rustic table. With its distinct character and robust build, it's a centerpiece that sparks conversation. Hop to this article for the step-by-step tutorial.
4. Wooden Spool Picnic Table and Chairs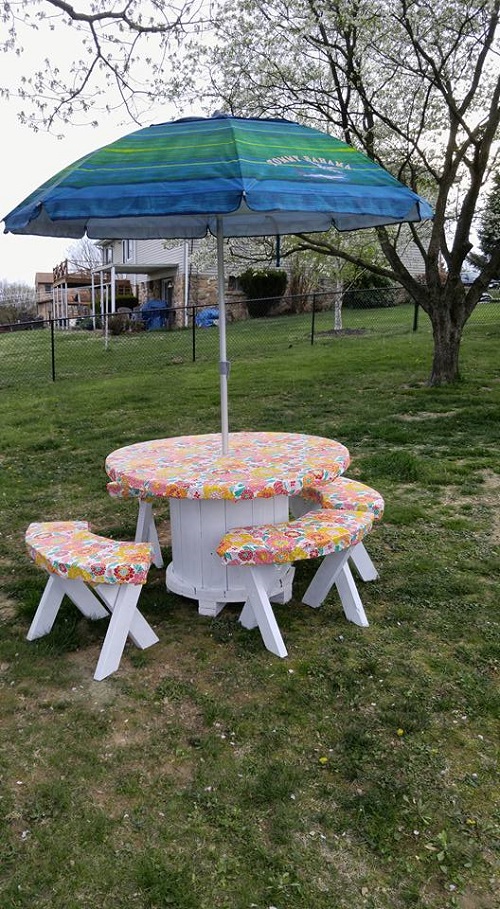 All you need are a few basic tools to turn an old wooden spool into a functional and visually appealing picnic table. Its sturdy construction and round shape make it an ideal picnic spot for family gatherings.
5. Wooden Spool Patio Table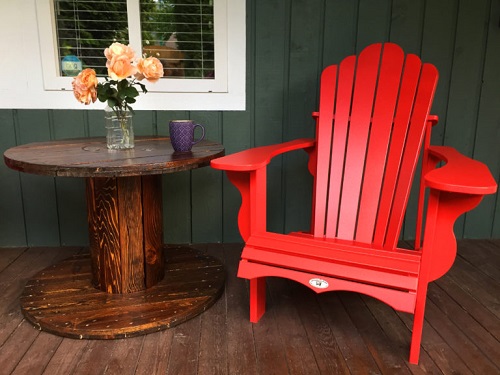 With a few modifications and DIYing skills, you can create a rustic-looking patio table out of a wire spool. Without a doubt, this is one of the easiest wooden spool table ideas on this list. Get the instructions in this article.
6. Wooden Spool and Planter Table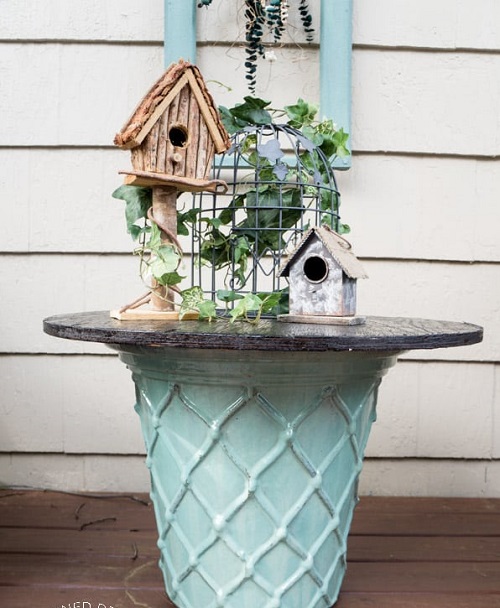 Looking for an easy and creative way to add rustic charm outdoors? Try this table project that requires a cable spool and planter. Perfect for garden parties or quiet Sunday brunches, this rustic table is a great way to promote sustainable living.
7. Small Wooden Cable Spool Table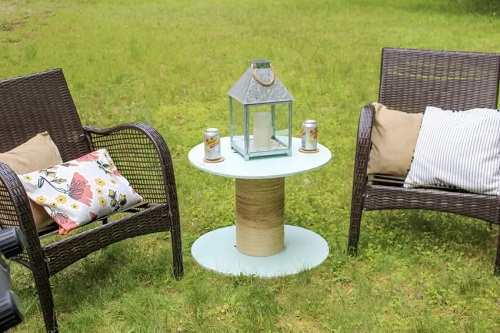 Uncover the secrets of creating an incredible outdoor table from a thrift store-found wooden cable spool right here. It's a super affordable and beginner-friendly project that anyone can do easily.
8. DIY Metal Tub and Wood Spool Coffee Table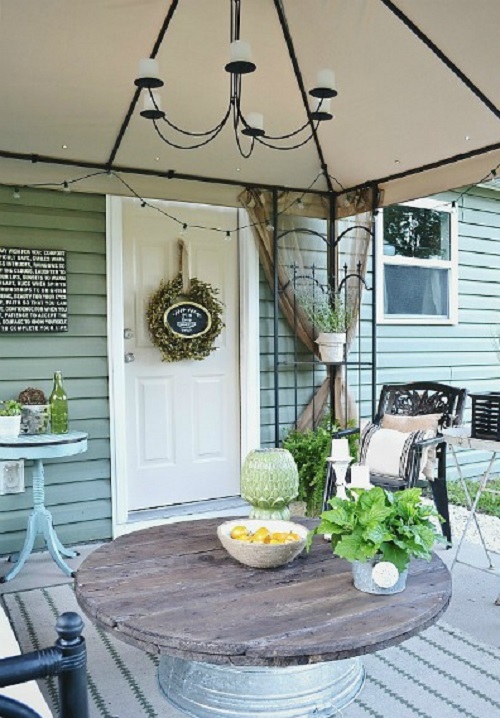 With wood stain, a spool top, and a galvanized tub, you can assemble this lovely coffee table for your porch. If you want to try this repurposing project, go through this helpful tutorial.
9. Decorative Wooden Spool Table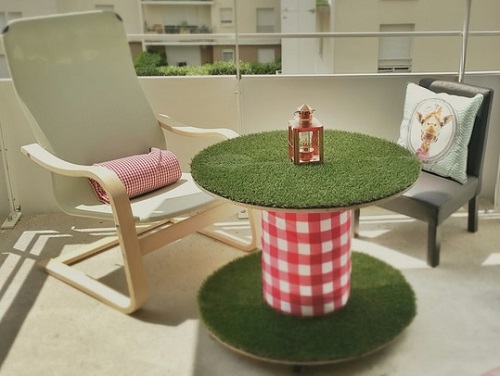 Adorned with tablecloth and faux grass, this display-worthy spool table is a striking centerpiece for every outdoor setting. If you want a rustic look, leave some of the wood exposed. Get the instructions here.
10. Nautical Wooden Spool Side Table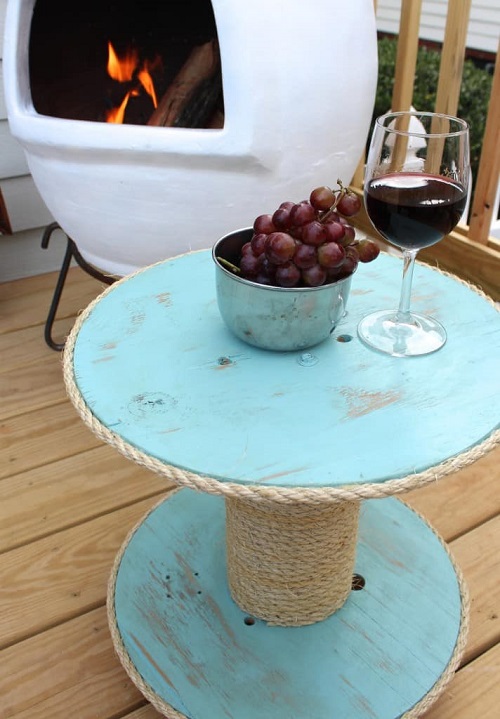 Bring the sea closer with this nautical-themed wooden spool table. Its distressed finish and ropes offer a raw, coastal vibe. Perfect next to an armchair, it's practical yet full of character. Read the details in this article.
11. Rustic Wooden Spool Side Table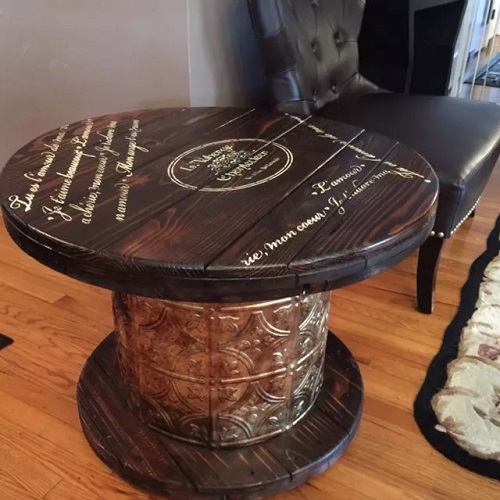 Featuring ceiling tiles, a stained finish, and random phrases, this rustic spool table is best for vintage or countryside-themed decor. Its sturdy, circular structure provides ample surface area for books, a table lamp, or a coffee mug.
12. DIY Outdoor Wooden Spool Table With BBQ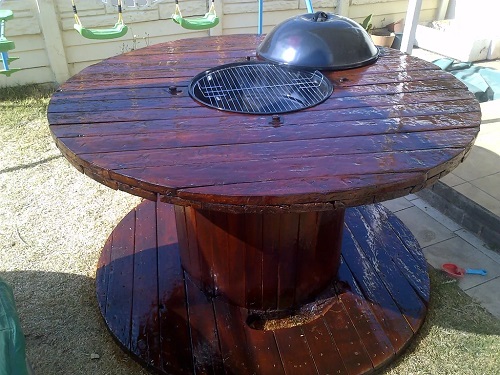 Perfect for cooking enthusiasts, this spool BBQ table is multifunctional furniture. Its sturdy structure can support a grill while providing ample space for all your barbecue essentials. This concept not only enhances your grilling experience but also adds a unique decorative element to your backyard setup.
13. Glass-top Spool Table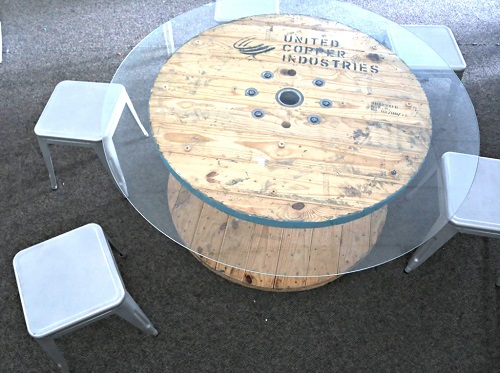 In this instructable, the DIYer converted the copper-wire spool into a dining table featuring a glass top. This setup is great for elevating the look and feel of your living space.
14. Movable Giant Wooden Spool Table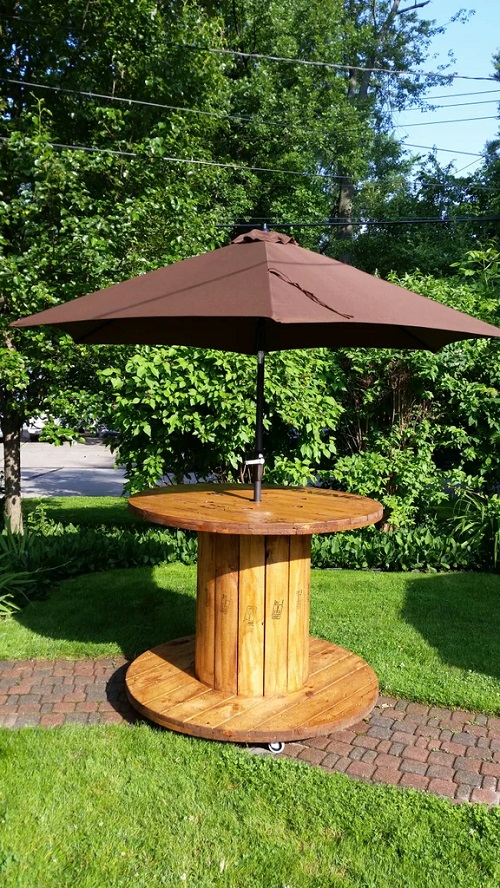 Equipped with casters for easy mobility and a large umbrella, this reel table is a must-have for every outdoor space. It's durable, sturdy and will last for many years to come. Jump to this article for more info.
15. Wine Barrel and Wooden Spool Fire Pit Table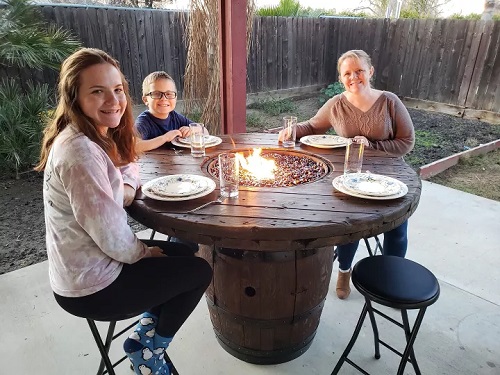 Make your outdoor gatherings more enjoyable with this amazing table. It features a fire pit in the center and a hidden storage space inside the barrel. For the list of supplies and detailed instructions, you can check out this article.
16. DIY Sugar Skull Table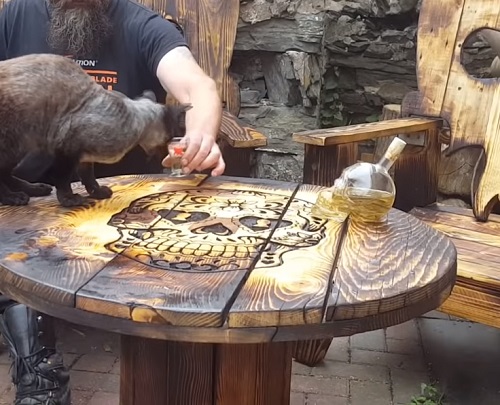 With a nod to Mexican culture, transform a spool into a vibrant centerpiece. In this video, the craftsman beautified a spool table with a sugar skull pattern. Its intricate design and bright colors can breathe new life into any room.
17. Beer Bottle Cap Cable Reel Table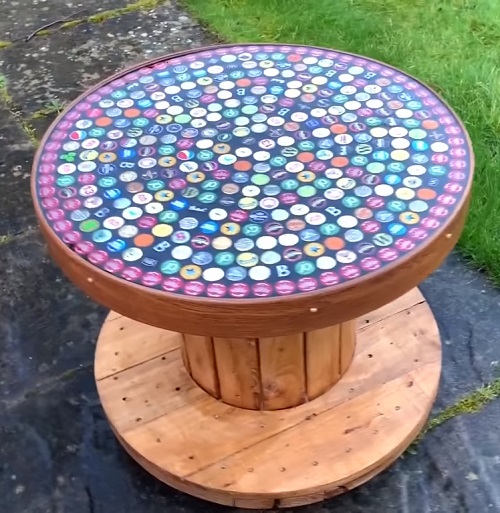 Grab beer bottle caps, a cable reel, epoxy resin, and wood to build an attention-grabbing table. Thanks to the wheels, this table is portable and adaptable to various spaces and occasions.
18. Mosaic DIY Wood Spool Table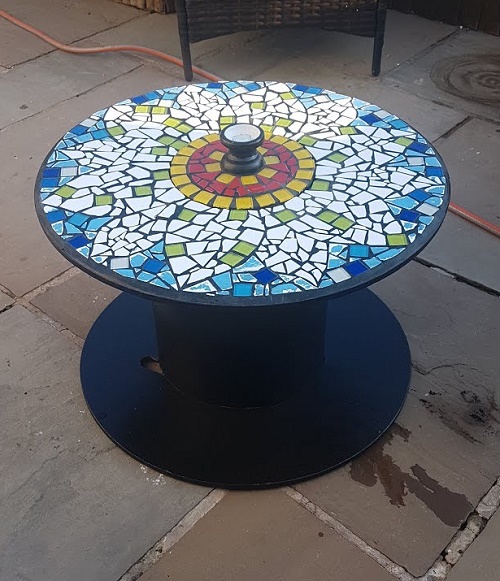 Create a stunning mosaic spool table with this DIY project. It features an array of colorful and patterned tiles. This upcycled masterpiece is a functional and artistic addition to any living space. It contains an ice bucket in the middle for sunny days sat in the garden
19. Spinning Wooden Spool Table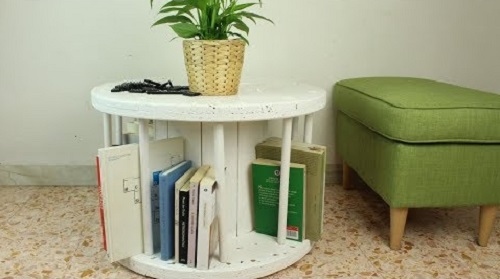 Show off your DIYing skills by making this amazing spinning table. It lets you display planters and store numerous books. Take a cable spool, 8-10 round wooden sticks, and white paint for this project.
20. Hockey Themed Wooden Spool Table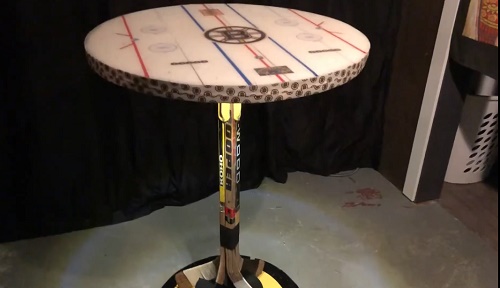 Build this table featuring a cable spool top and hockey sticks legs to give your space a rustic focal point. It's an excellent addition to a hockey enthusiast's home. Whether used as a coffee table or an accent piece, this unique piece is sure to attract a lot of eyeballs.
Here are the Fun DIY Ping Pong Table Ideas