Check out this Button and Twine Map Heart Tutorial to create a unique and creative display for your mantel!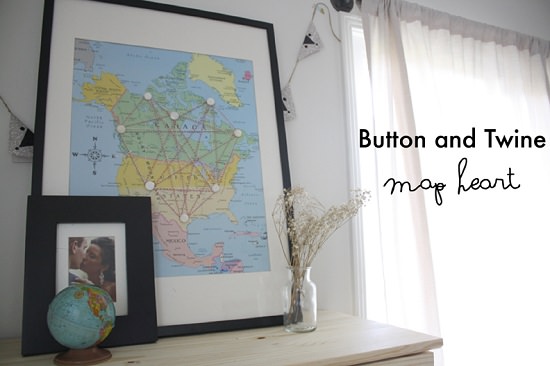 At Buzzfeed, I recently competed in a Craft War and was honored and super excited! I spent days researching and trying to come up with something that was not only doable, but something everyone would love for their home as well!  This was a little daunting at first, but I think this project is quite unique! Who knew buttons could be cute and useful?! I was asked to focus on sewing buttons and come up with something creative and fun.
Button and Twine Map Heart
This amazing wall decal is a perfect Pinterest-worthy piece for your home decor. It goes quite well with any type of decor and has the potential to become a focal point. The best part about this project, it's beginner-friendly, super-economical, and can be completed within minutes. If you want to make a cheap decorative for your abode, follow the below tutorial, you won't regret.
What you'll need

Large printed map (I also used part of this map for this DIY)
Pencil
Plastic Shank Buttons
Hot Glue Gun
Bakers Twine
Scissors
Directions
Make a heart shape on the map using buttons and hot glue.
Once the hot glue dries, grab the twine and wrap it on each button making a heart pattern.
You can use other colored bakers twine as well for a dramatic effect.
It seemed fitting that my heart was placed over Canada and U.S. since I have ties throughout both countries. That's just it, you can make this project as personal as you would like!
If you like this DIY, feel free to check it out on Buzzfeed's page and vote for your favorite button project! I appreciate all your love and support! Thanks, friends!