If you are lacking ideas for a perfect flower arrangement for valentine's day, we have your back with this article!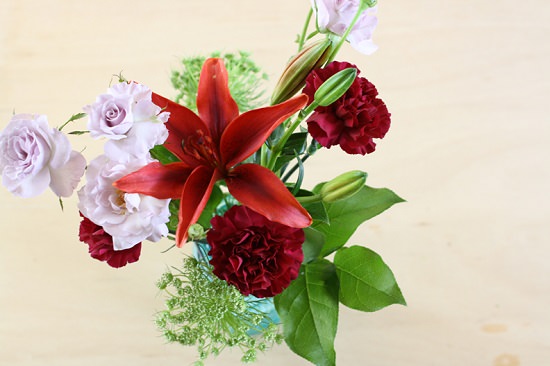 With Valentine's Day just around the corner, I have flowers on my mind! I love it when my husband comes home and surprises me with a store bought bouquet or fresh flowers from the garden. There's just something so romantic and lovely about having flowers in your presence! I decided to arrange a simple group of flowers to add a little romance!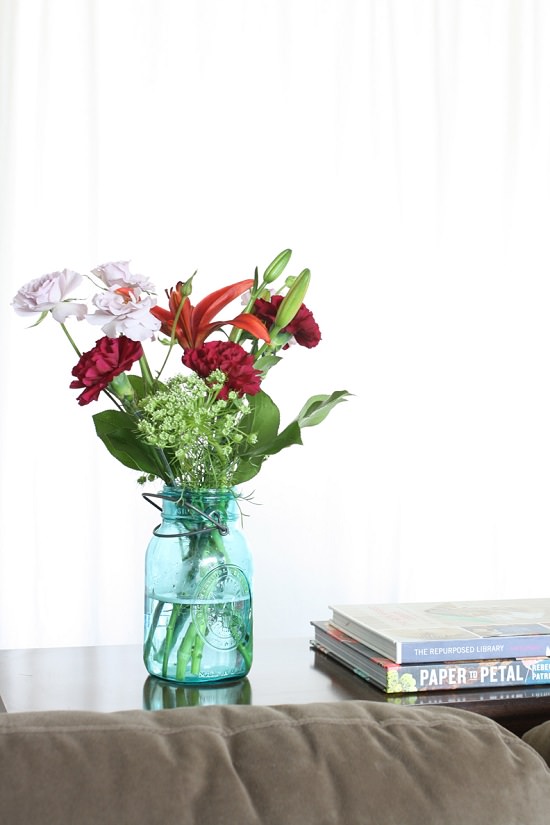 Valentine's Flower Arrangement
What you will need
Carnations (whatever color you prefer)
Roses
Lily
Queen Anne's lace
Greenery (to add the extra texture and volume)
A pretty container (I used a tinted canning jar)
Scissors
Flower preservative (optional)
Water

What to do
1. Separate your supplies
2. Trim the bottoms on an angle according to the heighth you need to fit your container

3. Fill your container with water (optional: add flower preservative to help prevent bacteria from growing)
4. Trim and discard the dead leaves or flowers and start to arrange your flowers the way you would like. I tried to keep it even on both sides, keeping my lily in the center as the focal point

5. Touch up where needed by filling in any gaps with your greenery
6. Enjoy!
This is a very basic arrangement, but I am happy with the outcome. It's texture and colors work well and it's perfect for the upcoming holiday! For now, I've played it safe and made this simple arrangement work for now. Perhaps one day I'll get a bit more experimental and make more of a bold statement! Now the mood is set, hopefully these flowers last until Valentine's – if not, I guess I'll just have to make a few more!
Are you a flower person? What kinds of things do you like to give or receive during Valentine's? This is the perfect kind of gift for the love of your life or best friend!