Can I use Pine-sol on the carpet? If this question is wiggling in your mind, check out this article and get sorted!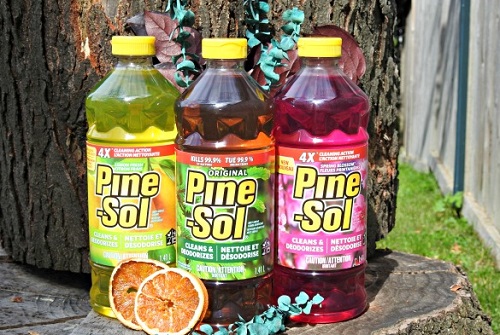 Pine-sol is an exceptional commercial cleaning product introduced by 'The Clorox Company,' which fulfills every household cleaning needs. It is designed to remove stubborn grease and oil stains from appliances, hardwood floors, and other hard surfaces. Unlike bleach, this multi-surface cleaner is non-corrosive and an EPA-approved disinfectant against the coronavirus. If you're still wondering — "Can I Use Pine-Sol on Carpet?" have a look at this article!
Can I Use Pine-Sol on Carpet?
The pine-sol official website; says you can use the Original Pine-sol Multi-surface Cleaner to remove stubborn grease and heavy dirt marks from carpets.
The active ingredients such as Alkyl alcohol ethoxylated, Sulfonic acid, Isopropyl alcohol are proven to eliminate tough stains from all surfaces.
Although it is not an organic cleaner yet, it is safe for topical exposure.
Pine-sol comes in pleasant fragrances such as lavender, lemon, and orange, ideal for blocking away stale odors or pet urine smell from carpets.
How to Use Pine-Sol to Clean Carpet Stains?

Pine-sol is the go-to product in every household that cleans stains and removes unpleasant odors from rugs. To restore the lost glory of your lovely carpet, follow these steps carefully.
Supplies
Unfragrant Pine-Sol (Multi-Surface Cleaner)
Water
A Bowl
Sponge
Directions
Soak concentrated multi-surface Pine-sol cleaner on the stained spot of the carpet and let it sit for 10-15 minutes.
Take a clean, water-soaked sponge or microfiber cloth and rub out the stain from the carpet.
Repeat the above steps until the stain is completely gone.
Caution
Do a patch test on an unnoticeable part of the carpet to test the colorfastness of the fabric.
Always wear premium quality gloves and a face mask while using pine-sol.
Keep the bottle away from children or pets' reach.
Instruct your kids, pets, and elderly members to stay away from the treated area.
If possible, perform the procedure in an open area.
Other Pine-Sol Uses

Besides being an excellent carpet cleaner and deodorizer, pine-sol has numerous uses, including:
Homemade Fly Repellent
Pet Pee Deterrent
All-Purpose Cleaner
Disinfectant
Keeps Bed Bugs at Bay
Paint Stripper
Eliminates Mold
Quick Tip
If you aren't a fan of pine sol, we have some cheap and natural ways to help you out.