Take inspiration from these fun and cutesy Christmas mason jar gift ideas to make presents for your family and loved ones this holiday season!
Christmas has many lovely traditions such as decorating the house, watching movies, making cookies, desserts, and other traditional dishes. One tradition that becomes quite popular with each passing year is making handmade gifts using mason jars because you can pack any stuff like gift cards, spa products, hot chocolate fixings, and many more in mason jars. If you too want to make holiday presents with mason jars, but gift making is not your strong suit, here's a list of adorable Christmas mason jar gift ideas that are easy to make and won't be heavy on your pockets.
Christmas Mason Jar Gift Ideas
1. Golden Pampering Mason Jar Gift

With some bath bombs, a foot soak, sugar scrub, a nail clipper, and a mason jar, you can create an adorable Christmas gift that also doubles up as a blissful relaxation kit.
2. Christmas Mason Jar Treat and Printable Tags

All you need are chocolates, some chalkboard printables, and jars to make delightful Christmas mason jar treats that are perfect Christmas presents for friends, party hosts, and colleagues.
3. Chocolate Mint Mason Jar

Loaded with chocolate and mint-filled sweet treats and self-care products, this mason jar gift is a wonderful Christmas surprise for your loved ones.
4. Christmas Mason Jar Set

As drinking in mason jars is a trend, gifting your guests an entire set of beautifully embellished mason jars either empty or filled with jam, hot fudge, and homemade caramels is a great idea.
5. Hot Chocolate and Gift Tag Printable

Gather hot chocolate, peppermint cotton candy, fabric, baker's twine, ribbon, and mason jars to make this delicious Christmas gift in under five minutes. Attach the free printable tags on the jars to complete the look.
6. DIY Christmas Mason Jar Candles

DIY these beautiful mason jar Christmas candles to give them away among your guests for the sake of the holiday spirit. You can also use them to spruce up your home decor.
7. Christmas Mason Jar Cookie Cutter Set

This Christmas, gift your little baker this cookie cutter set in a mason jar that he/she will surely adore. Make this present more interesting by adding popular Christmas cookie recipe cards on the jar.
8. DIY Washi Tape Mason Jar Vase

Transform a mason jar into a lovely vase by wrapping it with washi tape for the perfect holiday bouquet. This is one of the best and cheapest Christmas mason jar gift ideas on this list.
9. Teenage Christmas Mason Jar Gift Idea

Preparing budget-friendly Christmas gifts for teens is not difficult anymore. Take a mason jar and nicely pack it with teenager-approved stuff like health bars, earbuds, or similar things favoring your budget.
10. Salsa Verde Mason Jar Gift Idea

This Christmas, give your loved ones mason jars filled with sweet & spicy salsa verde and attached printables wishing "A Merry Christmas."
11. Christmas Tree Mason Jar Votive

Put your creativity hat on to turn a simple mason jar into a Christmas tree-themed beautiful votive holder. You only need a stencil, jingle bells, baker's twine, chalky paint, and Epsom salt.
12. Mason Jar Succulent Planter

Make this Christmas unforgettable for your loved ones by gifting them these chic mason jar succulent planters. Details are here.
13. Mini Mason Jar Banana Bread

A mason jar filled with yummylicious banana bread is an adorable Christmas present for your family and friends. The best part, you can bake the banana bread in mason jars in real.
14. Santa's Sugar Cookie Jar

Instead of giving homemade cookies this Christmas, gift these sugar cookie jars with free printable recipes that let the recipients make their own cookies.
15. Snowy Pinecone Candle Jars

Mason jars adorned with faux pinecones, covered with snow-textured paint (resembles freshly fallen snow), are the most adorable Christmas present to date. Read more here.
16. DIY Snowman Mason Jar Christmas Gifts

For a last-minute Christmas gift idea, load a mason jar with white mini pretzels or white wrapped candy, stick three buttons, tie a piece of red fleece or ribbon, and attach a tag with a gift card on the jar.
17. Star Wars Inspired Mason Jar Gifts

If you've someone on your Christmas gift list who is a big star wars fan, then this star wars inspired jar is an excellent gift.
18. Mason Jar Kitchen Canisters

Mason jars used as kitchen canisters are an ideal Christmas gift for your culinary-obsessed buddy. It's a time-consuming project but totally worth the effort.
19. Barnwood Mason Jar Bottle Opener

This handmade Barnwood mason jar bottle opener is the ultimate Christmas present for your booze-loving friend. Details are here.
20. Coffee Lovers Gift in a Mason Jar

To impress your coffee addict pals this Christmas, gift them mason jars having instant coffee packets and burlap coffee bags. Furthermore, attach Christmas tree ornaments to induce festive vibes.
21. DIY Potpourri Mason Jars

Every Christmas gift is incomplete without potpourri mason jars that instantly freshen up the stinkiest rooms with the pleasing scent of orange, cinnamon, rosemary, and nutmeg.
22. DIY Popcorn Gift Basket

Show your family and friends how much you love them by gifting this popcorn gift basket, which is loaded with mason jars of corns and seasonings.
23. Dog Treat Mason Jar

Your hound also deserves a pleasant gift this Christmas. Show love towards your canine pal by filling a mason jar with your pet's favorite treat. Or you can gift this jar to someone who has a pet dog.
24. Men's Clean Up Kit Jar

Don't know what to gift your bearded partner this Christmas? No worries, convert a mason jar into a men's clean-up kit by filling a jar with men's moisturizer, scrub, a razor, shaving cream, and other men's toiletries.
25. Christmas Mason Jar Pin Cushion Gift Idea

This mason jar pin cushion is a must-have Christmas present if you've sewing pals on the gift list. Follow Seasoned Homemaker for the tutorial.
26. Tea Lover's Mason Jar

To prepare an excellent Christmas gift for tea enthusiasts, load mason jars with tea blends and a few tea time accessories. Also, use washi tape and crinkle paper to beautify the jars.
27. Ten Minutes Mason Jar Herb Garden

Gardening lovers will love to receive this mason jar herb garden as a Christmas present that you can make in under ten minutes.
28. Elf Christmas Mason Jar Gift

Surprise your Buddy the Elf obsessed mate by gifting him/her an elf-inspired mason jar. Stuff it with green candy and embellish it with baker's twine, jingle bell, buttons, and a printable tag.
29. Christmas Angel Mason Jar

This angel-inspired mason jar is an exemplary Christmas gift for friends, neighbors, and kids. Fill it with candies, chocolates, or cookies, and don't forget to decorate the jar with angel wings.
30. Mini Pine Tree Mason Jar

A mini pine tree in a mason jar makes a fantastic holiday present and an outstanding decorative item to spruce up the home decor. Read more here.
31. DIY Mason Jar Snow Globe

Everyone loves snow globes, and that's why they are the perfect gift for Christmas. Fortunately, it's pretty easy to DIY an eye-catchy mason jar snow globe with these simple steps.
32. Mason Jar Snowman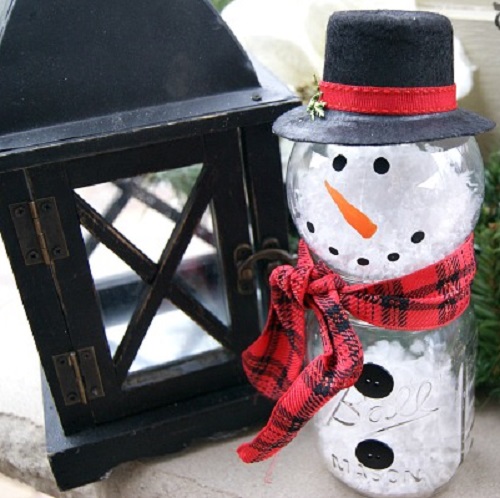 Whether your guests are kids or adults, everyone wants a snowman, especially during Christmas festivities. Fulfill your loved ones' desires by gifting them handcrafted mason jar snowmen, and the best part, you don't need snow!
33. Spa Pedicure Gift in a Mason Jar

Help your gal pals unwind after a week of exhausting festive activities by gifting them this spa pedicure gift in a mason jar.
34. Homemade Mason Jar Survival Kit

Your outdoorsy friend will surely like this homemade mason jar survival kit as a Christmas present. This is a super useful emergency kit, no matter either you're in the jungle or doing camping.
35. Chocolate Peanut Butter Oreo Jar Cakes

Delicious oreo mason jar cakes featuring Oreos, chocolate spread, creamy peanut butter, and vanilla extract make an amazing holiday gift that no one can resist.
36. Mini Mason Jar Christmas Clay Dough

Every kid needs clay dough, either for their school projects or for making Christmas ornaments. Simply fill some jars with homemade clay dough and tuck it into their stockings.
37. Snow Slime in a Jar

As kids love to play with slime, gifting them mason jars packed with blue snow slime is a fabulous idea. Details are here.
38. Mason Jar Air Freshener

Wish your loved ones a happy and refreshing "Merry Christmas" by gifting them natural air fresheners made with half-pint mason jars, essential oils, and this tutorial.
39. Christmas Reindeer Jars

Mason jar decorated as reindeer is an ideal way to offer homemade desserts, cookies, hot chocolate mix, or tiny presents to your family and friends this Christmas.
40. Nativity Scene Mason Jars

Take a few mason jars to create an eye-catchy, glowing nativity scene, perfect for display and an excellent holiday keepsake. Details are here.
41. Minibar in a Jar

If you want to make a quick Christmas gift for your booze-loving friend, take a wide-mouth mason jar, load it with mini bottles of whisky, rum, vodka, and other alcoholic beverages, and you're done!
42. Illuminated Snow Scene in a Jar

Doubles up as a nightlight, a mason jar with an illuminated snow scene is the cutest Christmas present for little kiddos.
43. DIY Mason Jar Photo Holder

Use mason jars as photo holders and personalize them by placing the pictures of the gifts recipients inside the jar.
44. Vintage Mason Jar Lamp

DIY this wonderful vintage mason jar lamp for your better half this Christmas. Besides, this lamp adds a much-needed holiday cheer to your home.
45. Homemade Laundry Soap In A Jar

Appreciate your neighbors for helping you in tough times and taking care of your house, pets, and garden while you're on vacation by gifting them mason jars filled with homemade laundry soap.
46. Homemade Bath Bombs Gift Idea

Homemade bath bombs are simple to create and uplift the mood instantly. They are lovely Christmas presents for bath bombs lovers.
47. White Christmas Oreo Treat Jar

Simply place white fudge Oreos in a mason jar, add a baker's twine, a Christmas tag, and within a few minutes, a tasty Christmas gift/treat is ready.
48. Candy Cane Hot Cocoa Bar

As candy cane symbolizes Christmas, this candy cane-inspired hot cocoa bar loaded with jars of marshmallows, candy canes, and hot cocoa powder will surely be adored by your loved ones.
49. DIY Snow Globe Soap Pump

For an easy-to-make Christmas present, convert a monotonous mason jar into a fully functional and adorable-looking snow globe soap pump.
50. Homemade Soup Mixes in Jars

These different soup mixes are enough to prove that Christmas gifts don't have to be sweet anymore. This is one of the best Christmas mason jar gift ideas to date. Read more here.
51. DIY Scented Mason Jar Candles

To make scented mason jar candles, add some orange slices, small pine cones, cinnamon, olive oil, and volatile oils into jars. Stick floating wicks on the lids along with directions and gift them to your family and friends.
52. Sugar Plum Fairy Jars

A few craft supplies, chocolates, and lovely ballerina cake toppers are enough to turn mason jars into cutesy Christmas gifts for your little ballerinas.
53. Christmas Gift in a Jar for Scrapbookers

An amazing Christmas present for your little scrapbooker, this scrapbook kit stored in a mason jar has all the things needed for scrapbooking.
54. Lavender Bath Salt Gift in a Jar

If you're looking for a last-minute Christmas present idea, pour lavender-infused bath salt into a mason jar and beautify it with washi tape and a ribbon.
55. Caramel Apple In A Jar
Watch this video to prepare a crunchy and sweet Christmas party favor that requires a mason jar, mini M&M's, wrapped caramels, baker's twine, lollipop stick, and small apples.
56. Mason Jar Mommy Survival Kit

This mason jar mommy survival kit is a super helpful holiday present for a mom or mom-to-be and a great gift to give yourself.
57. Santa Gift in a Jar

All you need is a mason jar, red felt Santa hats, a Santa belt, and candies to create this cute Santa-themed gift jar.
58. Mason Jar Keep Warm Kit

An adorable and practical Christmas offering that provides warmth during the chilly wintertime. Don't forget to add a little flair to the mason jar by sticking glitter tape and a hand-stamped gift tag.
59. Homemade Vanilla Extract in Mason Jar

Vanilla extract is a popular household staple, that is why it's an excellent gift for Christmas. This project is simple and can be done easily using this tutorial.
60. Build a Sock Puppet Gift Idea

Make this holiday memorable for your kid by gifting him/her a sock puppet kit in a mason jar. The best part, this gift stimulates creativity among your kid as he/she has to make a sock puppet from the kit.