These DIY Snowy Mason Jars are sure to take your Christmas decor to the next level without investing a lot of money and effort!
The holiday season is around the corner, and we have compiled some gorgeous DIY Snowy Mason Jars for you! They will look beautiful on the mantle, dining table, or around the Christmas tree, showering cheery vibes around the house!
Find some Christmas Mason Jar Gift Ideas here
---
DIY Snowy Mason Jars
1. DIY Snowy Mason Jars
Make your home festive-ready with these DIY snowy mason jars, in a few simple steps with basic supplies. This idea is apt to keep your kids busy and let them flaunt their creativity.
Find some Christmas Mason Jar Gift Ideas here
2. DIY Snowy Mason Jar Luminaries
These rustic mason jar luminaries are a perfect addition to your bedroom on the bedside table for the festive season. Otherwise, use them to light your front porch. Get this DIY Snowy Mason Jar Idea here.
3. DIY Snow Frosted Christmas Mason Jar
You can find mason jars in any local store, but recycling a glass jar sounds like a better option to cut down on waste and put them into something attractive. Learn the steps here.
4. Magical Snowy Mason Jar Craft With Gift Poems
Cover your mason jar in a thick layer of Epsom salt and decorate it with string, pom poms, and paper cut-outs! It's just as simple as it sounds to create a set of these magical snowy jars for Christmas.
5. DIY Snow Covered Candle Holders
Instead of merely putting the candles on a table, put them in this DIY snowy mason jar for added effects and ornamentation. Find the tutorial here.
Learn some Amazing IKEA Hacks for Christmas here
6. DIY Snowy Mason Jars
Surprise your friends and family with this personalized holiday jar, which takes less time and doesn't cost much. An economic idea for a Christmas return gift, have a look here.
7. Winter Luminaries: Snowy Pinecone Candle Jars
A jar decorated with lace, pinecones, string, and Epsom salt is one of the best DIY Snowy Mason Jars to complete this festive season with the help of your kids. Crafts By Amanda has the tutorial.
8. Reindeer Print DIY Snowy Mason Jars
This DIY Snowy Mason Jar decor is different from any other in this list so far; well, it's the reindeer imprint that makes this festive mason jar stand out. Watch out here.
9. Christmas Snowy Mason Jar Winter
To give a jar a wintery look without using Epsom salt or any fake salt, layer the inside with frosted glass paint. Visit Creative Ramblings to know more.
10. Christmas Glitter Jars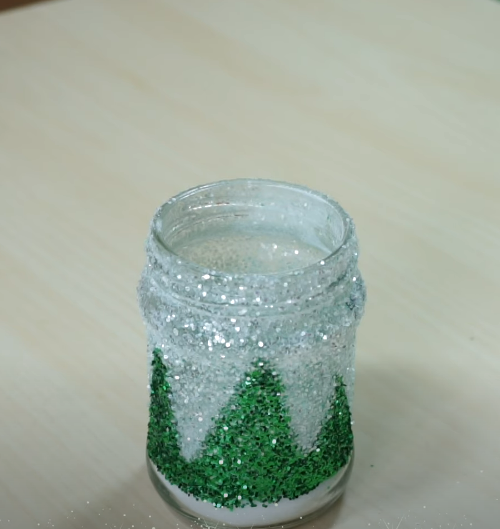 Paint tree shapes on a glass jar using mod podge; cover the forms with glitter and brush off any extra glitter from the surface. Cover the remaining part with mod podge and white glitter. Watch the video for the directions.
11. Snowglobe Christmas Mason Jar
Watch this video tutorial to learn how to make this DIY Snowy Mason Jar to decorate a tabletop or for a festive-themed dining setting. You can fill the jar with candies and treats if you throw a kids' party!
12. Beautiful Mason Jar Snow Globe DIY
For this snow globe, you'll need vegetable glycerine, a figurine, a mason jar, glitter, and waterproof craft glue. This DIY Snowy Mason Jar is a great Christmas gift idea for near and dear ones.
13. Snowy Mason Jar Fairy Lights
Cover half of a jar with faux snow and put a string light inside it. That's all you got to do to complete this diy snowy mason jar project. We found the idea here.
14. Precious DIY Mason Jar Snow Globes
Stand out in your Christmas snowy jar game and create this topsy-turvy snow globe with the same material as you would require for any other globe DIY. Visit Homebody In Motion for the tutorial.
Find some Elite Christmas Decor Ideas here
15. Snow Men In The Mason Jar
DIY a snow globe with a mason jar and snowman figurines or other figurines that might emit the winter's feel to your room decor. Learn the tutorial here.
16. DIY Snowy Mason Jars
Fix the figurine of your choice to the inside of the jar's lid and fill the jar with faux snow to imitate a wintery appeal. Watch the video for instructions.
17. Epsom Salt Mason Jar Holiday Decor
The Epsom salt gives this DIY snowy mason jar the desired frosty look, while the pine and berry clippings tied with a jute rope add to the Christmassy look. Make one for yourself like this.
18. Silhouette Snow Jar
This DIY Snowy mason jar for Christmas decor is perfect if you are looking for a creative tabletop decor piece. You'll require dark-colored paper to create the silhouette for this decor.
19. Mod Podge Candle Holder
This mod podge candle holder will look beautiful on the dining table or the center table, showering sheer holiday vibes. Read the tutorial here.
20. Dollar Store Christmas Decor
You need not invest a lot to make this DIY snowy mason jar. Upcycle a mason jar and use adorable dollar store reindeers, mini baubles, candle holders, and other supplies, as shown here.
Find some Dollar Store Christmas Decor Ideas here
21. Christmas Mason Jar Decorative
Nothing is cozier than warm lights decking your home on Christmas eve. This DIY Snow Mason Jar does just that, using floral accents, tea lights, faux poinsettia stems, and other supplies mentioned here.
22. DIY Snowy Mason Jar Luminary
Enjoy the charming holiday vibes with this DIY snowy mason jar luminary that you can use as a tabletop centerpiece for the Christmas party. The tutorial is here.
23. Snowy Mod Podge Candle Holder
This holiday mason jar craft only requires mod podge and textured Epsom salt to create the frosted look, while you can decorate it further with fir clippings, twine, wooden slices, or other Christmas decoratives of your choice.
24. DIY Mason Jar Christmas Decor
Christmas decorating with mason jars is an affordable idea as it requires nothing but an upcycled jar, some Epsom salt or sugar for the faux snow, and some holiday decor supplies of your choice. Seek inspiration from the tutorial!
25. DIY Frosted Candle Holder
A creative idea to engage the kids in a holiday mason jar craft, while you get handmade decoratives ready for the Christmas party! Head on to the tutorial.
Look at some Creative Christmas Decor with Fish Bown Ideas here