Here are some stunning DIY Glitter Champagne Bottle ideas to spice up special occasions with glittery effects!
If you want to add a dash of glitz and glam to your parties, festivities, and other events, you must check out these frugal DIY Glitter Champagne Bottle ideas!
DIY Glitter Champagne Bottle
1. New Year Eve Glittery Champagne Bottle
Make your new year's eve party memorable by gifting your guests these glittery champagne bottles with pretty labels.
2. DIY Dazzling Bling Bottles
Add some sparkle and shine to your wedding decor with these dazzling glitter champagne bottles! The personalized tags with names and table numbers are the icing on the cake.
3. DIY Gold Glitter Champagne Bottles For Awards Night

Take your award night decor to the next level with these glitter champagne bottles. Grab a regular champagne bottle, glitters, foam art brushes, and mod podge for this project.
4. DIY Gift Champagne Bottles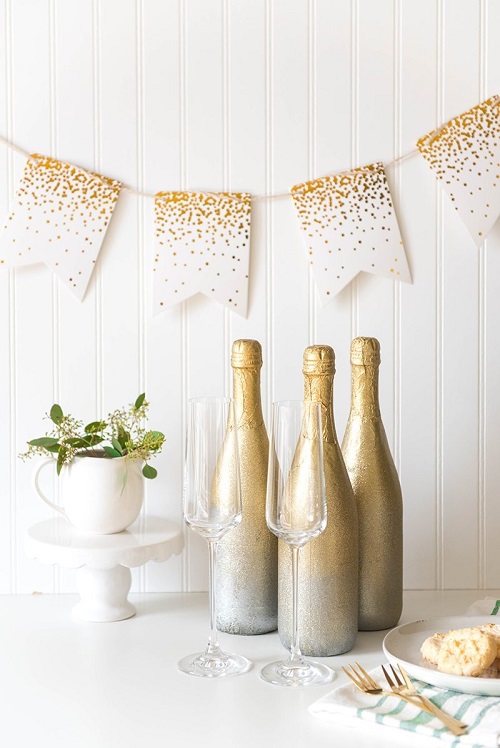 Are you looking for a glamorous and quick-to-make present for every occasion? Look no further and check out this article.
5. Ombre Glitter Color Change Bottle
Ombre effects on this champagne bottle look great and make it a presentable table centerpiece decor.
6. DIY Glitter Stenciled Champagne Bottle with Mod Podge
Check out this video to turn your regular champagne bottle into a royal display piece with mod podge, stencil, and glitter.
7. Glittered Mini-Champagne Bottles

Decorating mini champagne bottles with pink and golden glitter gives sparkling centerpieces for the party or holiday table.
8. Ombre Gold Glitter Champagne Bottle

This magnificent ombre gold glitter champagne bottle with a white ribbon is an ideal add-on for a present basket.
9. Valentine's Day Glitter Champagne Bottle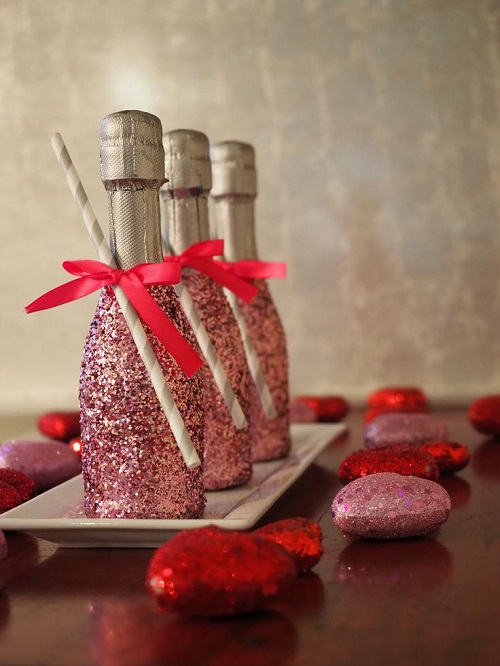 Great as gifts and decorative pieces, these red glittered champagne bottles are best for Valentine's day celebrations. Read more here.
10. DIY Glitter Dipped Champagne Favors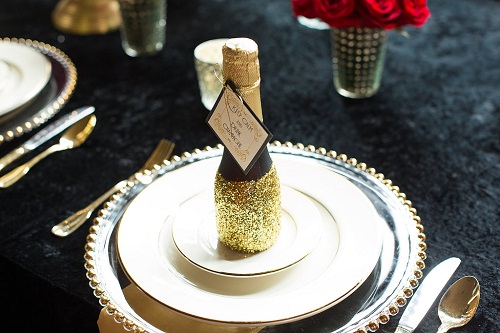 Don't know what to give your guests as wedding favors? This showy glitter-dipped mini champagne bottle is excellent for this purpose.
11. Glitter Champagne Bottle Bridesmaid Proposal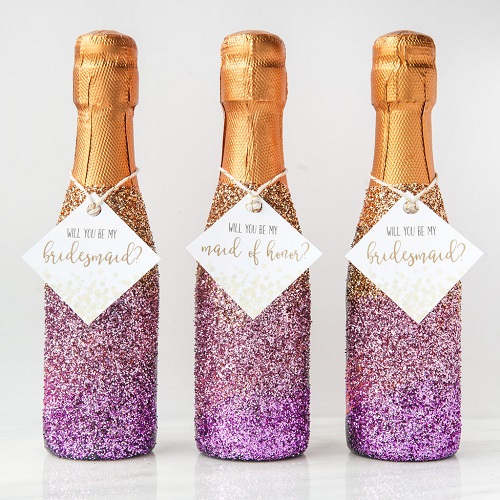 These adorable glitter champagne bottles are the perfect way to ask your BFF, "Will you be my bridesmaid." It's one of the best DIY glitter champagne bottle ideas on this list.
12. Fourth of July Glittered Champagne Bottles

Are you planning for a fourth of July party? Add red, blue, and white glittered champagne bottles in your bubbly bar to induce patriotic spirit. The tutorial is here.
13. DIY Glitter Champagne Bottle
This shimmering champagne bottle craft is a quick way to add some style to bland party decor and attract praise from guests.
14. Holiday Themed Champagne Bottle
This customized 49ers glittery champagne bottle is an awesome gift and a beautiful holiday decor to go for.
15. Black and Gold Glitter Champagne Bottles
Glitter-up champagne bottle with gold or black glitters to get a Pinterest-worthy display specimen for festivities.