Organizing a party or looking for a cool Fourth of July idea? These DIY glitter champagne bottles are perfect! Follow this step by step tutorial make it.
Fireworks aren't the only thing that's sparkling this Fourth of July. At the start of the celebration, pop the cork on these DIY glitter champagne bottles — in patriotic colors — to get everyone in the star-spangled spirit.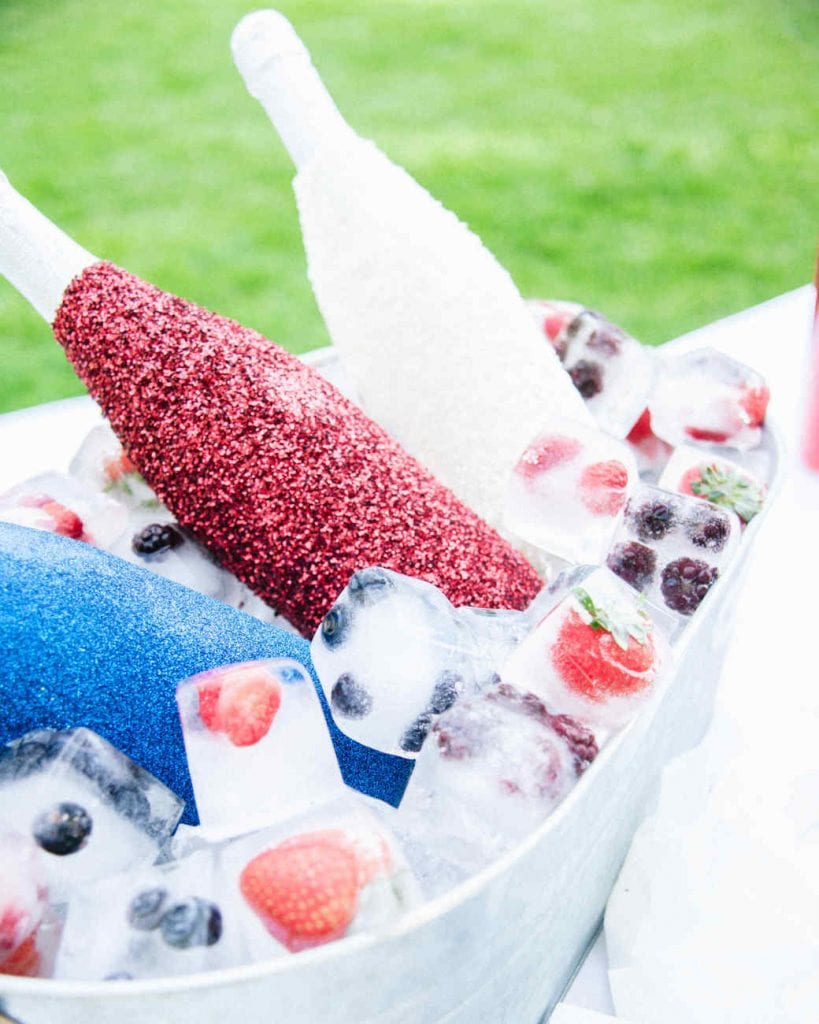 This idea comes from our friend Ashley Lloyd of Let's Mingle. These bottles were presented as part of her "Red, White, and Bubbly" Fourth of July party. "These red, white, and blue glittered champagne bottles scream 'America' and are so easy to make!" she says. "Add a festive touch to your bubbly bar."
Materials
Champagne bottle
Craft glitter
Painters tape
Spray adhesive
Polyurethane spray
Latex gloves
Steps to Make DIY Glitter Champagne Bottles
1.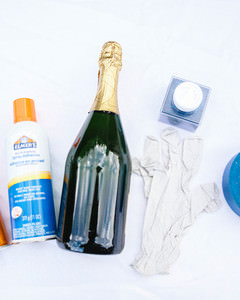 Before starting, make sure you are working in a well-ventilated area such as the outdoors. Depending on the workspace, you can also use a large box or tarp to contain the mess.
2.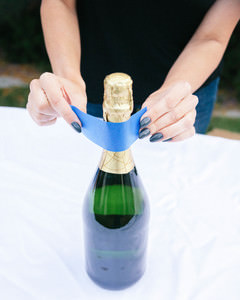 Using painter's tape, tape off the top section of your champagne bottle. You'll want to keep this section glitter-free since you will be peeling this section of the wrapper off when you open your bottle. The painter's tape will help to keep that area clear of adhesive and glitter and give you a clean edge once removed.
3.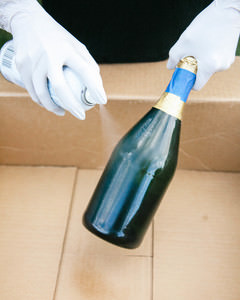 Put on latex gloves before you begin applying glitter. Gripping the neck of your bottle above the taped section, begin spraying sections of your bottle with spray adhesive.
4.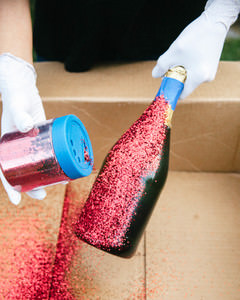 Immediately sprinkle generously with glitter. Tap off any excess.
5.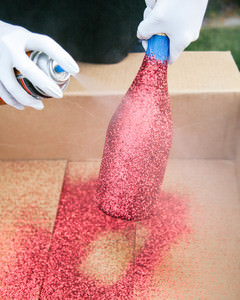 Repeat steps until the entire bottle is covered well. If you notice bare spots, spray the area with adhesive again and coat again with glitter.
6.
Remove the painter's tape as soon as you are done applying the glitter.
7.
Allow drying completely overnight if possible.
8.
Once dry, coat with polyurethane spray. (Tip: Two or three coats is best to ensure you don't have a lot of loose glitter falling off when using the bottles.) Allow the bottle to dry completely between coats.