Store your jewelry in a frame with this DIY jewelry storage idea made with an old picture frame by following the step-by-step tutorial below!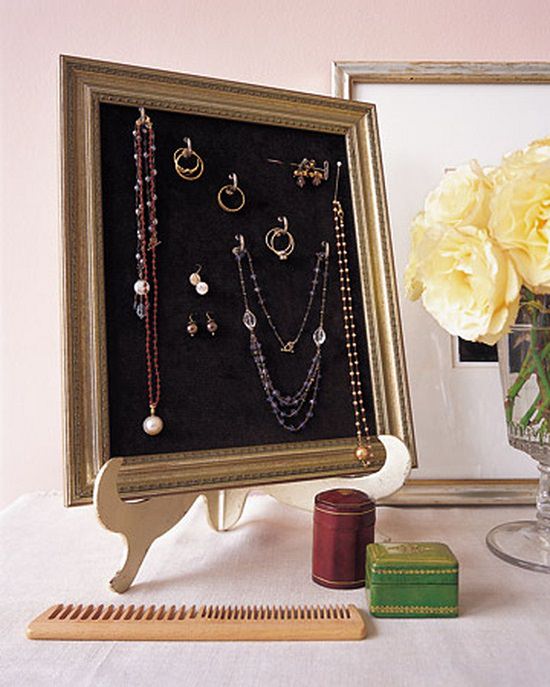 This DIY jewelry storage holder will keep your precious wearables in place without letting them tangle. Plus, it makes a great display frame art to showcase on a tabletop or mount on a wall. The velvet backing will give secure padding to your baubles while keeping them scratch-free as well.
INTRODUCTION
Note: For this project, we would suggest a velvet fiberboard as it will make it easier to push the hooks in comparison with any other board. But you can use any different or similar fiberboard too.
MATERIALS
An Old Picture frame
Velvet fiberboard (cut to size)
Black cotton velvet
Staple gun
Scissors
Hooks
STEPS
Cut a one-inch thick piece from the velvet fiberboard to fit the frame. If you think you can't do it all on your own, ask your local lumberyard or hardware store to do this.
Next, cut a piece of cotton velvet, which should be two inches larger than the fiberboard all-around.
Now, center the fiberboard over the velvet, the plush side facing down. Wrap one side of the velvet over the fiberboard and secure with a staple gun, leaving one inch from the edge. Repeat for remaining sides, and insert into frame.
To decide where to place hooks, layout pieces of jewelry onto the velvet; one by one, push hooks into position.
Your DIY jewelry storage holder is all set to frame your treasures!