DIY glitter jar or sensory bottles is a fun and mind relaxing activity for kids. Learn How to Make a Glitter Jar with Vegetable Oil in this detailed article!
A glitter jar or sensory jar is used as a mindfulness exercise to improve the focusing ability of preschool and elementary-age kids. It has a claiming and relaxing effect as well. If you want to create one for your kiddo, find out How to Make a Glitter Jar with Vegetable Oil below.
Here are some amazing DIY memory jar ideas
---
How to Make a Glitter Jar With Vegetable Oil?

Kids love to play with sparkling glitter bottles. You can make one using the below DIY.
Supplies
A Lidded Mason Jar
2-3 Drops of Liquid Food Coloring
Vegetable Oil
Warm Water
Glitters
Glue
Small Funnel
Mini Festive Figurines (Optional)
Directions
Fill the container halfway with warm water and add 1-2 drops of your favorite food color.
Now, fill the other half of the container with vegetable oil. Make sure to leave some room on the top for easy flow of water and vegetable oil.
Add a generous amount of glitter to the jar and close the lid. Secure the lid with hot glue so that water doesn't drip off.
Turn the jar upside down, and you'll see the glittering effect happening already.
You can also glue some festive figures to the inside of the lid for a more advanced look.
---
Other DIY Glitter Jar Recipes
If you are running out of vegetable oil, use these DIY calming glitter jar recipes that are great for kids and adults.
DIY Glitter Glue Sensory Jar
Instead of vegetable oil, you can use glitter glue to DIY a glitter sensory bottle. Don't worry; this will not affect its slow and swirly effect.
Supplies
1/2 Cup of Glitter Glue
1-2 Tsp of Colorful Glitter
Warm Water
Glass or Plastic Jar (with Lid)
Hot Glue Gun
Spoon
Directions
Pour warm water into a glass jar until you are an inch below the rim.
Next, add 1/2 cup of glitter glue and a handful of glitter to the jar.
Stir the solution with a spoon and secure the lid with hot glue.
Additionally, you can add playful figurines to make the jar more interesting.
Shake the jar and put it upside down to enjoy the swirly effect!
DIY Glitter Sensory Bottle with Corn Syrup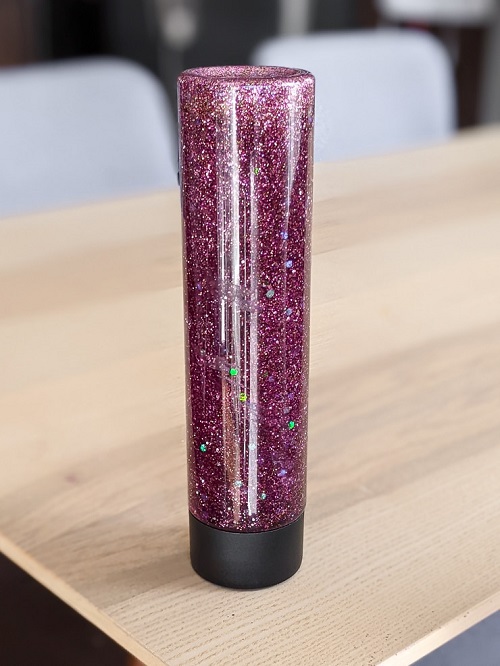 Supplies
A Plastic Bottle
Clear Corn Syrup
Fine and Chunky Glitter
Pink Food Coloring
Strong Glue
Water
Directions
Fill an empty plastic bottle halfway with corn syrup.
Next, add glitter, a few drops of pink food coloring, and water to the bottle.
Shake a bit and secure the bottle cap with strong glue.
Once it's done, your sensory bottle is ready.
---
Precautions

While doing the above craft project with your kids, it's vital to follow the below precautions.
If you are making a glitter jar for your kid, use a plastic bottle instead of a glass jar.
Always seal the lid properly, otherwise, the fun activity can turn into a mess in no time.
Don't forget to leave some space (an inch) on the sensory jar for a decent shaking room.
All age groups love to play with glitter jars because of their mind-calming ability. Moreover, it's a great gift to express your care and gratitude toward your loved ones.