To me, springtime means flowers! So, I decided to create my own flowers using some tissue paper! Technically, it's an Easter egg tissue paper banner I got from the dollar store. When I bought it, I thought it would be cute when I opened it up, but to my horror it wasn't at all. So, I decided to give it a new purpose!
What you will need
Tissue Paper (in any color)
Gold leaf
Tape
Skewer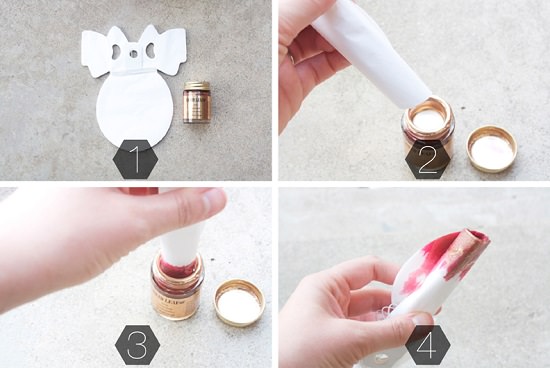 What to do
Gather your supplies and head outside!
Take your tissue paper and fold together. Cut out an oval shape at the top (or, if you can find this Easter egg garland!). Roll your tissue paper
Carefully dip into the gold leaf (do not shake the gold lead ahead of time)
You should have a two toned color on the tips of your  tissue paper. Unravel and let dry completely. Not shown: When your tissue paper has completely dried, start on one side and begin to roll the bottom of your tissue paper to the other end. You should begin to see your flower take shape. Secure the end with tape. Fluff and separate to give your flower more shape. Use a skewer as the stem and place in the center of your bloom. Simply display! You can easily make several of these for a more dramatic look! I think I may need to head back to the dollar store!
Because the gold leaf is oil based, it created that beautiful pink color and just a bit of that gold on the edges. It creates gorgeous depth and texture! It dries quite quickly, so you can make several flowers in no time!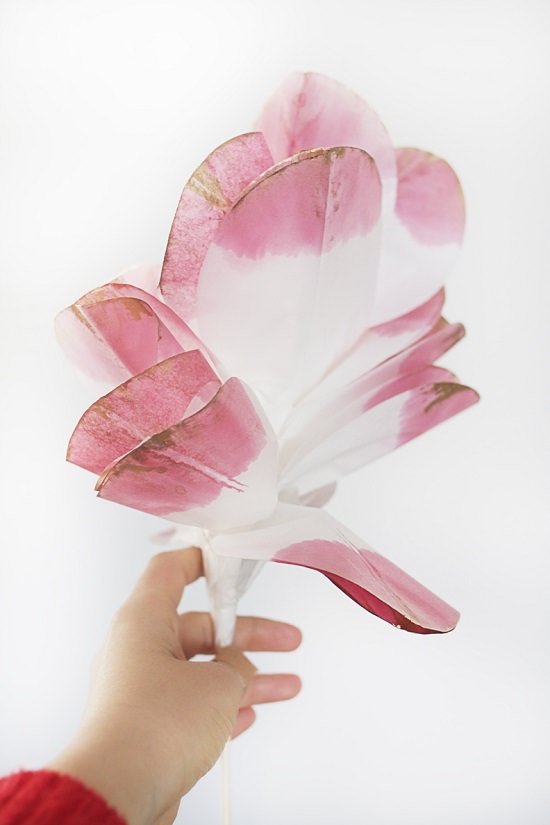 I love displaying it on it's own, it's so fluffy I didn't feel the need to make anymore. Although, I could see a bunch of these paper flowers making a beautiful statement centerpiece for Easter! What do you think of this super simply tissue paper flower?!