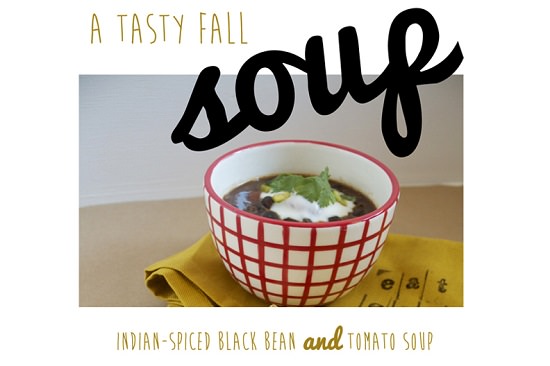 I discovered this delicious indian-spiced bean and tomato soup in the Martha Stewartmagazine. I've been searching for recipes that will inspire me to cook and bake more. Sometimes it's just plain hard when you are chasing after two very busy toddlers. I saw this recipe and decided I would try it out! It was a cool day and it only seemed fitting! I am so glad I did, it was delcious! I made a few changes to make it a bit more healthier and quicker to make for this busy mama!
Ingredients
1 tablespoon extra virgin olive oil
1 1/2 cups finely chopped onion
1 tablespoon plus 2 teaspoon minced garlic
2 tablespoons finely grated peeled fresh ginger (from a 2-inch piece)
1 or 2 green thai chiles, jalapeno chiles or other fresh chiles – finely chopped
1 teaspoon cumin
1 teaspoon ground corionder
1/4 teaspoon ground cinnamon
1/4 teaspoon ground turmeric
1 can (15 ounces) peeled plum tomatoes, coarsely chopped with juice
4 cans black beans with the juice
Pinch of salt
Non-fat yogurt
Cilantro
Pita Chips for serving
Directions
Heat oil in a 4-quart pot over medium heat. Add onion and garlic; cook, stirring occasionally, until onion is softened and golden, about 8 minutes. Add ginger, chopped chiles, and spices; cook, stirring occasionally, until fragrant, about 2 minutes.
Stir in tomatoes and their juice, beans and their liquid, and salt. Bring to a boil, reduce heat, and simmer until thickened slightly, about 10 minutes.
Coarsely mash a third of the beans in pot using a potato masher or an immersion blender; stir to blend into soup.
Top with yogurt, cilantro sprigs, and sliced chiles, and serve with pita chips.
This is my kind of dinner on a crisp fall day. Everyone loved the soup and it was enough for leftovers the next day! Makes my job nice and easy! Hope you give this a try, I know you'll love it as much as we did! Happy weekend!