This recipe is for all the chocolate lovers out there! It's pretty simple and easy to follow along and worth the effort.
You'll definitely make it your go-to when the need arises to impress company or family! This recipe will be one you will want to keep! It is so creamy and smooth! It's so delicious that you'll have a hard time suppressing your hunger for it! As so many ingredients are replaced with fat-free ingredients, it'll not come in the way of your fitness goals. It still tasted great!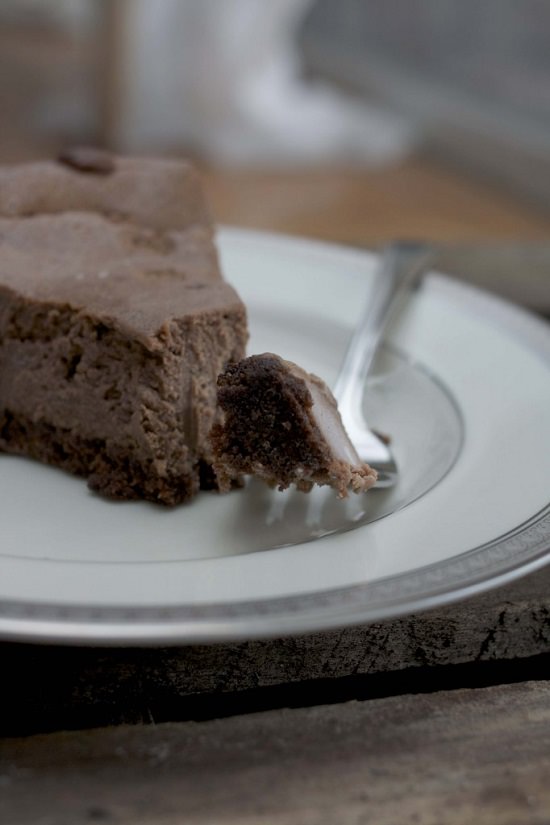 What You'll Need
1/2 cup sour cream
2 tsp. pure vanilla extract
1 tsp. instant coffee granules or espresso powder
8 oz. bittersweet chocolate, finely chopped
3 packages (8 ounces each) cream cheese, at room temperature (I use Philadelphia)
3 Tbs. natural, unsweetened cocoa powder, sifted if lumpy
1/4 tsp. table salt
1-1/4 cups granulated sugar
3 large eggs, at room temperature
9-inch springform pan
1-1/2 generous cups of crushed oreo cookie crumbs
3 tablespoons granulated sugar
1/4 cup unsalted butter, melted
3 large eggs, at room temperature
1 jar butterscotch topping
Directions
For the crust
Turn on your microwave and pre-heat for 400°F.
Meanwhile, add cookie crumbs, sugar, and melted butter to a medium bowl and mix well until the mixture is properly moist.
Empty the mix into the pan and press firmly using a flat-based coffee mug.
Once it's done, bake it for 6-8 minutes before leaving it on a wire rack.
Filling and Baking
For making the filling of cheesecake, pour sour cream, vanilla, and coffee granules in a bowl and stir well until the coffee liquefies properly.
Melt the chocolate as suggested in the tip below.
Next, blend cream cheese, melted chocolate, eggs, sour cream, sugar, cocoa powder, and salt to get a smooth and fluffy mix.
Once you're done, take the prepared crust and spread an even layer of butterscotch and the filling over it.
Again bake the crust at 300°F for an hour.
Finally, toss the prepared cake on a rack, let it cool down a bit, and put it into a refrigerator overnight.
Quick Tip – Melt chocolate in the microwave
Instead of a double boiler, use this method to melt chocolate quickly. First, cut the chocolate into fine pieces, put them in a microwave-friendly bowl, and heat until you get completely melted chocolate.
What's your favorite dessert?! Be sure to try this one!!  Have a wonderful Friday everyone!