As I was cleaning out my closet in the nursery today, I came across some old felt flowers I did for a DIY last year. Originally, the flowers were meant for a wreath I wanted to recreate, but never ended up doing! Instead, I made some amazing hair accessories, but now I am repurposing these cheap yet beautiful felt flowers for a whole new DIY!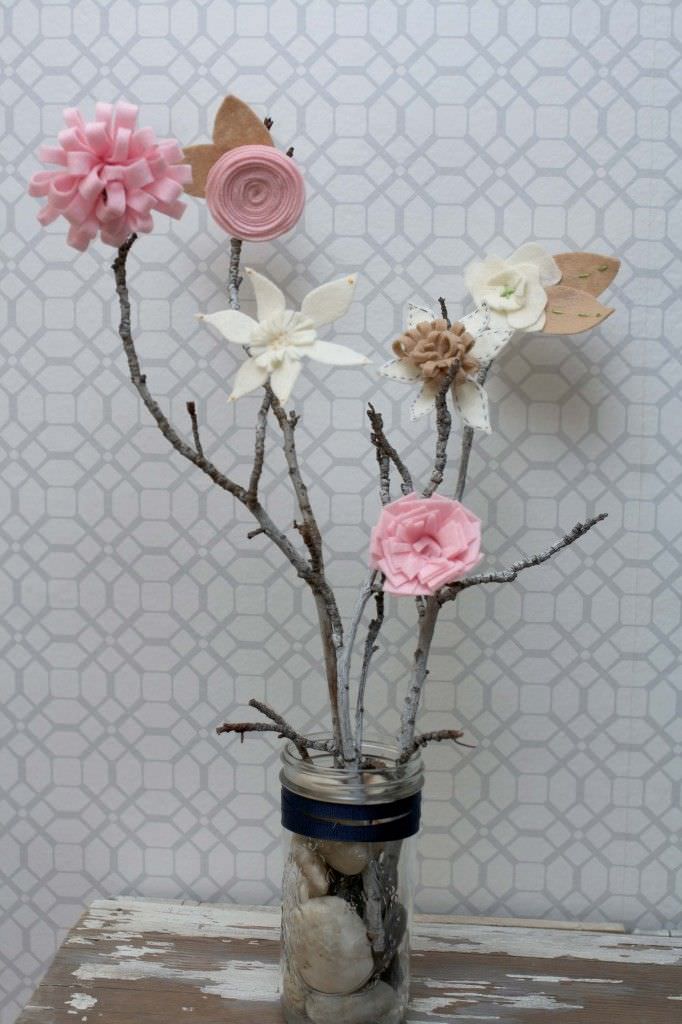 It's spring and one of my favorite things to see are all the beautiful flowers springing up everywhere! I am a huge fan of fresh flowers, but I had another idea! Why not make a pretty felt bouquet that will last just a little longer and add a fun element to our dining room! To see where I got my felt flower tutorial, click HERE (some of the flowers have hand sewn thread on the petals and center). Since the flowers had pins already fastened to the back from my previous DIY, I simply hooked them on some branches I gathered from our yard and placed them in a vintage glass jar. I put some rocks at the bottom to help the branches stand nice and straight. It also added a fun look. That's it, took less than 5 minutes and now I have a fun little felt bouquet sitting on my hutch!
If you want, you can even clip one of the flowers to a head band (I used some vintage lace) or even pin it to your blouse to give yourself a cute little look for the day! These flowers are so versatile, so have fun with this DIY!
Hope you enjoyed this easy crafty craft! What do you think of the felt flowers and bouquet?! I would love to see some other fun stuff you come up with, so feel free to share!