Here's a healthy snack for hunger prepared by using bacon and apple cider. The bacon apple cider biscuits are a healthy alternative to packaged biscuits.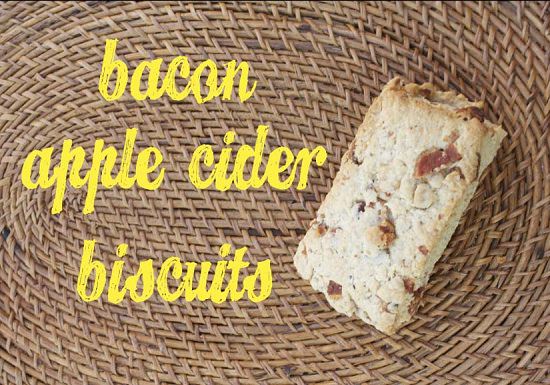 Feeling bored at home, wanting to satisfy hunger, and being in the mood of baking something. Then you should go for baking the bacon apple cider biscuits.  Yes, I am aware that by simply looking at the ingredients you might think that nothing good will come out of it, but your speculations are far from being true. As the baked biscuits are so yummy and delicious that you'll have a hard time sharing them with others.
Ingredients Required
2 cups all-purpose flour
2 teaspoons baking powder
2 teaspoons brown sugar 
1/2 teaspoon salt
1/4 teaspoon baking soda
1/4 teaspoon apple pie spice
8 tablespoons cold butter, cubed, divided
5 bacon strips, cooked and crumbled
3/4 cup apple cider or juice
Directions
Mix 2 cups of all-purpose flour, 3/4 cup apple juice, 5 bacon strips, 2 tsp baking powder, 2 tsp brown sugar, 1/2 tsp salt, 1/4 tsp baking soda, 1/4 tsp apple pie spice, and 8 tbsps cold butter in a bowl.
Once the ingredients get mixed well, become crumbly, knead it onto a floured surface nicely 5-7 times.
Melt the rest leftover cold butter and apply it over the dough properly.
Grab the dough and slice it into eight equal sizes. Put them on an ungreased baking sheet and bake at 450° F for 10-12 minutes.
Once the baking is done, serve the bacon apple cider biscuits, and enjoy!
These biscuits have served your multiple requirements first they will satisfy your craving, Right?! act as a snack in the evening, and it's healthy and fresh. You can prepare them on the spot, can prepare them for 13-15 days in one go. Could serve this to guests as well.
It feels so pleasing to share another recipe with you. Hope you have enjoyed it! You should try it out Do you have any fun plans for the weekend?!