Here's a healthy snack for hunger prepared by using bacon and apple cider. The bacon apple cider biscuits are a healthy alternative to packaged biscuits.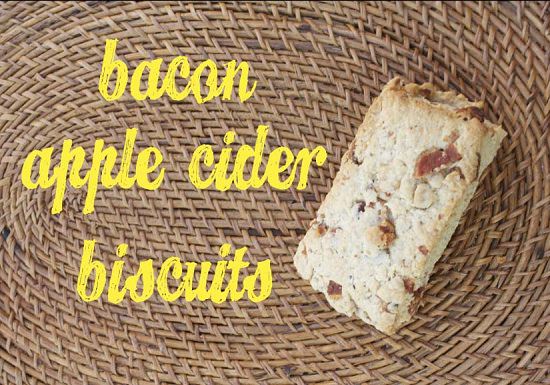 If you in the mood of baking nothing beats the bacon apple cider biscuits. Looking at the ingredients you might think that nothing good will come out of it, but your speculations are far from being true. As the baked biscuits are so yummy that you'll have a hard time sharing it with others. Don't be afraid to try new things, bacon and apple cider vinegar in one recipe are not something you hear every day.
Ingredients
2 cups all-purpose flour
2 teaspoons baking powder
2 teaspoons brown sugar 
1/2 teaspoon salt
1/4 teaspoon baking soda
1/4 teaspoon apple pie spice
8 tablespoons cold butter, cubed, divided
5 bacon strips, cooked and crumbled
3/4 cup apple cider or juice
1/8 teaspoon ground cinnamon
Directions
In a large bowl, combine the first six ingredients. Cut in 7 tablespoons butter until mixture resembles coarse crumbs. Add bacon. Stir in cider just until combined.
Turn onto a lightly floured surface; knead 8-10 times. Roll into a 10-in. x 6-in. rectangle. Melt remaining butter; brush over dough. Sprinkle with cinnamon.
Cut into eight rectangles. Place 1 in. apart on an ungreased baking sheet. Bake at 450° for 12-15 minutes or until golden brown. Serve warm.
It feels nice to share another recipe with you. Hope you enjoy it! Do you have any fun plans for the weekend?!