Check out the recipe to this delicious fall soup that's a treat to taste buds. Plus, it's healthy and easy to prepare too!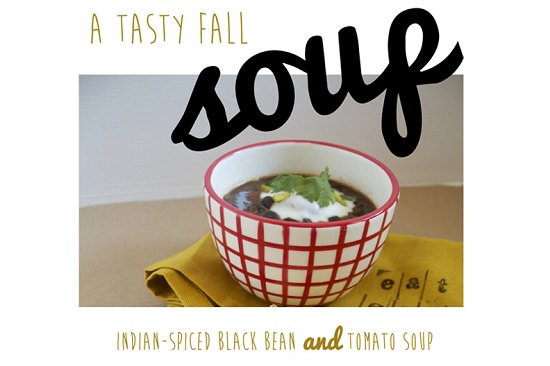 We have discovered this delicious Indian-spiced bean and tomato soup in the Martha Stewart magazine. This recipe will inspire you to cook and bake more. You will definitely urge to take time out from your busy schedule and try this out. It's a perfect recipe for a cool day and seems fitting to invest your time in it!
Ingredients Required
1 tablespoon extra virgin olive oil
1 and 1/2 cups finely chopped onion
1 tablespoon plus 2 teaspoons minced garlic
2 tablespoons finely grated peeled fresh ginger (from a 2-inch piece)
1 or 2 green Thai chiles, jalapeno chiles or other fresh chiles – finely chopped
1 teaspoon cumin
1 teaspoon ground coriander
1/4 teaspoon ground cinnamon
1/4 teaspoon ground turmeric
1 can (15 ounces) peeled plum tomatoes, coarsely chopped with juice
4 cans black beans with the juice
Pinch of salt
Non-fat yogurt
Cilantro
Pita Chips for serving
4-quart pot
Directions
Put a pot filled with cooking oil on the stove over a low flame. Toss onion, tomatoes and juice, beans, and salt garlic, ginger, chopped chiles, and spices in the pot; cook, and stir for 10 minutes.
Once they get mixed and boiled properly, lower the flame, and simmer for 5-8 minutes.
In the end, you only have to grab a masher, crush beans in the pot and combine it into the soup.
Serve the prepared soup after garnishing it with yogurt, cilantro sprigs, and sliced chiles.
This is a kind of dinner on a crisp fall day. Everyone will love this delicious soup, and it'll be enough for leftovers the next day! It is worthy of making as it makes your job nice and easy. Hope you will keep this as an option to try, we know you'll love it as much as we did! Happy weekend! Enjoy!