Looking to make an excellent centerpiece for your party table? The DIY Glittered Antlers is the right choice!
Hope you all had a fantastic Christmas with family and friends! Even though Christmas is over, I'm so thankful it's still winter. I love any excuse to be cozy and comfy a little while longer!
I whipped up a really fun and easy DIY Glittered Antlers that are perfect for winter or any season really! They are so intriguing in their own little way, but if we add something creative to that… like adding glitters and they are looking even more fabulous! And you know how much I love glitter lately!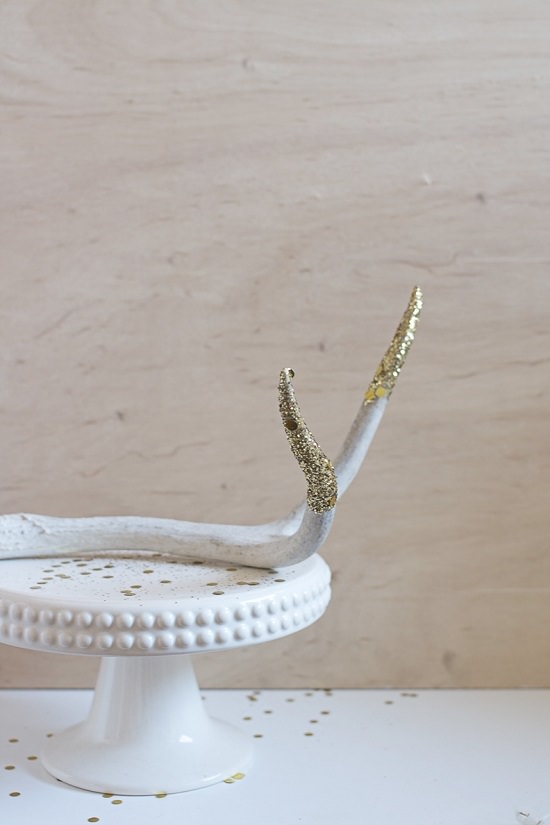 DIY Glittered Antlers
I had some antlers I bought a while back – we have a few in our home so I was brave enough to finally try out this little project.
First, I took some simple clear glue and used a paintbrush to evenly coat the ends of each point with the glue.
I immediately covered the glue with a mixture of fine gold glitter and confetti. I like the little bits of confetti here and there to create a more whimsical tone!
If you are confident enough in your artistic skills, you can use different colors with different glitter or patterns, I mean you can explore which thing or combination suits you and looks best on your antlers.
I prefer to use gold and try to keep it simple and smooth, just like a river flowing flawlessly with a profound silence. You can easily make a fun ombre pattern or even a great color block style. I may try to paint them next time I get the chance!
Trust me this DIY is very easy and takes no time at all and is so simple to do. How much better can it get – antlers + glitter = awesomeness! What do you think about these Glittered Antlers?