Learn the easiest way to get decor-worthy Recycled Book and Twig Banner in this short and informative article below!
This new year I really want to focus on putting all those finishing touches in our home. I have a lot of painting and planning for our living room and the kid's room needs a lot of organization and help! I have been slowly putting their rooms together. It seems I have so much to do yet, but first, let me make a Recycled Book and Twig Banner!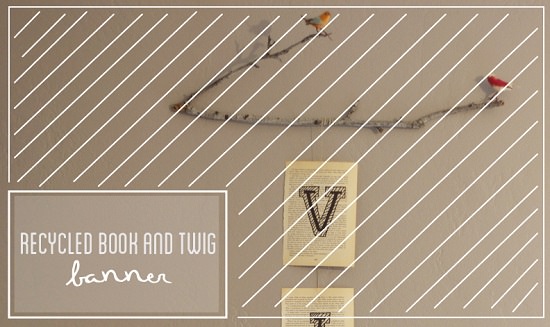 Recycled Book and Twig Banner
I decided to make a cute little banner using a recycled book I had leftover from my bookmobile DIY, plus some twigs I found from our backyard. Also, I found some really cute vintage birds at an antique store and used them to finish the look. I was so excited to get this little project done for our daughter's room!
To make this DIY possible, all you will need is some vintage book pages, sharpie, twine, twig, birds, and a hot glue gun. I simply traced out one letter per page of paper using the black sharpie. I put a small dab of hot glue on the paper and secured it to the twine. Repeat this with all the letters and work your way vertically down. I tied the twine to the twig and attached it to the wall – you can attach it any way you would like that best suits you. I actually used some hot glue on our wall. I've experimented with this a while ago and found that it held its stick very well, but also peeled off nicely afterward. Who knew?!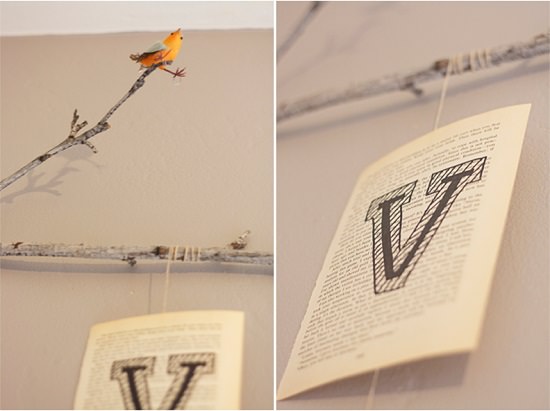 I think this little banner turned out wonderful. The look goes perfectly with her room and adds a nice vintage and handmade look! I think it's quite unique – which is perfectly suited for our little girl! Her personality is bubbly, sassy, funny, kind, and sweet. She is special in so many ways!
What do you think about this little banner? Do you think it has a vintage vibe to it?