DIY cycling trophy jar is unique add a cool way to decorate home. You can go for any other trophy depending on your choice!
Do you ever wonder thrift stores and see all those vintage trophies sitting around? If you come across those again make sure to get hold of the interesting ones. You can do a fun project using such trophies, that'll look cool on the desk or any other such setting.
As we found this one with a DIY Cycling Trophy Jar that's perfect for those who love cycling. So, why not try to find some that pique up your interest.
DIY Cycling Trophy Jar
Here is what you will need
An old trophy
Canning Jar with Lid
Spray paint
Drill
Wrench
Directions
Remove the topper (keep the hardware) from the trophy using a wrench. Drill a hole in the top of the canning jar lid (this is where the topper will be placed). Spray paint the lid any color you would like. White is always a safe color, but if you are feeling brave, a burst of color would be fun too! Once the paint has dried completely, put your topper through the drilled hole and secure it with the bolt on the inside of the lid. That's it. So simple and now you have a fun little piece for your home!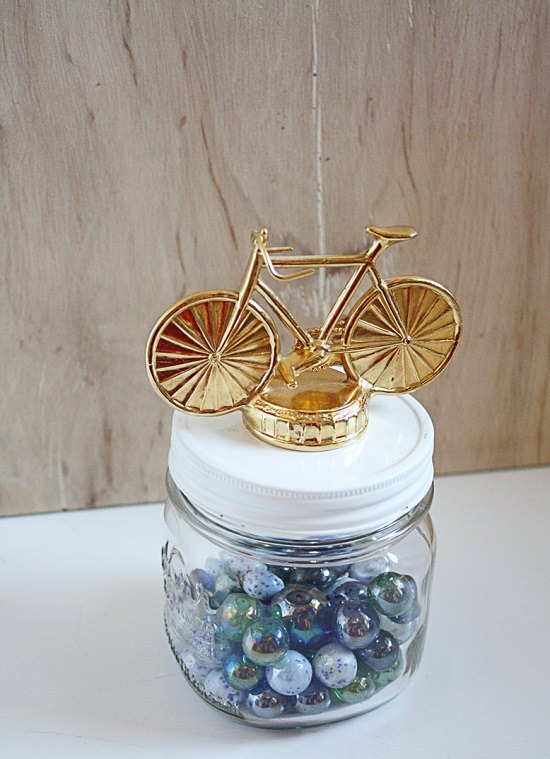 This jar is one of its kind. You can keep it on your bedside table with some vintage marbles inside. At the start, you might not know what it is about it, but you'll be happy that you decided to keep these fun little trophies and make them into something useful once more! However, these trophies whether you transform them or not, still look pretty as a display.
What do you think about this simple DIY? Are you going to try it? Do let us know!