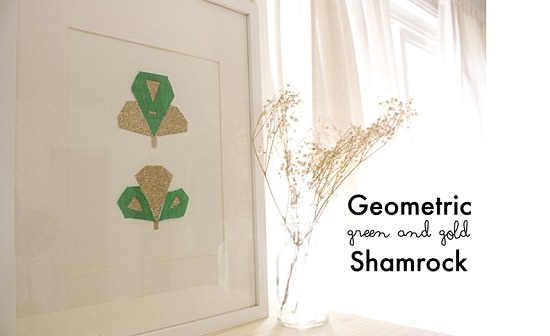 It's almost St. Patrick's Day! Wow, where has the time gone. Ok, so I'm going to be straight up with you. This DIY did not turn out as I hoped. I even debated not sharing it, but that's just life. Some projects are just gonna flop. And I'm dealing with it! I really wanted to create something less traditional and more modern this year for St. Patrick's Day. And since Easter is also in March, I'm trying to do a few Irish-inspired DIYs so I can start on some fun spring ones too. As I already mentioned, I am loving the geometric look in decor this year! I decided to make a few fun geometric, non-traditional shamrocks!
What you will need
Green crepe Paper
Scrap book paper (for part of the shamrock, as well as the background surface)
Scissors
Tape/glue
Frame (any size, depending on your personal choice)
* you can opt out on crepe paper and just use scrap book paper
Collect your supplies. Begin by cutting out diamonds – a few large and small ones. Fold half the diamonds in half and cut out a unique design, you can have a lot of fun with this! Open your diamond and there should be a fabulous pattern. Tape a non-cut diamond behind the cut out ones, depending on the size (large behind large, small behind small). Create your shamrock shape. Keep in mind, this is a modern take. It may not look exactly like a traditional shamrock, but that's the point! You can create as many as you would like. Tape your shamrock to the background paper surface. You can choose to put one large shamrock in the center, or spread out two or three on the page. Place in frame!
I decided to combine green and gold, I think these colors look so beautiful together! Plus, the shamrock is already so different from something tradtional. I thought it would be fun to add a color you wouldn't expect as well! I love how funky it turned out. I am still getting use to it, since it is completely different from the norm. It's slowly growing on me!
I am trying to figure out some other ways I can incorporate geometric patterns into my decor over the next few holidays coming up. I'm just so in love with this fad right now! What do you think about this crazy DIY? A little too weird for you, or do you like how different it is?