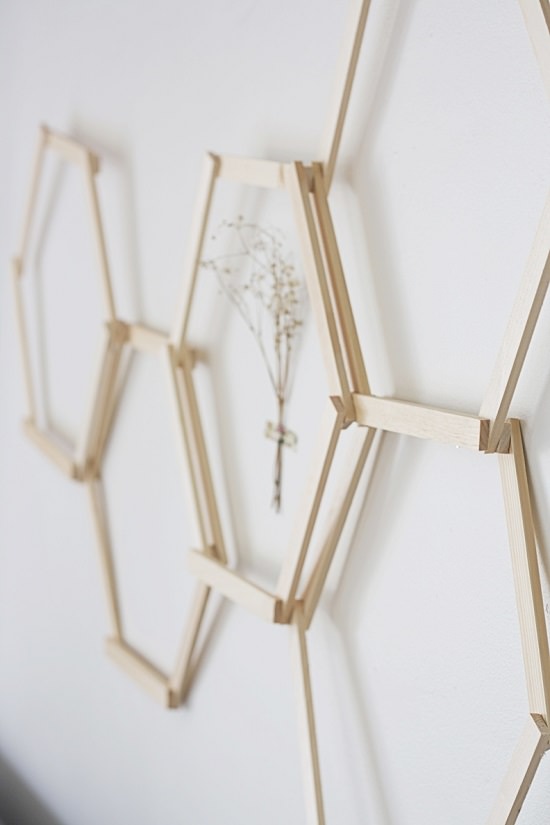 I have been in love with the all the new geometric home decor ideas flooding Pinterestlately! If you follow my H is for Home Pinterest board, I'm sure you've noticed I've been pinning a lot of inspiration revolving around geometric designs! They just add a lot of fun to home interiors and seem to make the room come alive!
For the longest time, my husband and I have been looking for some sort of art to hang above our bed in the master bedroom. Right now I just have my DIY painted and glittered feathers, which I love!  But I'm wanting something a little more permanent. Or at least until we find something we just HAVE to have!
Then I came across some sales at Michael's! I found a package of six rectangular wood planks (my rectangles were shorter) for 75 cents! I grabbed five packages with no DIY in mind, it was just too good to pass! I decided that this would be a great opportunity to create something geometric for the walls!
What you will need
30 wooden rectangular planks (should be medium in length)
Hot glue gun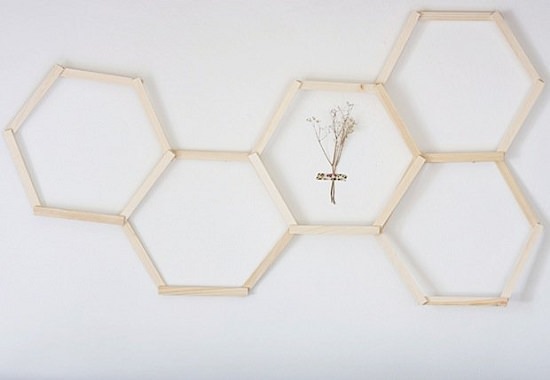 Create one hexagon at a time by hot glueing one end of the wooden plank to the other in proper form. Once you have all six of your hexagon's completed, create the design in which you would like it to be. Take some time to play with the shape by laying it on a flat surface and moving each hexagon around. When you finally decide on your design,  you can hot glue one atop the other to complete your honeycomb. It's SO simple and a lot of fun!
I simply placed two nails in the wall to hang my new honeycomb wall art! I love it and think it's perfect above our bed! I am hoping my husband and I can sit down and try to come up with a game plan to create some great honeycomb shelves for our living room walls! We will see!
What do you think of this DIY? Do you like the honeycomb design?