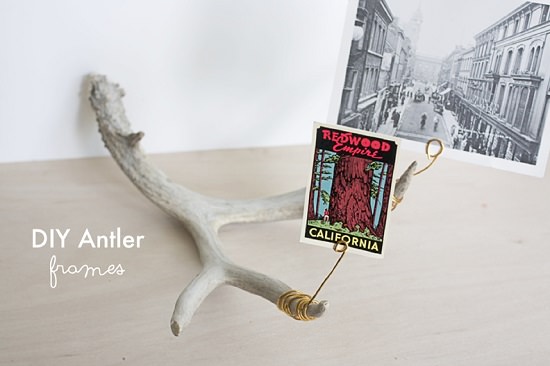 I was recently  given a bunch of antlers from some friends of ours, which I am SO grateful for! I have been wanting to build my collection and I finally have a good start! I decided to do something unique and fun with one of the antlers I had and give it a new purpose. I created a great antler frame, using only a few supplies and I'm currently loving it!
You will need
Antlers
Floral Wire
Wire cutters
Pictures
Simply begin wrapping the wire, creating a nice coil effect. I used my fingers as a guide. When I had enough of a spiral  I was looking for, I used my wire cutters to remove the remaining wire. I created a small spiral circle at the very top of my coils, which would later be used to grasp my photos. You want to make sure to pinch the circle to ensure the pictures are snug and they stay in place. That's it!
I am pleased with how it turned out – it's definitely a unique way to display all those photos around the house. You can make as many as you would like, but I wanted it to be somewhat subtle. I've seen a lot of DIYs in regards to antlers, but I really wanted to do something as unique as possible.
I am loving this floral wire and am in the process of creating some other fun little projects for the home. We will see how they turn out and if they do I will be sure to share it with you!