No matter for what you make this DIY tablecloth, it'll come in use one way or the other! You can make this DIY tablecloth with little or no experience.
Tablecloths are used for many purposes. Some want it to cover a table to make it look more elegant others want to add color and spice to a room. There are so many patterns, colors, and materials, there are endless possibilities of what one can do for their table. Making your own tablecloth at home is actually a simple process. It just requires a bit of thought beforehand. This can save you time from shopping around and can save you money.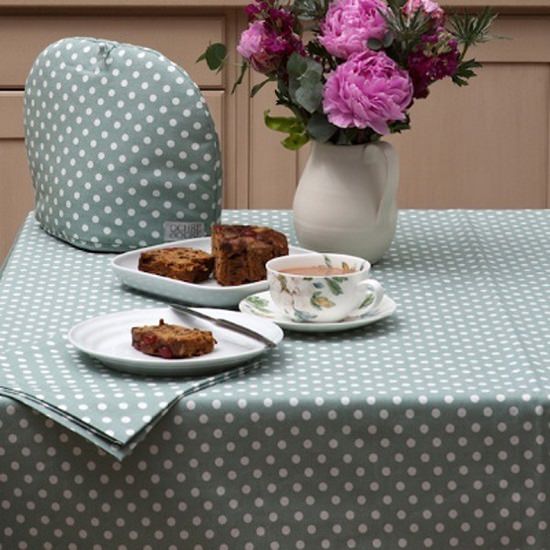 Select What Type Of Fabric You Want
The exact type of fabric will drive the entire look of the table and set the tone for the room your table will be set up in. The fabric also adds functionality to your table. It adds style and color.
a) Cotton is used a lot for everyday purposes and is inexpensive. They are very popular, so there are many options to choose from. They are also very durable.
b) Polyester is also very popular and lasting. They come in a variety of colors and patterns as well and best for outdoor parties. They can also be used for a semi-formal look because they are silkier than cotton offering more elegance.
c) Vinyl is an excellent for outdoor use because they are weather resistant and clean up thoroughly. They are very inexpensive as well and come in a variety of colors and patterns.
d) Silk fabrics are an excellent choice for more formal gatherings like weddings. It's more delicate so not for everyday use. They come in many colors as well as other options like embroidery and lace.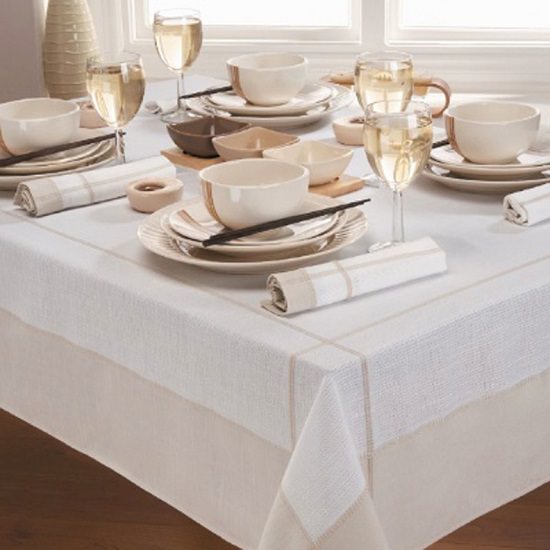 Decide On What Extra Finishes You Want
There are many things you can do with tablecloth designs. You can add extra style on the top by adding lace or embroidery. You can spruce up the bottom by making pleats, adding ribbons, or braiding techniques. You can run ruffles or beads along the edges of the table. For another decorative touch, decide if you want a no-sew tablecloth or to sew one. These are quick and easy tablecloths to do as well.
Decide On The Length of Your Tablecloth
Tablecloths can come in various lengths. Choose a length based upon the portion of your table you'd like to show from underneath. Another consideration is if you have children or pets and not want them to pull on the hanging cloth. In this case, you can make a fitted tablecloth as opposed to a hanging tablecloth. A fitted tablecloth will fit snugly under the tabletop.
Gather Your Materials
Now that you've decided all the basics, you'll need to gather your materials. Your basic materials needed are measurement tape, fabric, scissors, pins, and a sewing machine. If you choose the no-sew option, you'll need the heat-bond fabric tape and an iron.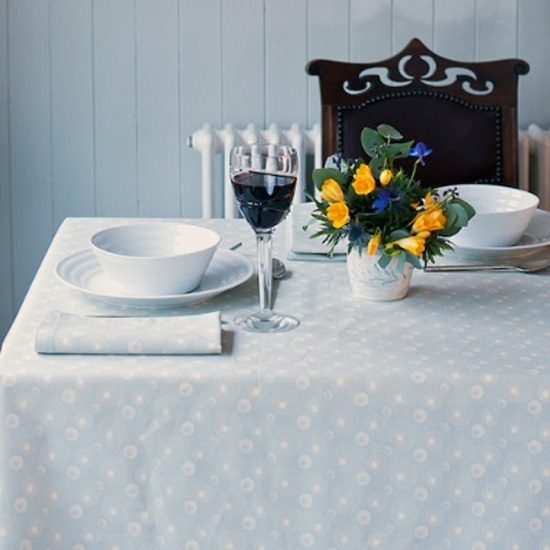 Make Your Tablecloth
First, you'll need to measure your table. Allow yourself 1 inch for the seam. Determine how much of a length you want for your cloth to hang down, or the drop of the cloth. Add that to your total measurement as well. So the fabric needed for your 9 foot long and 5-foot wide table would need to be a 10-by-6-foot fabric at minimum.
Cut your fabric down
Place your fabric right side down. Fold back a one-inch seam and secure it with pins. For an extra neat appearance, cut a triangle out of the corners so the seam from the adjoining sides will meet neatly.
Lastly, stitch down the center of the seam allowance carefully for your finished seam.
If you decided to go for the no-sew option, simply place the fabric tape between the one-inch seam created and iron over it with a warm iron for 30 seconds all the way around your fabric.
Conclusion
Now you have created your first tablecloth. You can now experiment with other designs and materials. If you buy your fabrics wholesale and in bulk, you can change up your tablecloth every day with a little patience.
It's always best to have too much rather than too little fabric. You don't want to have an uneven appearance. Also, sew very carefully for a neat appearance.
Author Bio:
Lynne Reed is a regular contributor to a variety of blogs and enjoys writing on several topics including home decor, events, and parties. High-quality PVC table cloths give a fabulous look for your tables in parties. If you want to decorate your tables you need to find a very good Tablecloth Shop where you can find your favorite color and designs.