Learn how to transform ugly driftwood into a unique display for your home decor by reading this DIY driftwood flower vase.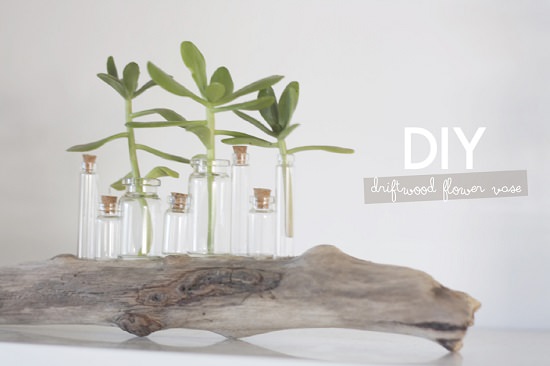 It's been so warm here lately, I've been finding it hard to find the motivation to get things done! My husband, of all people, encouraged me to get off the couch and do a little project like this DIY Driftwood Flower Vase to get me out of this funk…so, I took his advice! He was right, it was the perfect fix for my laziness!!
I wanted to do something fun and unique with some driftwood we collected a few months ago while we were up in northern California. I also had some fun miniature glass vials that I bought from a craft store ages ago. They were so cute and petite, I just had to get them. But they were so small, I just didn't know what I could use them for. I finally put them to use.
DIY Driftwood Flower Vase
What you will need
Driftwood
Glass vials
Hot glue gun
First, figure out the best way to lay your piece of driftwood down so it's as straight and even as possible. Play around with how you would like to display your vials and see what looks the best to you. Once you decide, take your hot glue gun and carefully glue one vial to the driftwood at a time. Hold in place for a few seconds to ensure they are secure. Repeat with remaining vials. Once you are done, display some small flowers or succulents and enjoy!
I am happy with the finished result, it ended up turning out really cute! I think the vials all lined up to create a nice effect, especially since they are quite small. I only chose a few vials to hold the succulents, but you could very well use them all for a more dramatic look! What do you think?