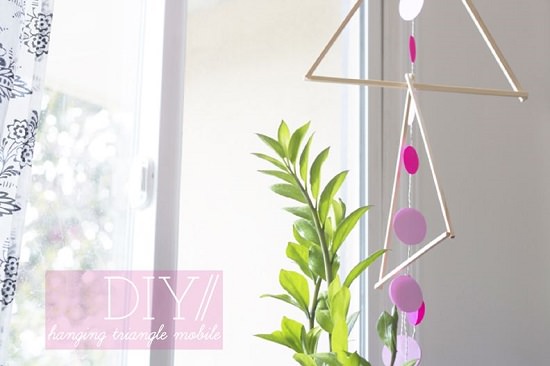 Hello Monday! It's a bitter sweet week, seeing as the summer is officially over in our home. My hard working hubby is back to teaching and I'm back to being a full time stay at home mommy! I am so thankful for the great life we are able to enjoy and live.
Today, I created another project to fill your home with cheer! I created a modern hanging triangle mobile, using some left over wood craft sticks from a previous project and a hot glue gun! I threw in the bright polka dot garland for some color!
I simply hot glued my sticks to form triangles and pieced them all together. I attached twine and a wood stick to create nice balance at the top, while still keeping the triangle shape. This DIY took minutes and I love how it turned out!
It's such a great feeling to do something creative on a daily basis. It relieves my mind of worry and stress, keeping me focused on a task that makes me feel happy! My kids had a great time helping me out, since this DIY is very kid friendly (just watch out for the hot glue gun)!
I am still experimenting with materials for my DIY light fixture. I've thought about using these light weight wood craft sticks. We'll see what we can do!