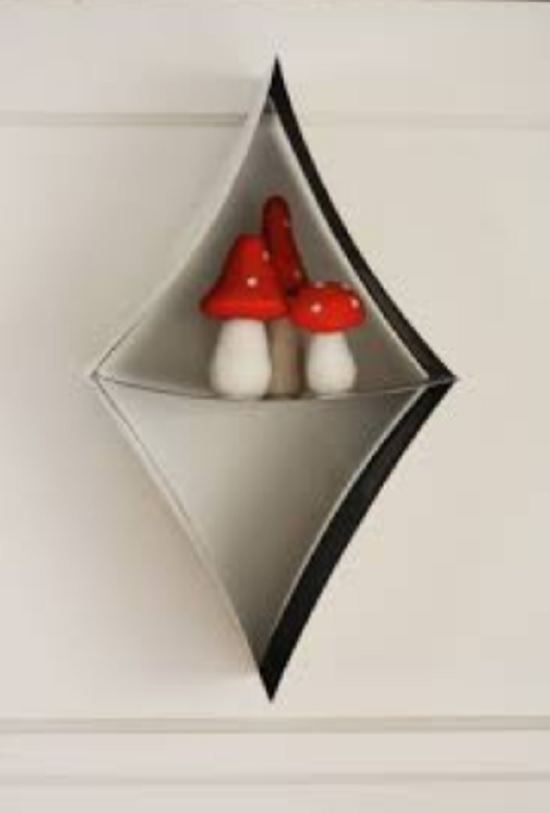 I came across some great pieces of wood at the craft store. They were thin sheets of plywood and were pretty lightweight. I decided to take them home and experiment. See what I could do! I thought I would design a prototype for a larger scale shelf I was thinking of making down the road. Sometimes it's nice to have an idea of what something might look like once it's out of your head and on the walls!
The first thing I tried to do was remove the barcode stickers. Fail. They were stuck on there good – such a shame. I decided that I would have to resort to painting one side with black paint in order to hide the stickers, it was the best thing I could come up with. I just didn't feel like having a war with these silly things longer than I needed too.
After all the sides were painted and dried, I began to play around. I resorted to creating a fun shape and making a little shelf to act as an art piece for my walls. See what this baby was going to look like! Since the wood isn't as sturdy as other plywood (these are super thin sheets and very temporary), I can only have very lightweight decor pieces for display. Even then, it looks pretty neat on it's own!
I simply used hot glue to attach all the edges together, which worked pretty good. I haven't had any problems as of yet! It looks nice with the inside walls a contrasting black and the outside a nice light wood grain – it goes well with the rest of my decor!
The triangle shape pulls through with the other pieces in our living room. It also has an overall diamond appearance, which is new and fresh for us! Either way, I'm liking the non-tradional look this shelf has! After it all, I think I might go ahead and have my husband help me construct a larger scale shelf kind of like this. I think it's time to get rid of our generic white Ikea shelves. What do you think?