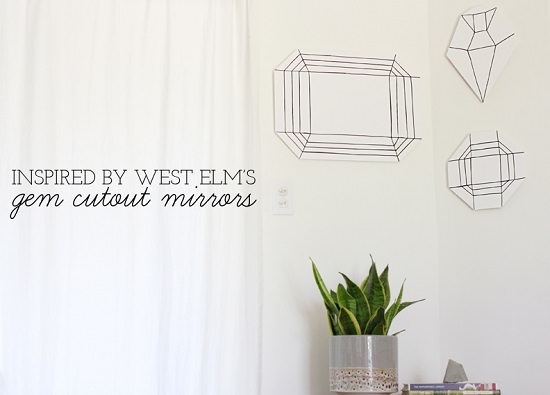 This week I got a west elm catalogue in the mail, which I was quite excited about! I grabbed my coffee and flipped through the pages. There are some fantastic holiday pieces I really want to get my hands on – they always have the best selection of Christmas ornaments!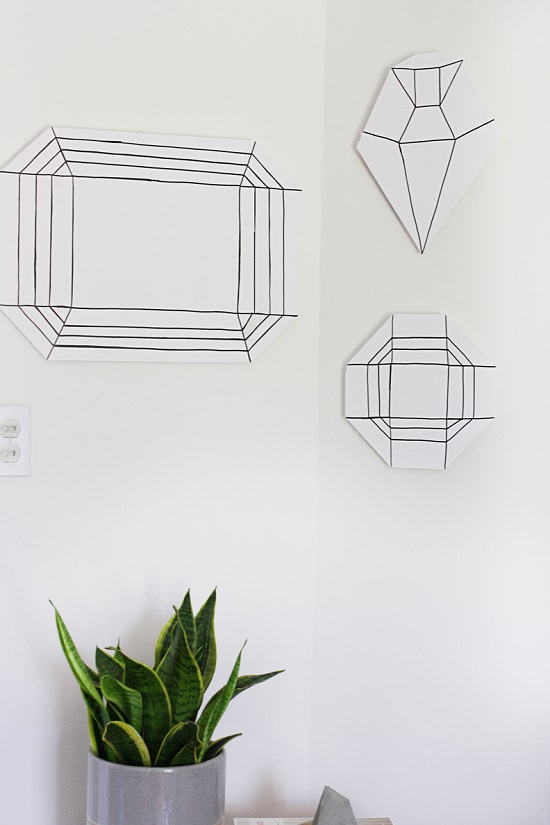 What really caught my eye, were the Gem Cutout Mirrors! I thought these were amazing and I could see them being used as permanent decor, not just seasonal! They really inspired me to get my craft on and so I decided to make my own version of these beautiful pieces!
What you will need
White foam board
X-acto knife
Ruler
Pencil
Black sharpie
Masking tape
I headed over to Target while running errands. I found a white 20 x 28 x 3 /16in foam board, which is the perfect size for this project! I got home and took my ruler and drew a line in the center of my foam board. I carefully cut through the foam board with my x-acto knife so I had two rectangular pieces. With one of them, I created my Emerald shape, by cutting triangles off of each corner. I then cut my other rectangle in half again, so I had two smaller rectangles. One would become my diamond shape, the other my Asscher. I then created some fun linear designs with my pencil (then again with the sharpie) until I got the design I liked (it doesn't have to be true to the shape – just do what you want!). Repeat with all three shapes! When I was done with thw cutting and drawing out my lines, I taped an extra piece of foam board to the backs from the scraps so that it would pop off the wall a bit. I then taped each shape to the wall and I was done!!!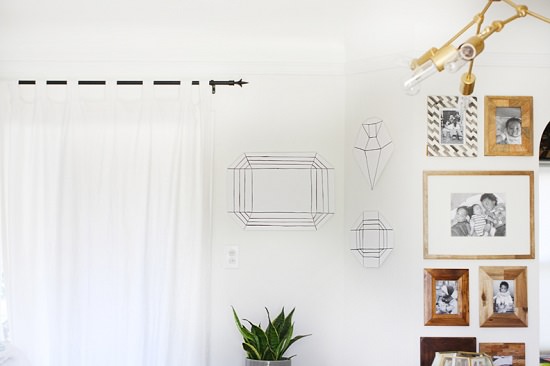 I'm pretty happy with the end result! I might have messed it up a few times, but you can't expect to get everything perfect all the time. I know I never do! I think it's super fun and really modernizes that corner of the room. It's really easy to remove from the wall and then reapply somewhere else if I get too tired of it! Thanks to west elm, I have some lovely new wall art to look at! But I would still love one of those mirrors in my house!
Happy Halloween, friends! We are getting ready to do some Trick-or-treating tonight! Our kids are going as Batman, Cat Woman and Robin. It's going to be pretty cute!  How about you?