Here is a splendid idea for party decor that's modern and fun to make. Balloon decor never goes out of trend and on festivals like Christmas it's a must.
Everyone makes plans of doing this, that on the parties. I mean have desires to fulfill like … Want to do something which is really filled with fun that you could use as decor this holiday season or that party you're thinking of hosting? And if you are able to carry this through to the New Year, then there is nothing best in than this in the moment. it's just too fun! How about some modern Christmas balloons?
What you will need
Balloons in black and white
Paint in black and white
Paintbrushes
Tinsel garland (any color)
Streamers in black and white
Tape
Wire
First, inflate four balloons (or more if you would like). Paint each balloon with a fun holiday word! We chose "Joy", "Peace", "Hope" and "Cheer"! Let them dry completely. Fringe your streamers by cutting slits down the outer side of each. Once the balloons are dry, tie your tinsel or streamer to the bottom of each balloon and simply hang on the wall! We used some lightweight wire by taping it to the back of the balloon and creating a loop on the top of the wire so we could create different lengths. Be careful not to pop your balloons!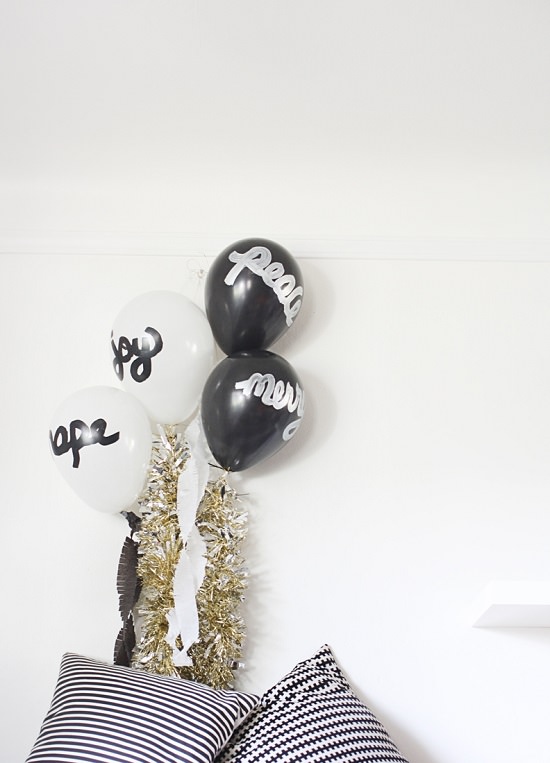 You'll experience a lot of enjoyment and love while making these trendy, modern Christmas balloons. Also,  get encounter with the thought that how playful this DIY is! After completing the process of making and decorating, every time you walk into our front door, you'll feel like there's always a party going on! It's modern, simple and spectacular! Don't you think this would be great for a Christmas or New Year's party?