Ditch your traditional festive wreath by DIYing this Scandinavian Inspired Christmas Wreath for your living area!
I've teamed up with seven other fabulous creative ladies for our first Quarterly Collab! This month, we are each sharing a DIY wreath! My husband and I have been long time fans of Scandinavian design. I was really inspired to come up with a Scandinavian Inspired Christmas Wreath!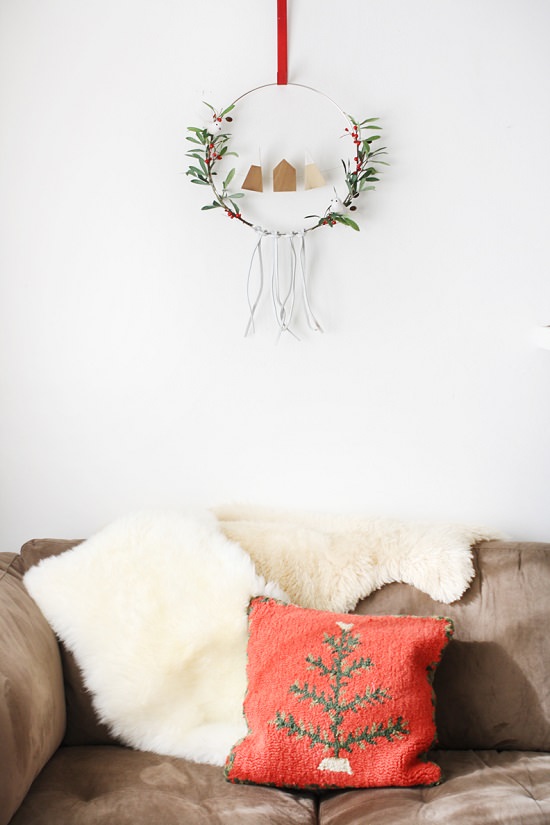 Scandinavian Inspired Christmas Wreath
What you will need
Metal ring
Thin floral wire
Greenery

of your choice

Red berries
White birds (with clips)
Woodhouse

and mountains (my husband cut these with a table saw for me, but you can find these shapes at a craft store)

White paint
Paintbrush
White leather strips (I substituted this for the ribbon)
What to do
Wreath: Take your wire ring and start to attach your greenery where you would like. I used thin floral wire to attach the greenery to my ring. This also allows for mobility if things need to move around later. When the greenery is all attached, start adding your berries where you would like to add that pop of color. Clip your birds to the wreath, which is optional. Attach your leather strips to the bottom by making a large loop and pulling the strips through.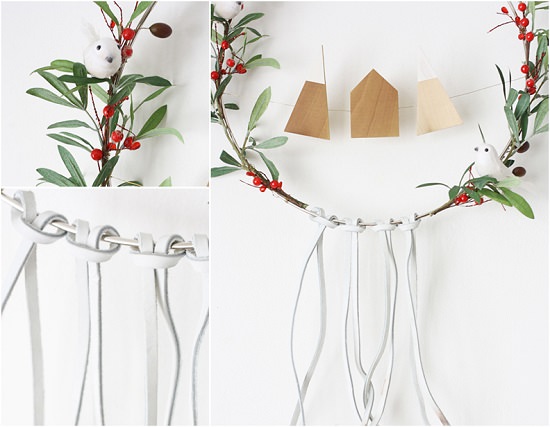 Wooden village: You can easily buy pre-cut houses at the craft store. You can also find pre-cut triangles that you can use as mountains as well. If you own a table saw, you can easily cut these out on your own. Paint the tips of your mountains white. Let them dry completely. Hot glue your village to a piece of thin floral wire. I used a small section of material to cover the wire on the backs of the wood cutouts. This also helps stabilize the wire to the wood. Attach the wire to the wreath so it hangs in the center. If the village starts to swing forward or back, you can twist the wire until it becomes stiffer and adjust the village to where it will sit straight.
This wreath has many elements, but it still looks so simple and clean. I love it! It really has a modern flair with hanging white leather strips and a cut-out wooden village. Yet, it's still very traditional in shape and color! If you are looking for a Scandinavian touch to add to your home this holiday season, this wreath is perfect!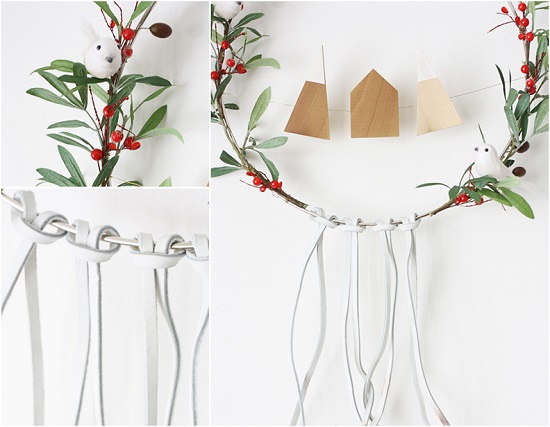 Be sure to follow us to stay updated!