Besides removing oil, grease, and dirt from your hair, dry shampoo uses are numerous. Keep reading this informative article to learn more!
Dry Shampoo Uses
Dry shampoo is a hair care product that removes oil, grease, and dirt from your strands. Unlike regular shampoos, it doesn't need to be washed. Without using water, dry shampoo gives you the feel of freshly shampooed hair in minutes. However, dry shampoo has other unique and interesting uses that can come handy in your day-to-day activities. Keep reading to know the fantastic dry shampoo uses that can curtail your everyday struggles!
1. Keeps Feets Dry
People love to wear heels, ballet flats, sandals, and shoes without socks. But it's a little bit challenging to keep the feet dry, especially in summer. Tackle this issue by spraying dry shampoo on the bottom of your feet or inside the footwear directly. It's an excellent alternative to the dedicated foot powders that are often expensive.
2. Opens Stubborn Jar
If the lid of your jar is stuck and you find it hard to open, then dry shampoo has got your back. Spray the dry shampoo on the top, this will give you a better grip on the lid, and then you'll be able to open it easily.
3. Tame Unruly Eyebrows
Hold your havoc-creating unruly eyebrows in place using dry shampoo. Spray a tiny amount of dry shampoo on your index finger and apply it on the brows. As a bonus, it makes them look thicker and fuller as well.
4. Securing Bobby Pins/Barrettes
If bobby pins, barrettes, or hair clips often slid from your hair, try out dry shampoo. Spraying a little amount of dry shampoo on these accessories will allow them to have a better grip on your hair, therefore, saving them from sliding out.
5. Oily Stains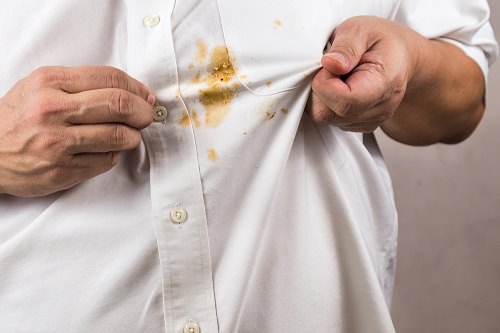 If you're a messy eater and often spill food on your outfits, you probably already know the pain of getting rid of those stains. Thankfully, dry shampoo can be one of the saviors for you in such a mishap. Spray dry shampoo on the stain and leave for 2 minutes, at least. Now, run a normal wash cycle for the clothing to get rid of the stain. Dry shampoo sucks up the excess oil from the area, making the stain removal process easier and quicker.
6. Eliminates Carpet Stains
Getting rid of carpet's oily stains is now more effortless with the versatile dry shampoo. Spray a generous amount of it on the problematic spot and let it sit for half an hour or so. Then, run a vacuum thoroughly. If the stain is still visible, you might gently rub the stain with a combination of dawn dish soap and water. Let it air dry and spray dry shampoo on it again and run a vacuum.
7. Make Extensions Last Longer
If you are afraid to try clip-ins as they might slip out, no worries, dry shampoo will do the trick. Spritz dry shampoo on the roots of your strands. This quick hack facilitates the clips of your hair extensions having more grip, and they stay put.
8. Highlights Your Hair
Tinted dry shampoo is the best way to add subtle highlights or lowlights to your hair. However, make sure to choose a tinted dry shampoo that is a shade close to the natural color of your strands.
9. Holds Updos/Braids
Making updos or braids from freshly washed strands is quite tricky, as they tend to fall out often. All you need is a bottle of dry shampoo that gives your hair the texture that's favorable for updos/braids. Just spray a generous amount of dry shampoo on your dry tresses before making any hairstyle, and you are done.
10. Sassy Tousled Look
Give your short hair a trendy appearance by trying a sassy, tousled look using the versatile dry shampoo. Apply it throughout your strands, and then muss with your hands.
11. Cover Your Hair Roots
No need to waste your hard-earned money on weekly hair root touch-up appointments, when you can do that at home in a cost-effective way. Since dry shampoo comes in a wide range of colors, choose the right tint and spray it on your hair roots to disguise the signs of natural color.
12. Creates Grip
If you face difficulty during workouts, rock climbing, and yoga sessions due to sweaty palms, then dry shampoo might help. Spray dry shampoo on your hand and rub it with your palms; this will give you a better grip during yoga or weight lifting.
13. Prevents Body Perspiration
If you're going on a summer vacation soon, then taking along a bottle of dry shampoo is a great idea. Applying dry shampoo to your underarms or other sweaty areas will help you minimize perspiration, and thereby, sweaty odor. However, once you reach your destination, don't forget to take a bath.
14. Manage Sticky Bangs
Bangs are pretty cool but become a headache when they cling to your forehead consistently. Prevent it from getting greasy and sticky by spraying a tiny amount of dry shampoo at the underside of the bangs.
15. Separate & Define Your Curls
While brushing your curly hair, if they often clump together, then dry shampoo could be your new best friend. To confront this problem, spritz a little amount of dry shampoo all over your hair, to halt your fresh curls from getting stuck.
16. Reverse Your Hairstyle
If something went wrong while making a hairstyle and you want to redo it, then give a shot to dry shampoo. Just spray it where you've already curled, and blow-dry, while brushing. Voila, your strands will be back in its previous state again.
17. Adds Volume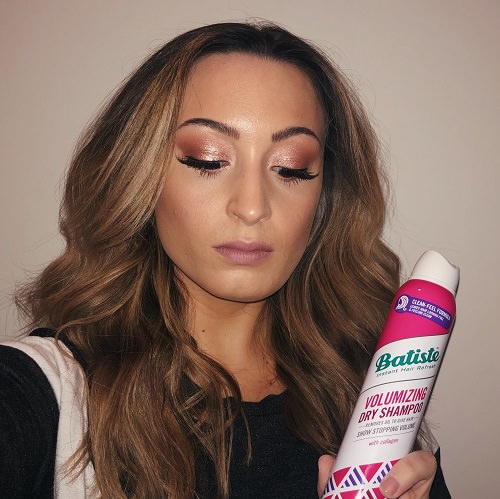 Dry shampoo not only soaks oil from your hair and disguises unwashed strands, but it also adds volume to your defiant locks. Check out this helpful article to get the volume your hair deserves.
18. Deodorize Smelly Shoes
If you don't have enough time to clean your smelly shoe, then we suggest you use dry shampoo.  Spray dry shampoo inside the kicks and leave for half an hour or so. After that, remove its residuals from your shoes properly. This hack works because of the intense fragrance of dry shampoo.
19. Removes Hair Static
Static hair leaves your strands frizzy and difficult to style. Counter this issue with the dry shampoo. All you have to do is spray dry shampoo on your hair, massage a bit, and the static disappears.
20. Helps in Backcombing/Teasing
Instead of using hairspray in backcombing or teasing, try dry shampoo as an alternative. It holds the style in place and makes the brushing easier. The best part is that it's not harsh on your strands like other commercial hairsprays.
21. For Beachy Waves
Transform your hair's look into appealing beachy waves with your very own dry shampoo. Head on to this instructive step-by-step tutorial to fulfill your favorite beachy waves.
22. Gives Matte Look
Reduce your hair's natural gleam by spraying the versatile dry shampoo all over your strands for an edgier, matte look. Add dry shampoo in your hair care regime, and you'll not regret it.
23. Adds Subtle Hold to Hair
If you don't love the stiff hold that many hairsprays give, then dry shampoo is what you need right now. A few small bursts of dry shampoo at the root are sufficient for soft, touchable hold.
24. Eliminate Hair Odor
For some reason, if your hair is smelling inadequate, and you've no time for washing, then dry shampoo might provide an instant fix. It works because of its pleasant fragrance that refreshes your hair.
Conclusion
We hope that these dry shampoo uses helped you learn a lot of easy and quick hacks for your day-to-day life. It's worth mentioning that you should always use an organic dry shampoo with the least chemicals to avoid damaging your hair. Also, don't use dry shampoo on wet hair and always wash your hair or other body parts where you are using dry shampoo within a day or two.