Here is a list of the most bizarre slime recipes that you can DIY with some unusual items that you would have never heard before!
Slime is a sticky, oozy, gooey, non-Newtonian solution with a stretchable body, generally made with glue, cornstarch, food coloring, shampoo, and water. It's a great sensory activity and an excellent science project for kids. But if you and your kids are fed up with the same old slime recipes and want to try some unique ones, then these most bizarre slime recipes are for you.
Most Bizarre Slime Recipes
1. DIY Magnetic Slime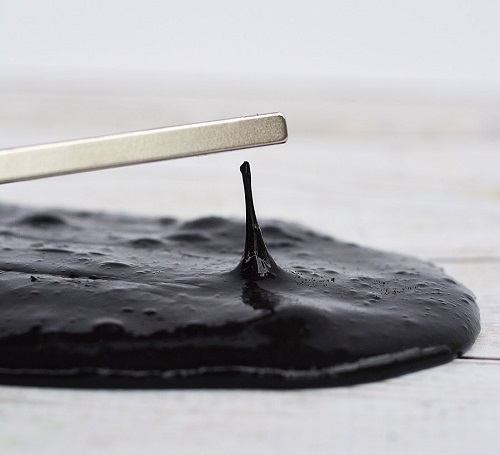 Give your kid a few hours of fun by making this coolest magnetic slime that crawls and moves as they command.
Supplies
1/2 Cup Black Iron Oxide Powder
1/2 Cup PVA White Craft Glue
Neodymium Magnets
1/2 Cup Liquid Starch
1/2 Cup Water
Measuring Cups
A Bowl
Spoon or Craft Sticks
Directions
Add glue and water into a bowl and mix them properly.
Next, pour black iron oxide powder and liquid starch into this mixture and stir it thoroughly.
Keep stirring until the mix come together and looks like slime.
Once it's done, transfer the slime into a separate clean container and leave it for 10-15 minutes. Voila! Your magnetic slime is ready.
2. Dish Soap and Toothpaste Slime Recipe

All you need is dish soap and white or mint toothpaste to make this bizarre slime recipe.
Supplies
2 Tbsps of Dish Soap
2 Tbsps of White or Mint Toothpaste
1/2 Tsp of Table Salt
Spoon
A Bowl
Directions
Combine dish soap and toothpaste into a bowl with a spoon until all the ingredients dissolve together completely.
Next, pour 1/2 tsp of table salt into the mixture and stir again for 2-3 minutes.
After that, put the bowl in the refrigerator for at least one hour or so.
Take out the slime from the fridge and knead it properly.
3. Fybogel Slime Recipe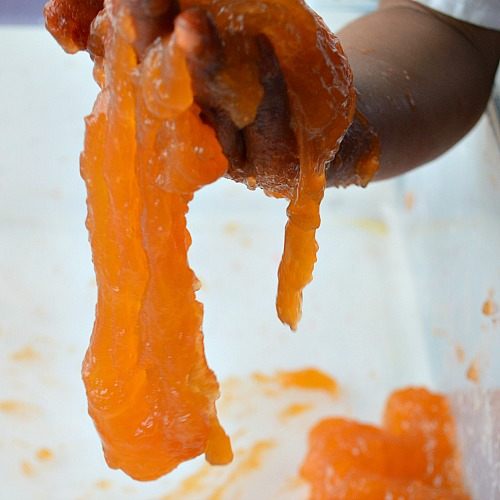 The edible nature of this slime makes it unusual from other slimes on this list.
Supplies
Three Sachets of Fybogel
1 Cup of Lukewarm Water
A Microwave-friendly Bowl
Wooden Spoon or Spatula
Directions
Empty three sachets of Fybogel and a cup of water into a microwave-safe bowl and combine them well.
Next, put the bowl in the microwave for around five minutes at 180 degrees. However, keep checking it every minute to make sure the mix is not bubbling over.
Give the mixture a quick stir once the waiting period is up, and place the bowl in the refrigerator until the slime has cooled.
Now, your slime is ready, however, keep it in an airtight container when not in use.
4. DIY Crunchy Slime Recipe

Have you ever heard about slime, which is crunchy instead of sticky? If no, then the below recipe is for you!
Supplies
1/2 Cup of White Craft Glue
1/2 Cup of Liquid Starch
Food Coloring
1 Cup of Miniature Foam Balls
Mixing Bowl
Spoon
Directions
Pour white craft glue and liquid starch into a mixing bowl.
Mix these ingredients until you get a slime-like texture that should be firm and stretchy but not sticky.
After that, empty a couple of drops of your preferred food coloring into the mix and stir properly. However, this step is optional.
Once the color mixes well in the slime, empty a cup of miniature foam balls into the mixture and knead the slime for a few minutes.
5. Bizarre Ketchup Slime Recipe

Sounds odd, right! But yeah, you can make slime out of ketchup with a little help of salt and glue.
Supplies
2 Sachets of Ketchup
1/2 Tsp of Salt
1 Tsp of Elmer's Glue
A Mixing Bowl
Spoon
Directions
Stir ketchup and salt into a bowl thoroughly using a spoon.
Next, add Elmer's glue and stir again for a couple of minutes.
Once the mixture looks like slime, knead it for 2-3 minutes.
Your ketchup slime is ready for uninterrupted entertainment.
How Long Does Slime Last?
Slime lifespan solely depends on the ingredients used and the way you preserve it, but in general, they last long, up to a week to a few months. When the slime doesn't hold together anymore, discard it immediately. Always store homemade slime in an airtight container or ziplock bags into a fridge or at average room temperature to protect it from air, yeast, mold, and fungi.
Conclusion
Slime is fun to make and play with. The above bizarre slime recipes are some great projects to spend time with your little ones. Besides, go through this article to find out how to get rid of slime out of your carpet. If you found this article helpful, share it with your loved ones.