When I was asked by 
Vegas.com
 to be part of the Bring Vegas Home challenge, I couldn't refuse! They asked me to put together a room design based on 
The Cosmopolitan
 hotel as my inspiration. What really caught my eye were the beautiful hotel suites! Here is what I came up with!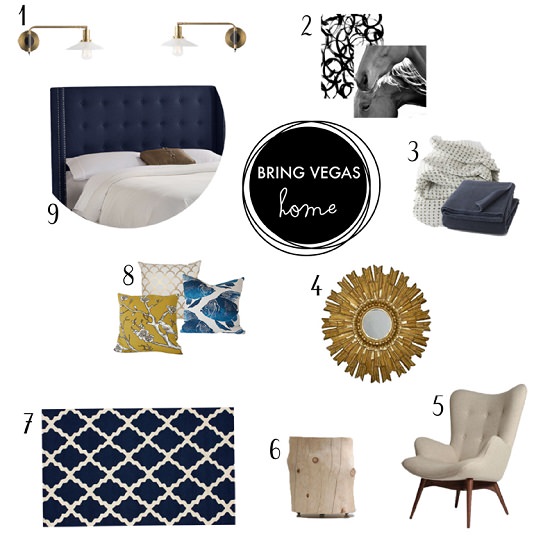 1.  I noticed the suites had beautiful, bright lighting. In my room design, I picked this lighting because of it's warm brass color and unique shade shape!
2. The large black and white prints give the room a classic and timeless look.
3. The bedding was clean and simple, but I threw in a few modern pieces from here and here to give it a little more personality!
4. I loved the mirror in the suite with that lovely design, so I wanted to add a little bling to create the same effect. Something that would similarly catch your eye, much like this one.
5. The furniture in the suites had nice curves, were simple and had classic shapes. A chair like this one is a must!
6. The touches of natural wood in the hotel suite really created a welcoming environment, so adding a side table like this will create the same feeling.
7. Having a bold rug can create an instant sense of style and tone to the space and thisone would be a fabulous addition to the other pieces in the room.
8. The pillows in the suite were very asian inspired, giving the room a very distinct vibe. Pillows like this, this and this are very similar in style!
9. The bed is the most important piece in the room. It's not only important to find one that's comfortable, but acts as a strong focal point in the space. This bed has a gorgeous shape and bold color that will instantly elevate your room to feel like a retreat!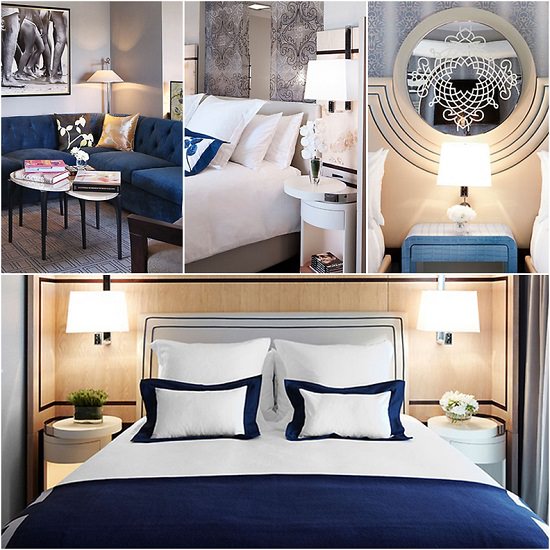 Creating a room to look and feel like a beautiful hotel suite is a lot more achievable and affordable than you would think! The Cosmopolitan hotel has some gorgeous rooms that make for some great inspiration. What do you think?!