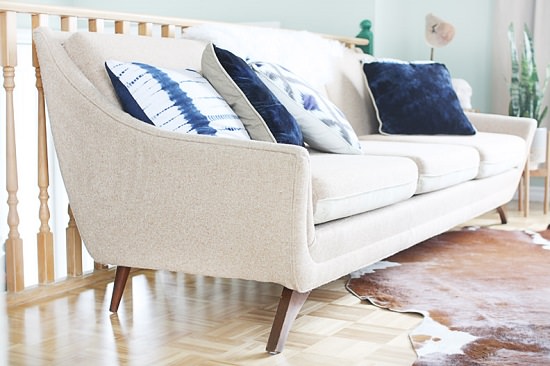 I decided to share with you some simple tips on how to choose a vintage sofa! If you are anything like me, buying vintage is a little more risky and tedious, whereas, buying new you usually know what to expect and you can always return it if it's not quite right for your space. Believe me, I've been searching for a loooooong time for that perfect piece. But when you do finally find the right one – it's magic!You may have guessed, but yes, we found the perfect mid century sofa! Three things to keep in mind: Texture, Shape and Color. When I was shopping around, I always had these three things in mind. I'll break it down for you so you can see where my thought process is at!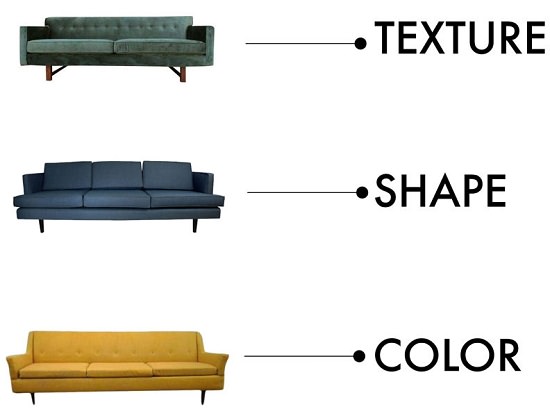 Texture
This is a great addition to any sofa – whether it be velvet, tweed or leather! Keep in mind all the other pieces you have in your space. You don't want too much texture and you always want to keep balance. I love layering rugs, so I get a lot of texture from our cowhide and wool rug, plus the million sheep skins laying around! I knew that my dream of a blue velvet was over…for now.
Shape
If you are going to be spending a lot of time (and maybe money) less is always more. Stick to classic shapes and designs that will go with the rest of your space for years to come! If you stick to a more classic design, chances are you can change out pillows, rugs, coffee tables, art, drapes and so much more over the years while your sofa can remain the focal point!
Color
Yes, color is a good thing! If you have an outgoing personality and are bold by nature, take a risk and pick something that everyone wish they had the guts to! Yellow? Red? Purple? Whatever works for you! If you are a little more on the safe side, pick neutrals (black, white, cream, grey) and add pops of color elsewhere – like your pillows!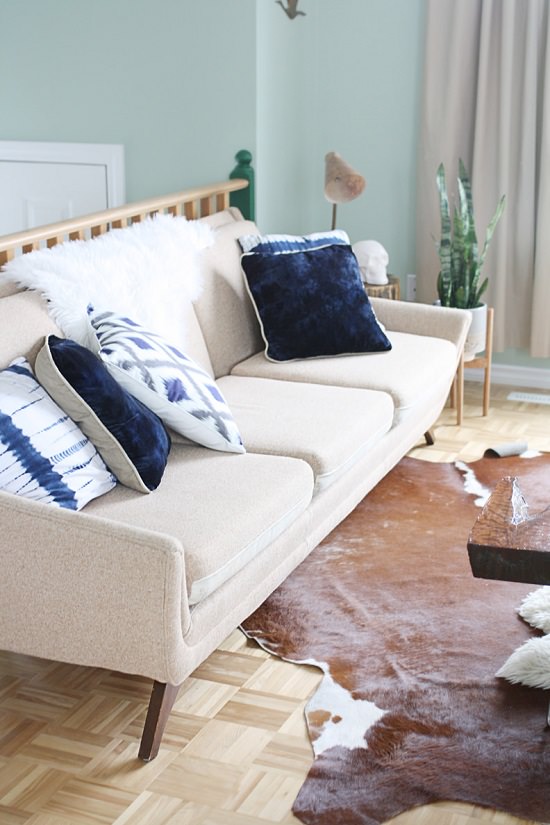 After our move, our upstairs living room looked pretty bare. We moved our kid-friendly Costco couch down to the basement (more like hid our couch) and so we started shopping around for a mid century sofa and quickly discovered a local shop called Bex Vintage. She had an array of fabulous pieces, including a few sofas that so happened to fit into those three categories above! She had a black leather and chrome sofa (texture), a fabulous orange sofa (color) and a lovely cream sofa (shape).
We decided to go with this classic shape, it fits perfect in our existing space! We have a lot of textures going on from pillows, to rugs, to the coffee table and wood stump side table. We needed a basic piece to tie it all together and bring balance to our living room and this sofa did just that. If I'm feeling really brave – I can flip the cushions over for a bold floral pattern (added texture and color….right?!). I'll share a sneak peek of the whole space at a later time, so check back soon!
What do you think of our final decision?