Level up your everyday or festival home decor with this clay copper leaf banner! Let's find out the tutorial below!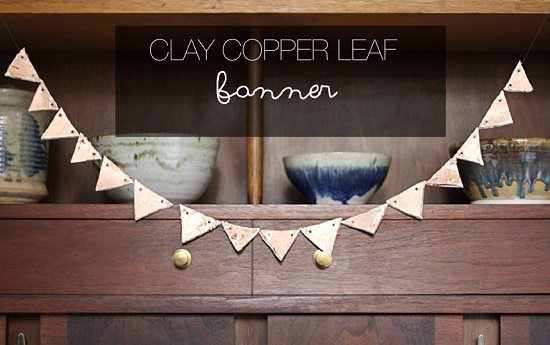 I recently discovered that there's nothing wrong with mixing metals in your home decor! Which is great, because I am loving them all! Brass is amazing, but now copper is starting to make it's way to the top of the list! It's a bit more vibrant than brass I think, so it makes for a great accent color in your home decor. I decided to see how I really felt about copper by doing this super simple Clay Copper Leaf Banner DIY!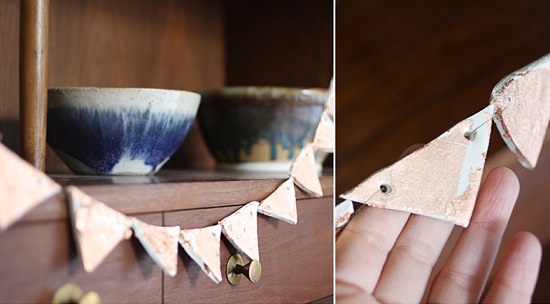 Clay Copper Leaf Banner
What you will need
Air-dry clay
Copper leaf
Copper leaf

adhesive

2 Paint brushes (one for applying the adhesive, the other (should be soft) for removing the copper leaf)
Triangle cookie cutter
Twine or string
Straw
What to do
Roll out your clay to the width you want your triangles. Take your cookie cutter and begin to cut out your triangles. Take your straw and create two holes at the top of your triangles for the string or twine to go through. Let your clay dry completely. When it's dry, take your adhesive and apply where you would like your copper leaf to stick. Apply your copper leaf according to the directions. Allow your adhesive to dry completely. Once dry, take your soft brush and carefully remove the excess copper leaf from your triangles. Simply pull your string or twine through the holes and hang up your new banner!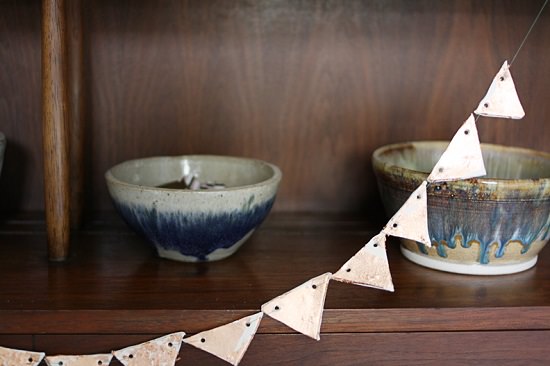 I think this adds a nice touch of copper to our home. It's so simple, but still pretty fun! The clay is so easy to work with and the copper leaf is a fun little technique to try! I think this copper fad is growing on me…
What do you think of this simple DIY? Would you use copper in your home?