Coconut yogurt is an astounding alternative for vegans or for those who have milk allergies. Here are some coconut yogurt benefits you should learn about!
What is Coconut Yogurt?
Coconut yogurt is a non-dairy product, that is made from coconut milk and active probiotics (good bacteria). Its ingredient, coconut milk is made from the pulp of the mature coconuts. Even, it is also produced as a substitute for all types of milk-related products. This yogurt is best for paleo diets and for those who have a problem with plant-based products like 'soy'. It is lactose and casein free, which makes coconut yogurt an ideal diet.
Nutritional Info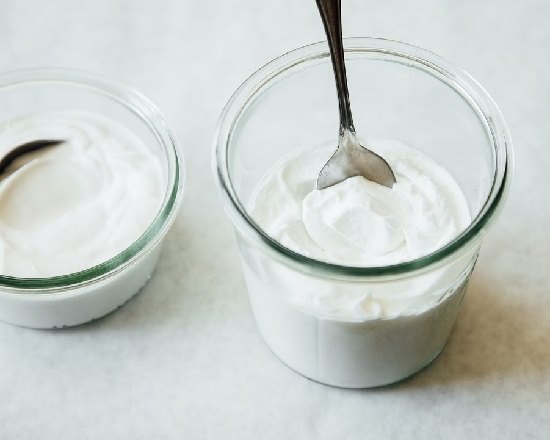 Coconut yogurt has medium-chain triglycerides (MCT) that have many health benefits like better immune response, weight loss, and has anti-coagulation properties. It has antioxidants and sodium that maintains the overall body's fluid balance.
150 gms of coconut yogurt contains:
Calories 110
Saturated Fat: 5 g
Cholesterol: 0 mg
Sodium: 30 mg
Total Carbs: 17 g
Protein: 1 g
Vitamin D: 2.1 mcg
Calcium: 260 mg
Iron 0.3 mg
Potassium: 0 mg
Vitamin B12: 1.3 mcg
Coconut Yogurt Benefits
Below are some coconut yogurt benefits you might find useful:
1. Prevents Digestive Tract Disorders
Coconut yogurt is a rich source of probiotics that prevents gastric ulcers and promotes the gastrointestinal microbiome. This non-dairy product has gut favoring bacterias, like Lactobacillus Acidophilus, Lactobacillus Casei, and Lactobacillus Rhamnosus, that gives your stomach a soothing effect.
2. Protects the Immunity System
Coconut yogurt is a rich source of lauric acid and caprylic acid, which strengthens immunity. It also has antibacterial, antiviral properties, and medium-chain triglycerides, that enhance the body's immune response.
3. Offers Anti-oxidant Properties
Yogurt of coconut milk offers anti-oxidant properties that prevent oxidative stress and fight against free radicals causing damage to body cells. Its antioxidant properties also slow down the sign of aging, detoxify the body, and gives glowy skin.
4. Has Anti-aging Properties
Coconut milk yogurt has anti-aging properties that prevent your skin from wrinkles, fine lines, and dark spots. It has anti-oxidants that prevent the damage caused by free radicals to skin cells. Furthermore, it also has lauric acid, that prevents from Propionibacterium Acnes.
5. Improves Cognitive Function
Coconut yogurt has Vitamin B12 and Vitamin D which improve the cognitive function by improving the brain nerve cells. Furthermore, it also has iron, sodium, and carbohydrates, which gives your brain a new life.
6. Helpful in Weight Management
As this yummy yogurt has protein and fiber, it gives your stomach a long satiating effect, by remaining longer in your digestive system. Coconut yogurt is helpful in weight management.
Homemade Coconut Yogurt Recipe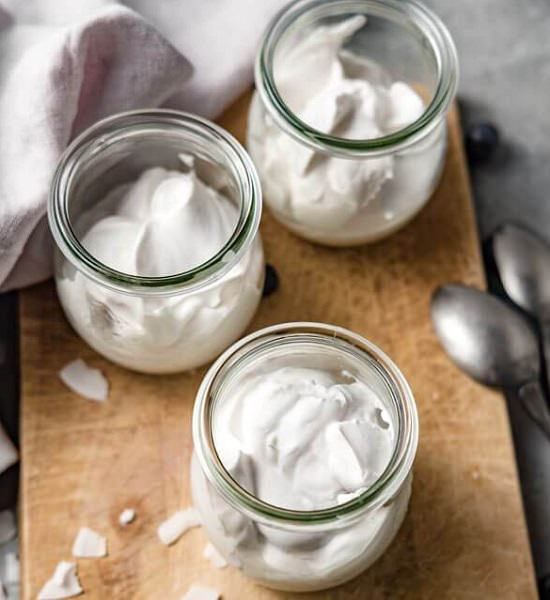 Here is the homemade coconut yogurt recipe that has no additives and sweeteners. Although you can add coconut water into it for sweetness.
What You'll Need?
500 ml of Coconut Milk
2 tbsp of Yogurt Starter or Probiotic Powder.
A Vessel or Jar
Cotton Cloth or Airtight Lid
Saucepan
Directions to Follow
Take a saucepan and pour 500 ml of coconut milk into it and heat it for 10 minutes.
After that, put the warm milk into the vessel or a jar.
Now add two tbsp of yogurt starter or probiotic powder into the milk and stir the mixture properly.
Cover the vessel or jar with the help of cotton cloth or by an airtight lid.
Leave it for around 24 hours for fermentation in a warm place.
Your coconut yogurt is ready to consume.
To increase yogurt life and to make it thick, you can put the coconut yogurt inside the refrigerator.
Coconut yogurt is the best substitute in comparison to traditional milk yogurt. Try this healthy yogurt that has immense benefits and let us know what you think about it!