Got woodworking skills? Then here are some creative and functional potting bench ideas that are easy, inexpensive, and will surely win your heart!
Creative and Functional Potting Bench Ideas
1. Whitewashed Potting Bench
This functional potting bench is made up of wood boards, picket fence boards, and, lastly, whitewashed for a rustic farmhouse look. Customize the bench's measurements to meet the requirements of your space!
2. Vintage Sawhorse Potting Table
Assemble this vintage-looking thematic potting bench using sawhorses and an old wooden barn door. You can add galvanized containers to store various gardening stuff and beautify the space simultaneously.
3. Farmhouse Style Potting Bench
Setup this cute farmhouse style potting bench on your back patio, and the best part is that it's perfect for a newbie gardener. The vintage milk strainer and herb signboard complement the look.
4. Repurposed Dresser Turned Potting Bench
Why spend a lot of money when you can build a potting bench using a dresser, paint, jigsaw, drilling tool, measuring tape, and a few other supplies.
5. Repurposed Old Door Potting Bench Idea
This inexpensive repurposed old door potting bench with lots of storage options will be a unique add-on to your garden or yard space. Reuse an old door and a table, attach them together and you are good to go already!
6. Two-Pallet Potting Bench
Also works as a functional console table and craft desk, this two-pallet potting bench is thrifty, sturdy, and adorable too. Take inspiration from here.
7. Potting Bench With Hidden Garbage Can Enclosure
A hidden garbage can enclosure and plenty of space for gardening tasks make this creative and functional potting bench a great choice.
8. 2×4 Potting Bench
Made with super economical 2x4s, chicken wire, S-hooks for tool storage, and a bright shade of spring-green paint, this potting bench idea is the one if you're on a tight budget.
9. Simple Potting Bench
Looking for a simple but elegant potting bench idea for your first woodwork project? Look no further, as this is the simplest and quickest one on this list of potting bench ideas. The best part is that it completes within an hour.
10. Reclaimed Wood Potting Bench
This cute and adorable reclaimed wood potting bench is roomy enough for most repotting chores. All you will need is reclaimed wood, screws, and paint to bring alive this amazing idea.
11. Potting Bench With Decorative Roof
Adorned with a farmhouse style roof, decorative corbels, and plenty of display space, this attractive potting bench adds a bit of character to a monotonous patio.
12. Potting Bench With Sink
This idea is all about modifying an outdoor storage bench into a fabulous potting table with a built-in sink that makes your gardening chores easier.
13. Portable Potting Bench
Don't let small yard or garden space dampen your gardening spirit. Simply make this portable potting bench from an old tray table and repurposed drawer.
14. Potting Bench With Soil Overflow Bin
Adorned with a handy soil crate to catch excess dirt, this potting bench is perfect for transplanting chores. Read more details here.
15. Potting Bench Entertainment Center
A creative and unique potting bench that doubles as an entertainment area with lots of inside storage and removable sliding trays.
16. Upcycled Pallets Potting Bench
Upcycle old pallets to build this super economical potting bench that has enough space to store dirt, pots, and gardening tools.
17. Outdoor Bar Potting Bench
Make the most of your outside space with this super sturdy potting bench station, featuring hidden storage and multiple shelvings.
18. Fence Board Potting Bench
Add a farmhouse-chic feel to your yard with this fence board potting bench that can be painted no-matter-what color suits your outdoor decor.
19. Potting Bench with Wheels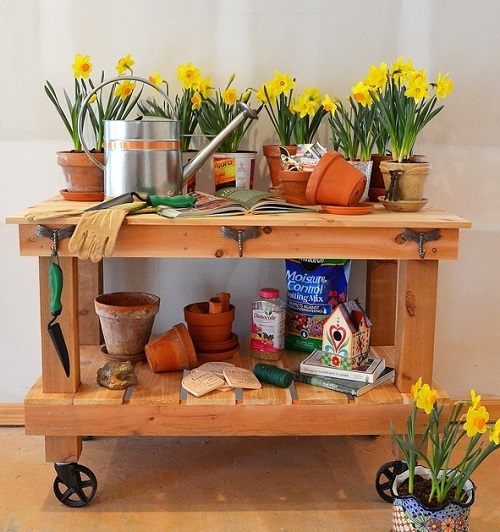 Adorned with wheels for mobility and hooks to corral gardening tools, this mobile potting bench functions as a serving table for parties too.
20. Sturdy Potting Bench
This heavy-duty potting bench not only spruces up your outside space aesthetics and handles all your gardening gears but also lasts for many years.
21. Potting Bench From Rummage Sale Junk
In this DIY, an old rummage sale junk is transformed into a functional and cheap potting bench. It has a wide work surface and multiple shelves to store various gardening tools.
22. Architectural Salvage Potting Bench Idea
A marvelous rustic salvage potting bench with wrought iron ornament, weathered wood, and beautiful hook accents? You can reclaim wood from old projects and create this functional bench to suit your purpose and fit in your available space.
23. A Tree Grows Through It
Nothing fancy, just pretty and unique potting bench idea that uses an old round table and natural tree shade to blend easily with the ambiance of the backyard.
24. Minimalistic Potting Bench Idea
Check out this DIY for a potting bench that is simple and minimalist yet super useful. It has a large working surface on the top and not to mention, ample storage area at the bottom.
25. Distressed Rainbow Potting Table Project
Built with bright multi-colored reclaimed wood, this potting table features a functional sink, multiple small shelves, a drawer, a bottle opener, rusty nails as hooks, and a trowel towel holder.
26. Cheap and Basic Potting Table
If you are looking for a no-fancy and cheap potting table, this DIY might be the one. Check out this idea to make one for yourself.
27. Aluminum and Wood Potting Table
Equipped with aluminum and wood, this multipurpose potting bench is perfect for both gardening and outdoor cooking purposes.
28. Barn Door Cabinet Potting Bench
Make all your gardening tasks easier and comfortable with this potting bench idea that comprises a cabinet for extra storage.
29. Pull-Down Pallet Potting Bench
The advantage of having a pull-down pallet potting bench is you can hang it anywhere you want and save space but yet have a facility to store your stuff.
30. Shaded Garden Potting Bench
This garden potting bench provides much-needed shade on hot sunny days and prevents damage from the sun and rain.