Instead of mounting LCDs on the wall, you can keep them over a stand with any of these creative DIY TV stand ideas and make extra space to store things too!
If you have wood saved from any previous DIY, you can reclaim it to make these creative DIY TV stand ideas instead of investing in new wood. This way, you can save a lot of money and declutter your store from unnecessary piles of wood.
1. Pottery Barn-Inspired Media Console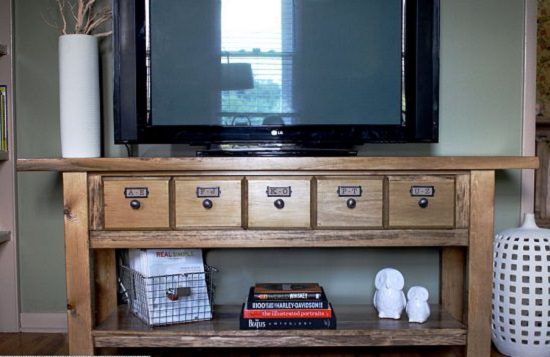 Take a look at this pottery barn inspired TV Unit that you can proudly showcase as your own. Head on over to Jen Woodhouse to find a tutorial to inspire you!
2. Old Carpenter's Chest TV Stand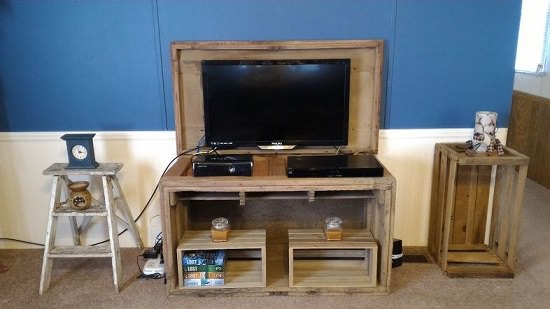 This informative tutorial from HomeTalk lets you refurbish an old carpenter's chest and breathe new life into it! Turn it into a media powerhouse by following the instructable linked here!
3. DIY Wooden Media Wall / TV Panel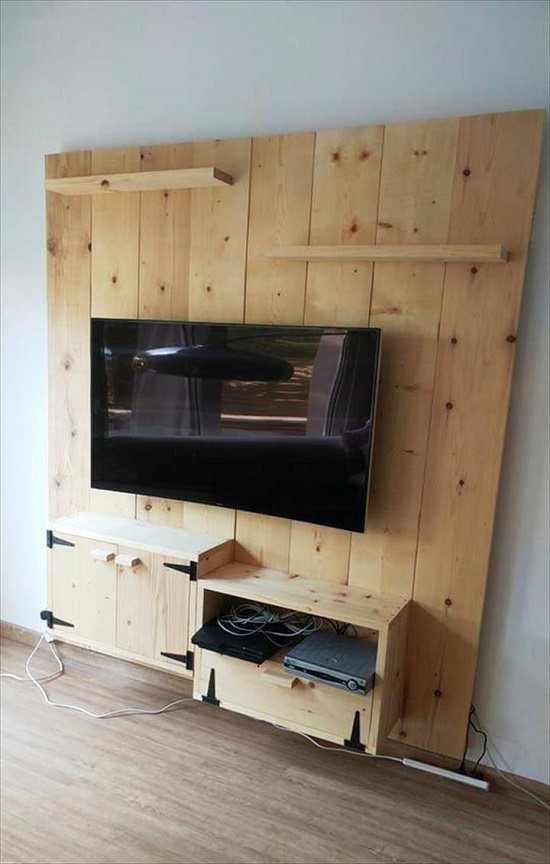 Why not make custom shelves for all your media storage needs? Further, head on to DIY Crafts 1 to find a new home for your TV unit.
4. DIY Luxurious TV Stand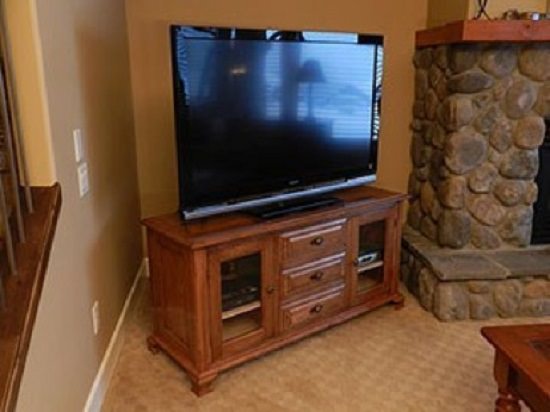 This cherry wood DIY TV Unit is sure to add luxurious shine to your living room. For instance, this tutorial offered by DowelMax lets you craft this TV stand following 16 crisp instructions.
5. Curved Pallet TV Stand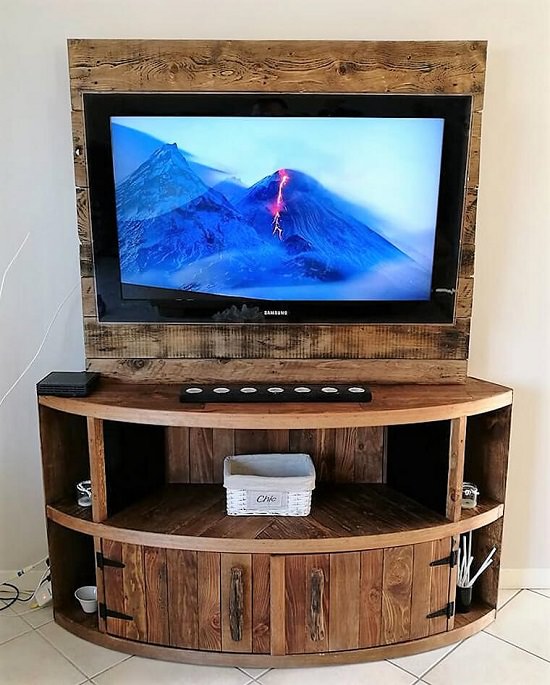 Meanwhile, if you find yourself with extra reclaimed lumber, why not turn it into a TV stand? In the same vein, this TV stand instructable can be found here, and it looks grand. Give it a look!
6. Big TV Stand
Want extra headroom and a big unit for your huge TV screen? That is to say; this tutorial has got you covered! Further, check out Creative Man's tutorial to craft one of your own.
7. Super Easy TV Stand
Similarly, this super easy TV stand instructable is super easy to follow. Above all, it lets your TV sit prettily in front of your couch.
8. DIY Portable TV Stand
If you're looking to hook up a studio monitor, you might want to consider portability. This DIY Portable TV Stand can be made within a day and is sure to turn gazes.
9. Wall Mounted Entertainment Center / TV Stand
Likewise, if you're looking to employ a bit of verticality to your media storage design, this Wall Mounted Entertainment Center / TV Stand by the DIY Creators is a great idea.
10. DIY A Stylish TV Stand
Meanwhile, Kinook offers an interesting spin on the default TV stand. If you're looking for a stylish statement to go along with your movies, why not craft a stylish TV stand of your own? In short, follow the tutorial above to see what needs to be done and how.
11. DIY TV Stand Design for 4$
Certainly, a TV stand for the cost of a hamburger isn't possible? But it is! Check out this tutorial from Hashtag Decor to see how you can create one of your own.
12. DIY Pallet TV Stand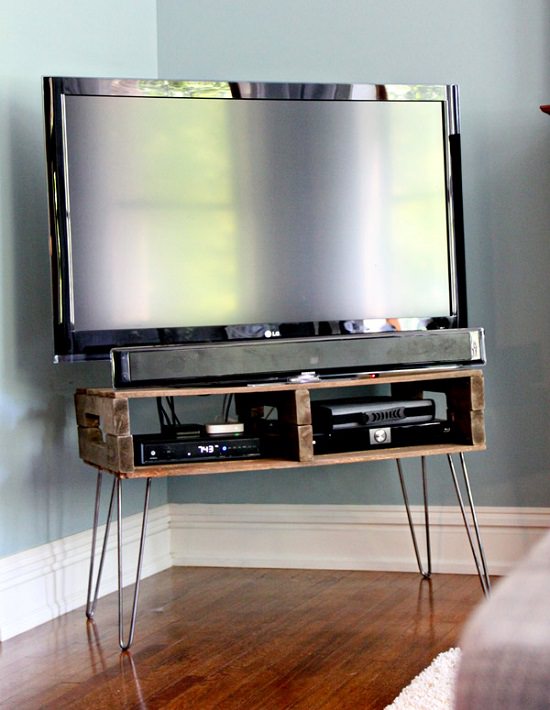 Preparing for Peanut(s) has an excellent tutorial on how you can make a TV stand that's nearly free of cost. Besides, you can also finish the stands with some surface padding that you can get for very cheap at a hardware store.
13. Corner Media Center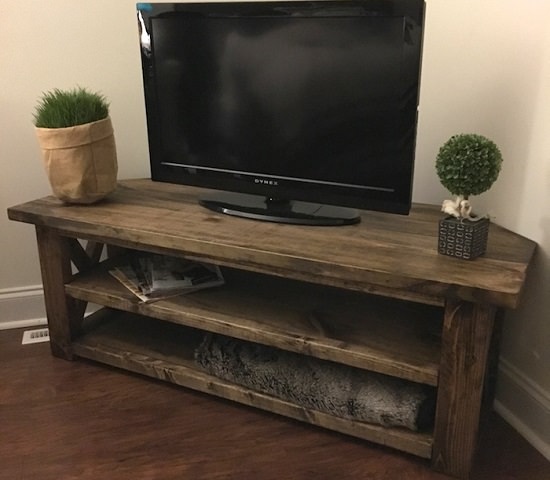 On the other hand, turn a boring corner of your living room into a happening living space with this tutorial by Rogue Engineer. That is to say, get crafting!
14. DIY X-Leg TV Stand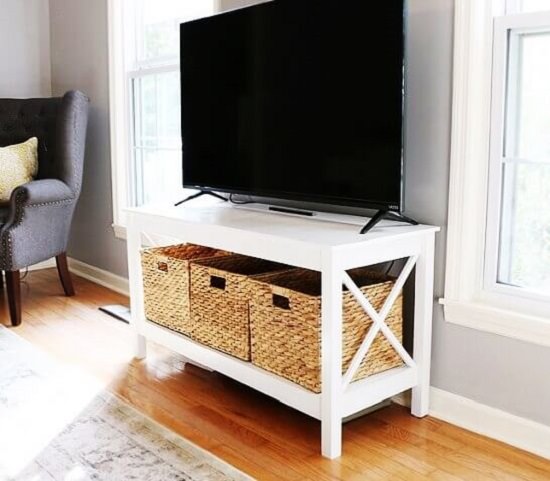 This tutorial from Homemade by Carmona looks elegant and dreamy and goes well with any decor and setting you can choose. Subsequently, check out some of the other items on the list for more ideas!
15. TV Display Easel on Wheels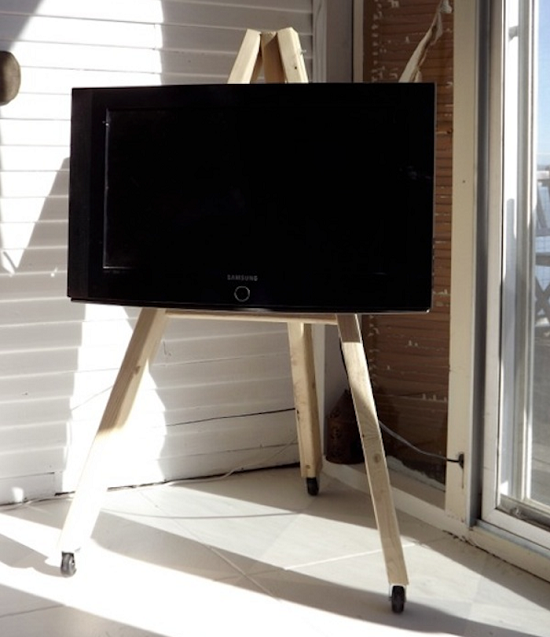 There are more uses for old and discarded inventory than you can count on your fingers. For instance, this DIY TV Display Easel on Wheels lets you convert an old easel into a TV stand worth its weight in copper. In conclusion, head on over to Remodelista to see how easy it is.
16. DIY Crate TV Stand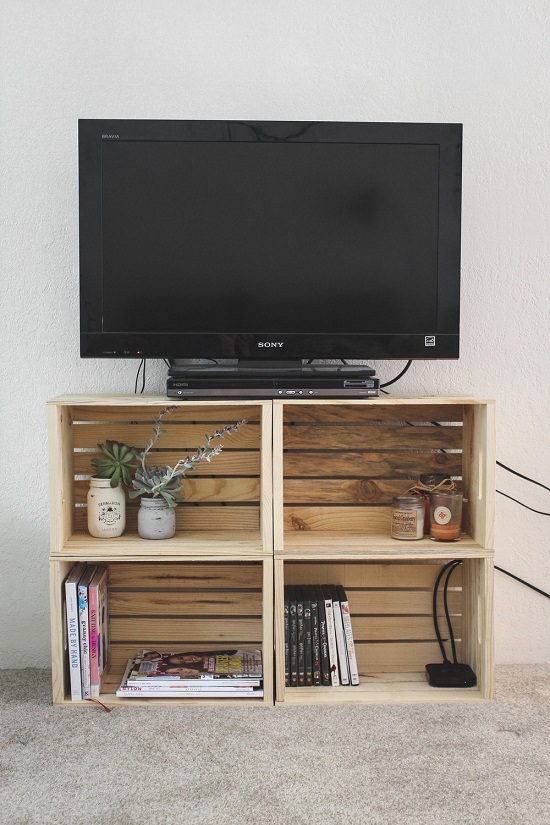 Also, for the thrifty ones out there, we've got you covered. Head on over to Cashmere and Plaid for this super simple DIY Crate TV stand that you can build out of four unused crates.
17. Industrial Rustic DIY TV Stand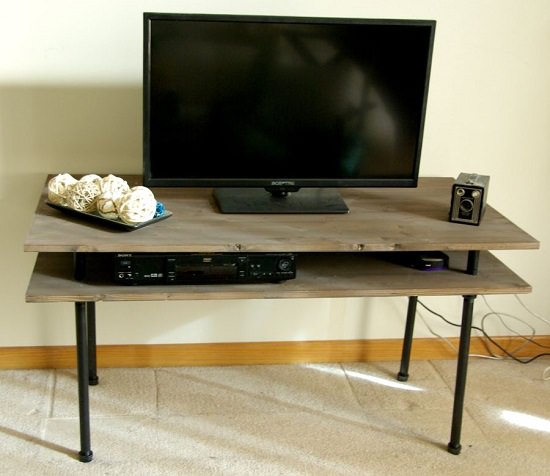 This tutorial from Homedit lets you craft a beautiful industrial, yet modern looking TV stand that you would be proud to call your own.
18. DIY TV Stand with Cubbies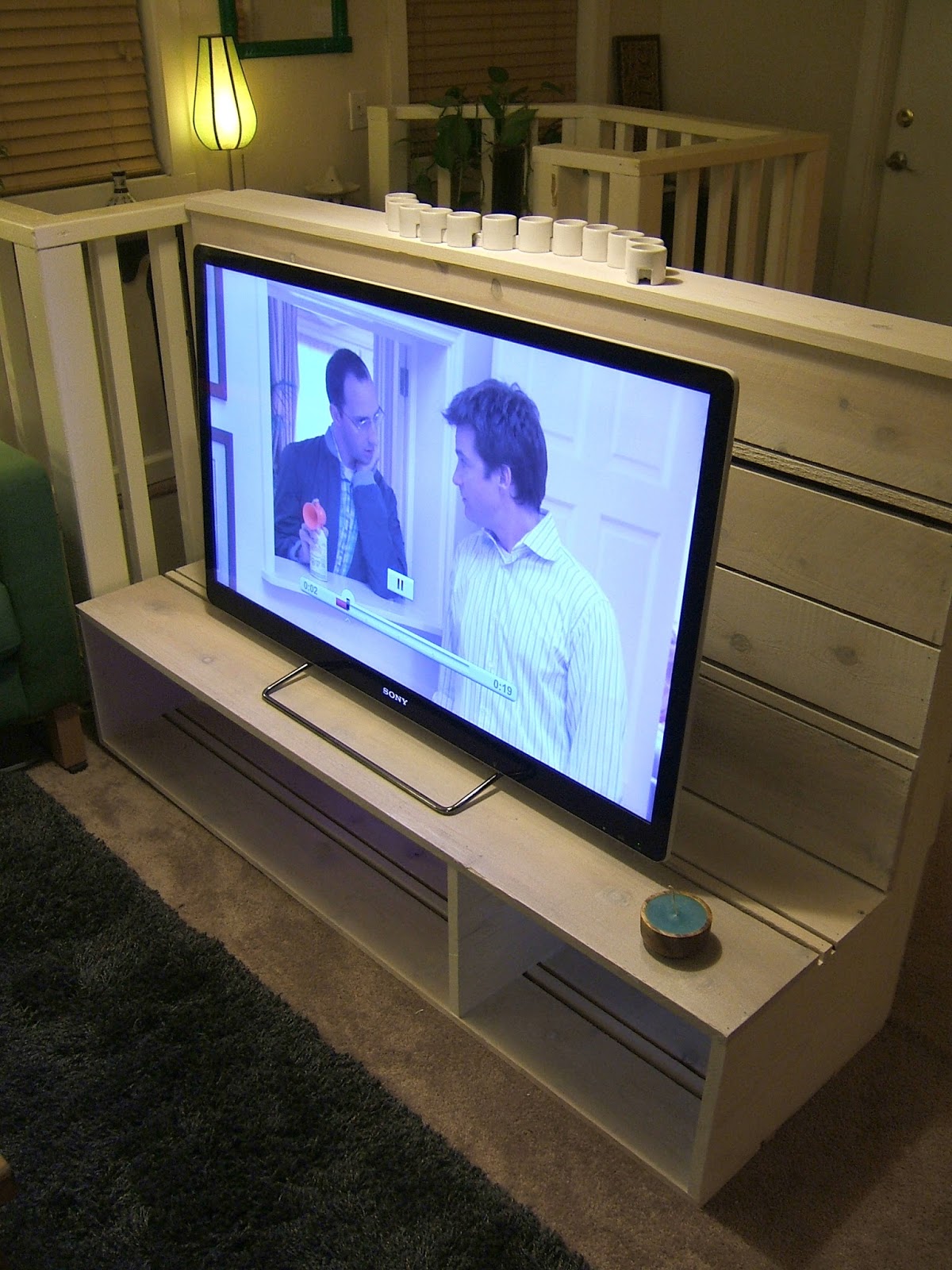 Follow this tutorial on Ninered to craft one spectacular looking TV stand for your living room! Besides, this is a great beginner's tutorial for those who want to get into woodworking.
19. DIY Modern TV Stand
This tutorial by Gotaking is sure to attract the minimalists. For those of you who want a classy look to your TV Unit, this is the right tutorial to follow.
20. DIY Mid Century Modern TV Stand
A modern, clean, and elegant look are what defines this mid-century TV Unit build. However, if you're looking for something a little less crafty, there are a few other options on this list.
21. Modern Farmhouse TV Stand
Meanwhile, you're checking out our other offerings on this list, check this one out – a Modern Farmhouse TV Stand, brought to life by 731 Woodworks.
22. Quality TV Stand DIY
This super informative video by Figuring It Out provides you with all the information you need to create a six shelved high-quality TV stand.
23. DIY Rustic & Industrial TV Stand
Using impeccable cross-cuts, this DIY tutorial offers a great way to spice up your living room on the cheap. Moreover, this looks better than most TV units you can buy in the store!
24. Floating TV Stand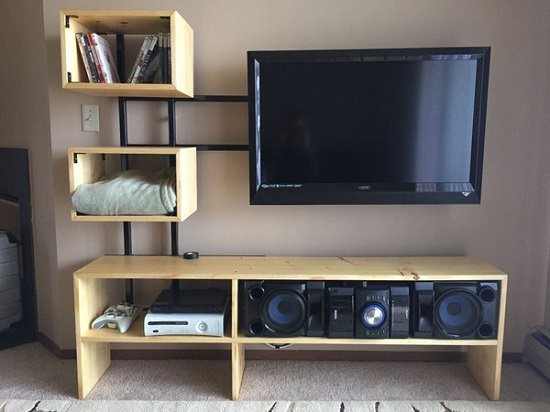 For a quick and relatively low effort solution to your TV housing, this pinewood and steel frame solution can work to both effectively hide cables and float your TV up on the wall. Check out the instructable here.
25. Reclaimed Wood & Black Pipe TV Stand
Finally, reclaimed wood put to good use! Similarly, if you want one of your TV stands like this one featured here, build one of your own following this super easy tutorial!
26. Turn a Dresser Into a TV Stand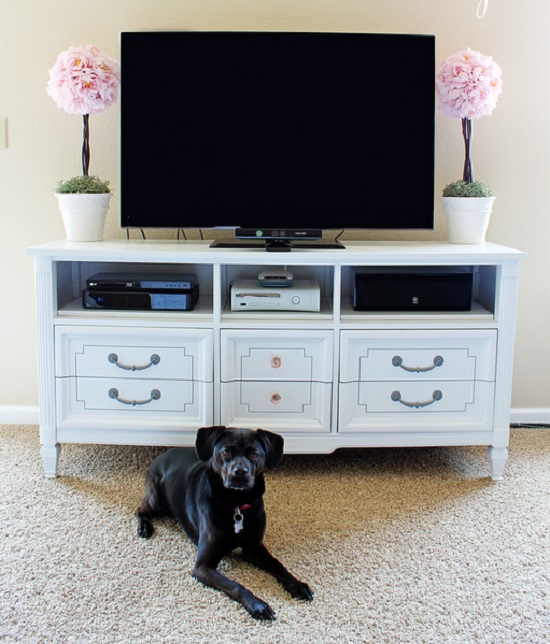 Reusing old furniture is the second best thing to sliced bread. Following the environment-friendly practices of Reduce, Reuse and Recycle, this tutorial from TwoTwentyOne lets you refurbish an old dressing table into a stalwart TV Stand.
27. Easy Farmhouse Media Cabinet Stand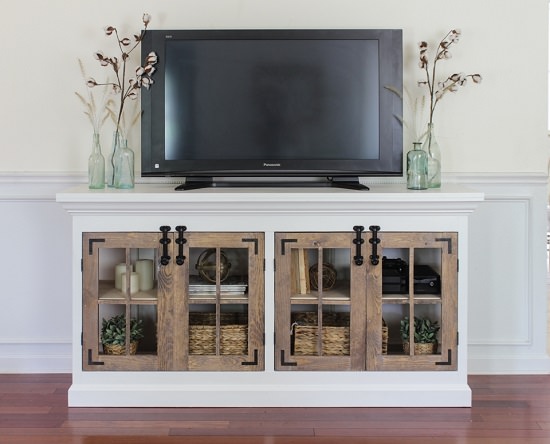 This tutorial from BuildSomething gives you plenty of storage space and a classy display for your TV mounting needs. Build your very own Farmhouse Media Cabinet Stand that is sure to catch the attention of guests and tenants alike. Breathe new life into an old living room!
28. Tall Corner Media Stand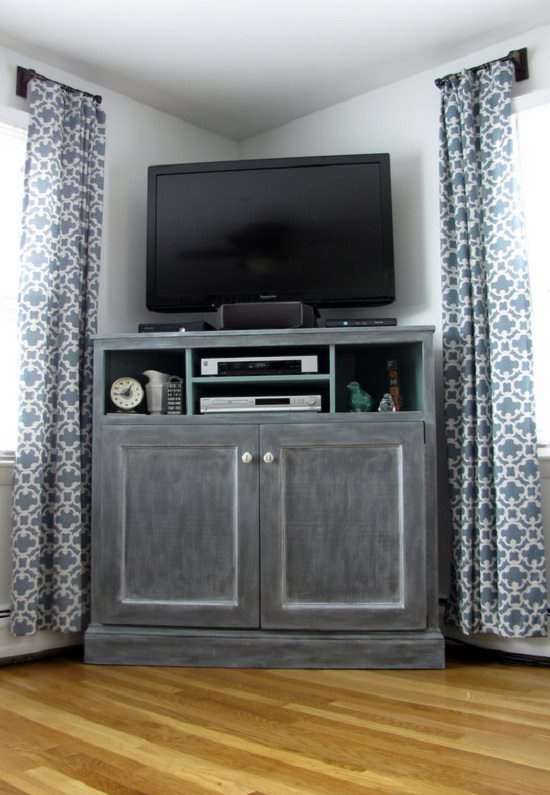 Embrace verticality! Above all, come home to a beautiful Tall Corner Media Stand where the TV rests comfortably atop the frame. That is to say, take inspiration from Ana White, serial hobbyist and a spectacular craftsman, to build a tall media unit.
29. Antiqued Tv Stand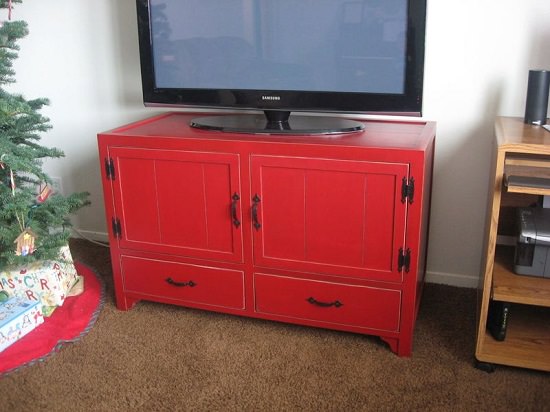 One single sheet of plywood. That's all it takes to build a TV stand! Don't believe us? Head on over to Instructables to find out how you, too, can make a stand out of a single sheet of plywood.
30. Media Console with Colorful LED Bias Lighting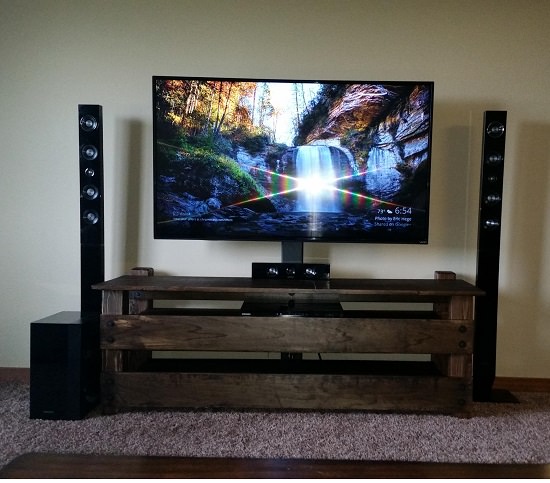 This is one media console you'd be proud to show off. Furthermore, it comes with LED Bias Lighting, and that means a lesser strain on your eyes during those nights of binge-watching! Follow the tutorial linked here, and you're golden.
31. Classic $150 TV Stand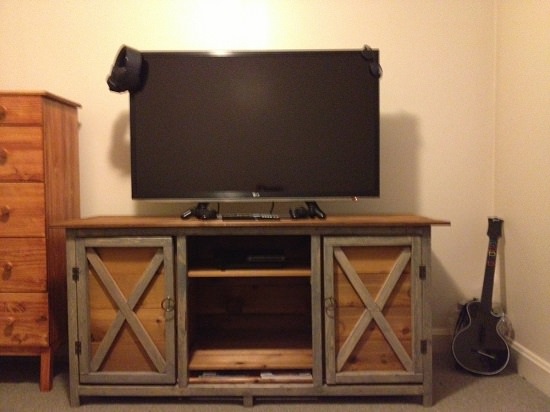 Another classic TV stand tutorial from Ana White, this Farmhouse TV Stand, would cost you only about $150 to boot, and it is huge. A beginner-friendly tutorial linked here.
32. DIY Flat Screen TV Stand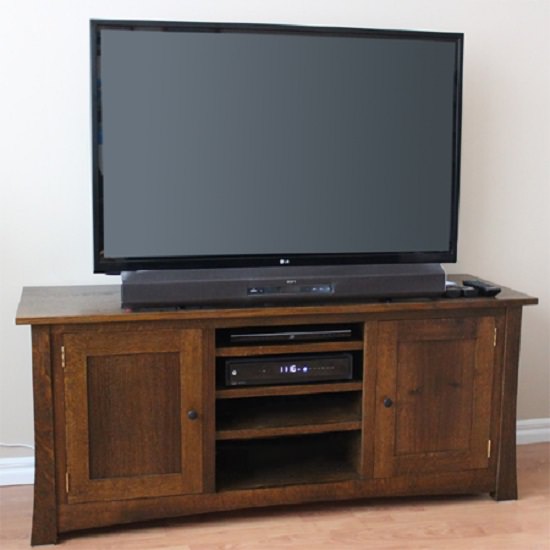 This flat-screen TV Stand has a rustic vibe and a certain charm to it. It also comes with spaces for your cable boxes and consoles and two shelves for all your storage needs. Follow the tutorial at Home-Dzine and make one to keep at home!
PRO TIP: You can customize the sizes and shapes of any of these creative DIY TV stand ideas to suit and fit in your interior nicely.