These DIY Behind The Couch Table ideas will level up the aesthetics of your room while serving other purposes!
If you are running out of space and looking for hacks to add some shelves without making your room clumsy, these DIY Behind The Couch Table ideas is for you!
DIY Behind The Couch Table
1. DIY Behind The Couch Wine Table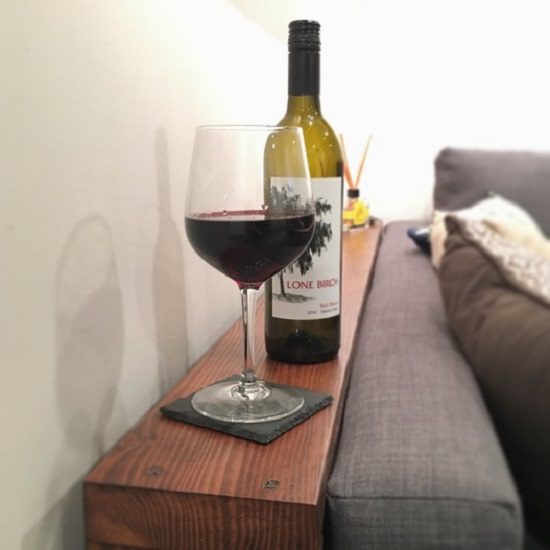 If you are looking for a quick and budget-friendly sofa table, this project will fit your bill. All you need are some wooden boards, 90-degree angle clamps, a miter saw, and this DIY to make one for yourself.
2. Behind The Couch Table with Charging Station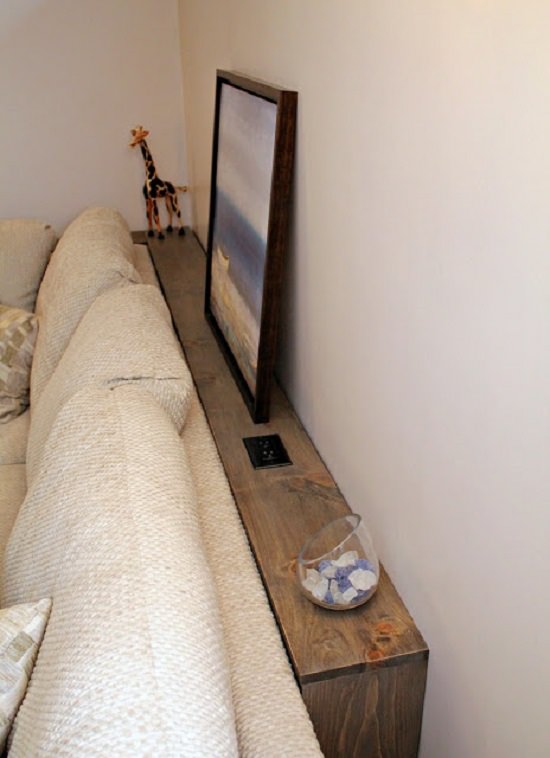 A DIY sofa table with an electric outlet for easy charging and lots of space to hold stuff is all you need to rest after a tiring day at work.
3. Behind The couch X Leg Table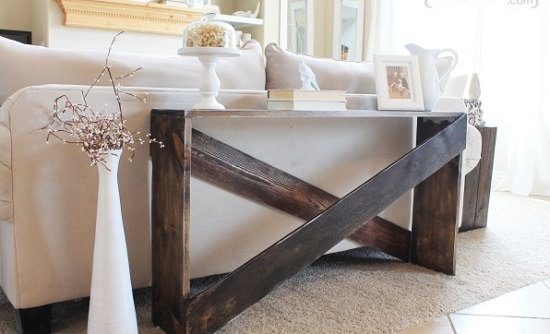 This classic and budget-friendly behind the couch table featuring X legs is super doable and only costs you around 20$. Details are here.
4. DIY Salvage Table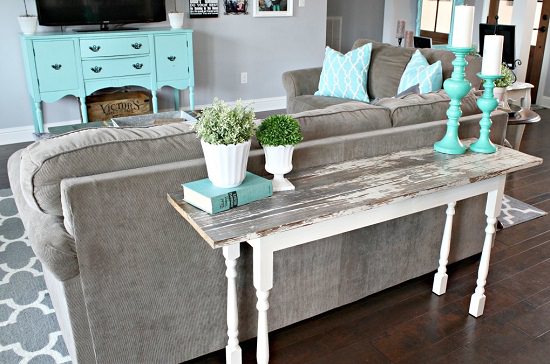 Grab a salvaged piece of wood, spindles, off-white chalk paint, and 2×4's pallet to build this DIY salvage sofa table and add a vintage look to your room.
5. DIY Reclaimed Wood Sofa Table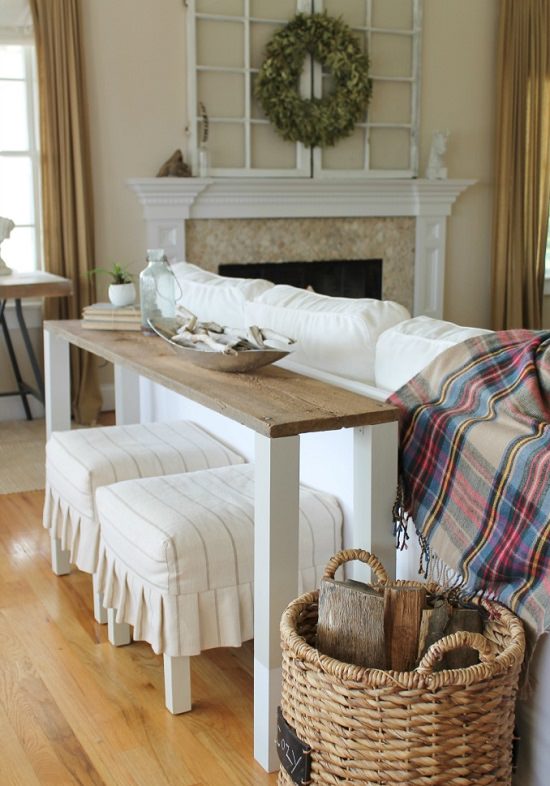 Add rustic charm to your space by DIYing this adorable reclaimed wood sofa table that requires basic woodworking skills.
6. DIY Behind The Couch Wood Console Table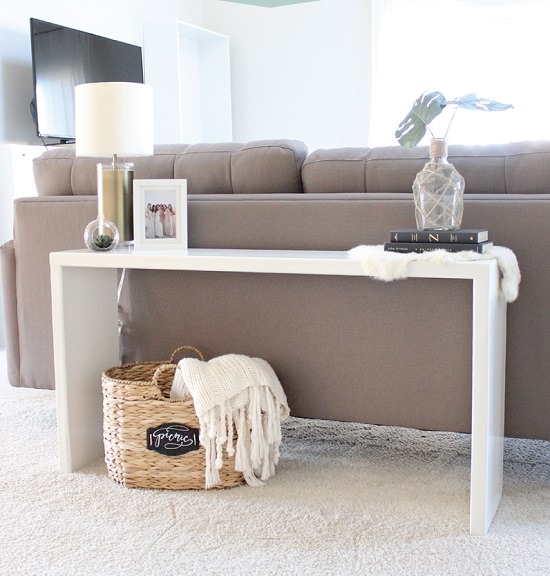 Deck up the space behind your couch with this DIY console table that'll spruce up your room's aesthetic appeal and hold various stuff like a planter, lamp, photo frame, and books.
7. Modern Sofa Table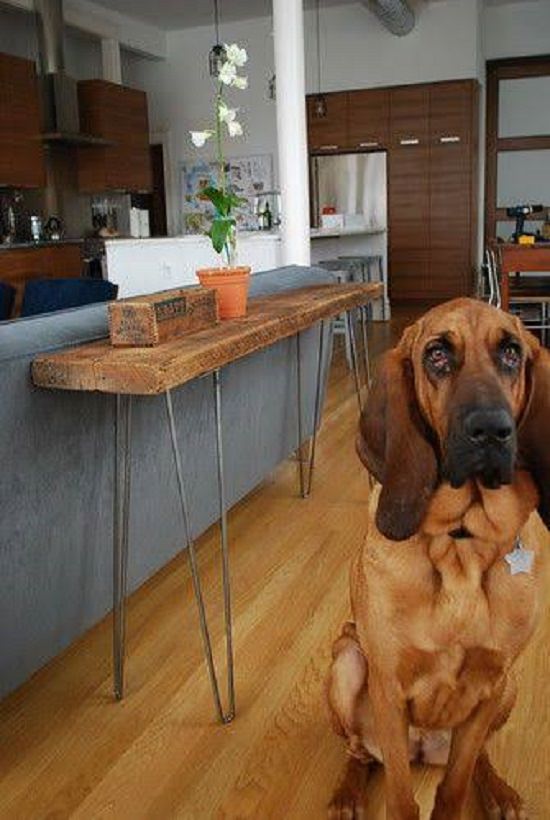 Follow this DIY to build a modern and rustic sofa table in no time. The best part is that it is inexpensive and requires little to no woodworking expertise.
8. French Country Table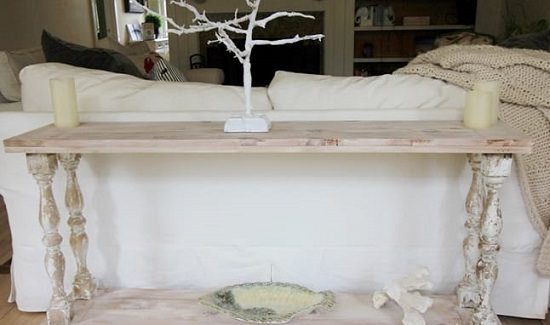 If you have a farmhouse-style interior decor, get a step ahead by making this incredible old rustic, french sofa table to complete the look.
9. Simple Behind The Couch Table
For a simple and elegant behind the couch table, try this DIY that lets you add function to lone corners. Watch the video to learn more.
10. Waterfall Edge Console Table for Couch with a USB Charging Station
This funky waterfall edge console table not just boasts oodles of space but also has a functional USB charging station, making it a lasting addition.
11. DIY Skinny Behind The Sofa Table
Made with 2x pine, miter saw, and palm slander, this DIY skinny sofa table is easy to replicate and perfect for those willing to fill the dead space behind their sofa.
12. Easy Wooden Behind The Couch Table
This simple sofa table blends well with the couch besides making a statement piece of furniture.
13. DIY Industrial Sofa Table
With metal and woodworking techniques, you can easily recreate this high-end and modern industrial sofa table.
14. Behind The Sofa Table – Easy DIY Step By Step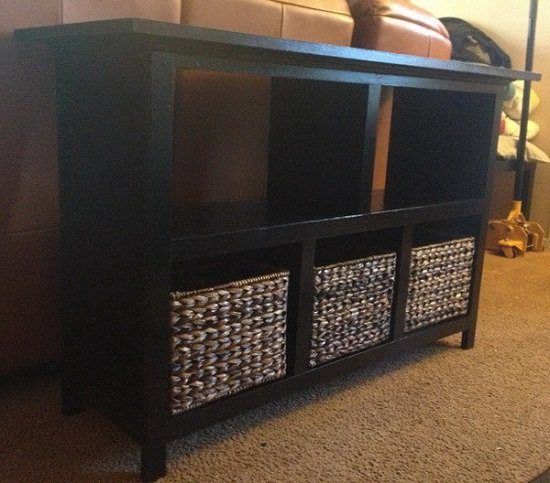 Wood, glue, wood filler, screws, primer, paint, and wicker baskets together make a pretty behind the couch table. Additionally, it gives you multiple storage options as well.
15. Bench to Sofa Table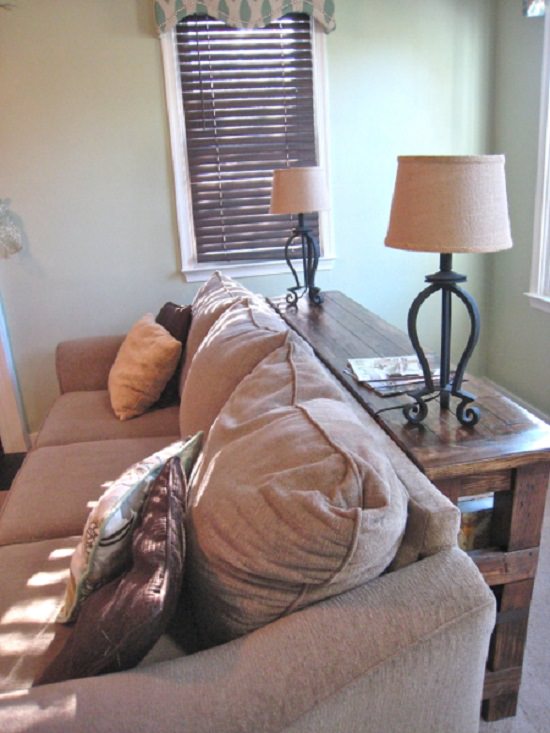 In this DIY, a farmhouse-style bench is modified into a sofa table by attaching a shelf and legs directly to its bottom, and stained with "Special Walnut."
16. DIY Reclaimed Barn Wood Console Table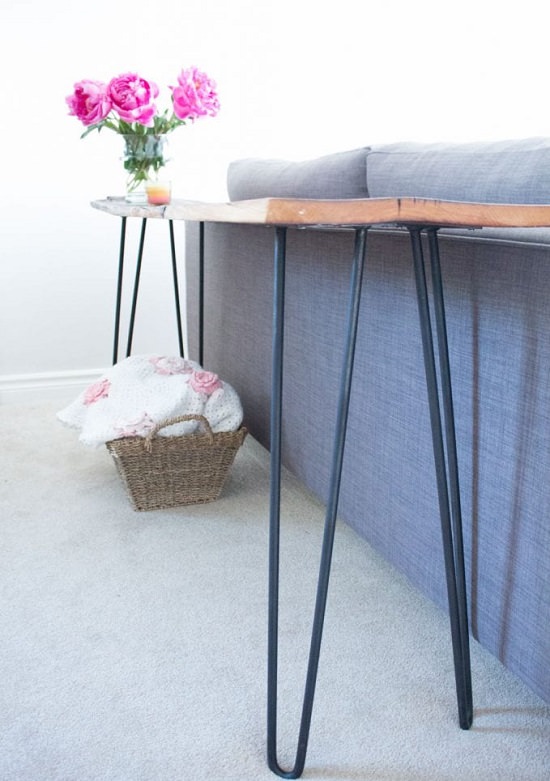 Add a bit of oomph to your place with this DIY reclaimed barn wood console table with hairpin legs. This project is fairly simple and will be done in a few steps.
17. Console Table with Scroll Legs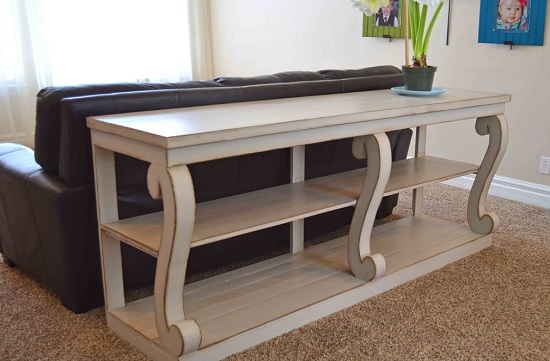 Why buying super expensive behind the couch table when you can make one with scroll legs at home for less than 100$? Check the details here.
18. A 10-Minute Sofa Table Using Ikea Parts!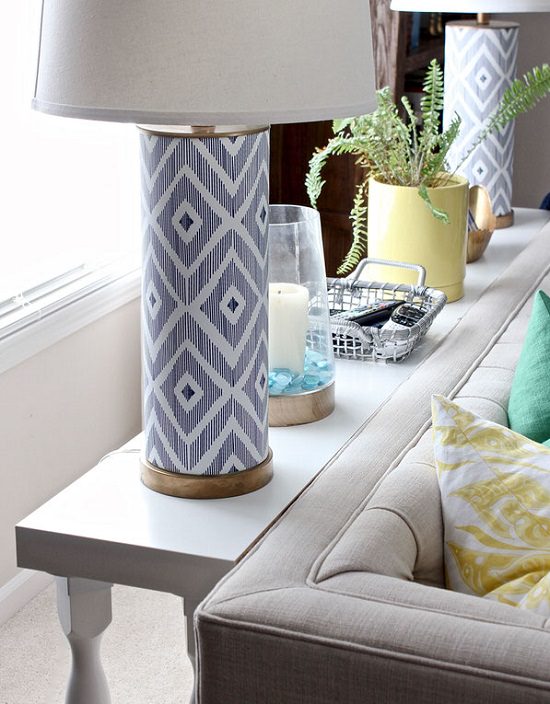 Do you need a quick and easy, no-fuss sofa table project? Give this DIY a try that uses IKEA parts to construct one under 10-minutes!
19. Own Behind The Couch Table DIY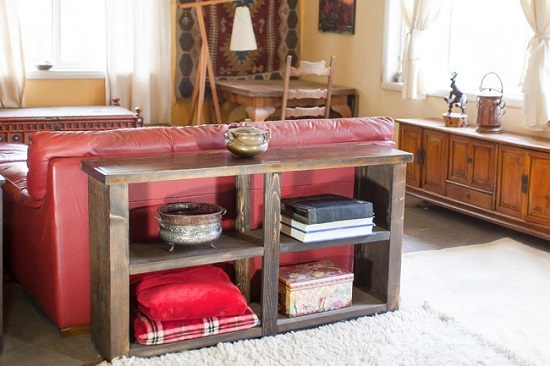 Add some extra storage space to your living room with this skinny sofa table built with tough plywood and other wood-working supplies.
20. Build A Rustic Sofa Table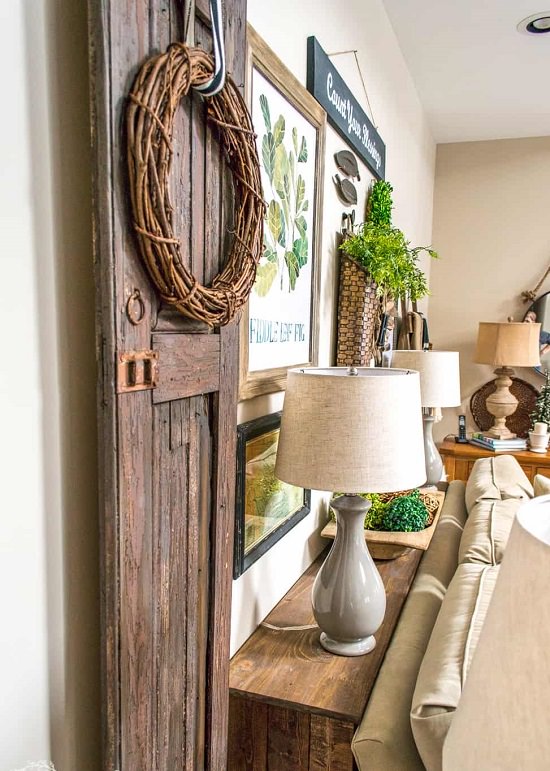 Spruce up your home decor by making this frugal and thrifty rustic sofa table that complements the overall look.
21. Behind the Sofa Corner Table
With a bonus USB charging station and enough storage space, this DIY behind the sofa corner table is made by assembling wood, pocket holes, and screws.
22. Budget-friendly Behind The Sofa Table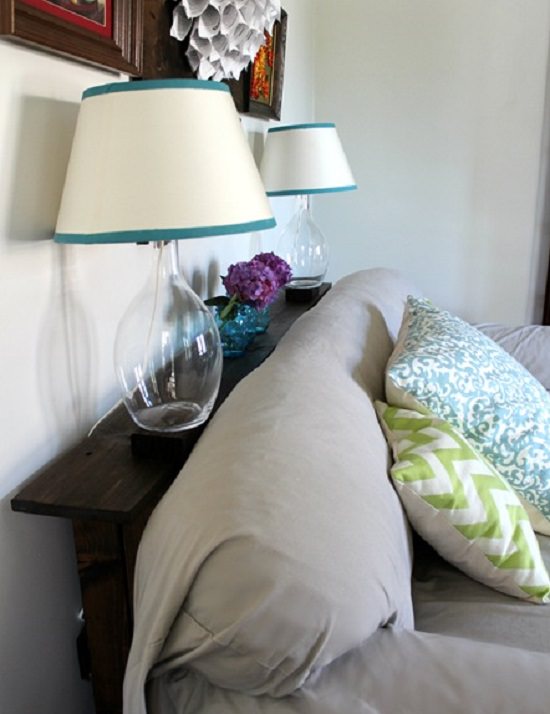 Get creative and craft this perfect space-saving and cheap behind the sofa table that looks magnificent and doesn't take up your room's valuable area.
23. DIY Sofa Table With Pipe Frame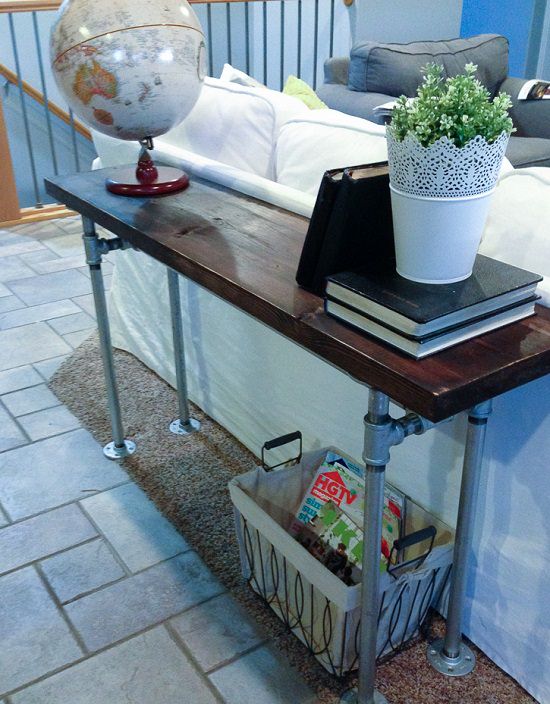 Give your living room a super cute industrial farmhouse look with this DIY sofa table featuring a pipe frame.