Enhance the beauty, performance, and comfort zone of your dream machine with these impressive and cool DIY Car Interior Decoration Ideas!
As cars are the second home to many, beautifying their appearance is worth the time and effort. To amp up your vehicle's look, consider these amazing DIY Car Interior Decoration Ideas.
Find out how to remove tint from car windows here
---
DIY Car Interior Decoration Ideas
1. Reupholster Car Door Fabric

Upholster the plain old, dull-looking door fabric into an adorable and funky one by trying out this best car interior decor. This idea refreshes the appearance of your vehicle and adds a personal touch to match your unique style.
2. DIY Car Seat Organizer

Among the DIY car interior decoration ideas, this car seat organizer stands out as it manages your stuff during long drives. With compartments tailored to fit your needs, it will keep the car neat and essential items within reach. It's not just functional but also a cute addition to your car's interior.
3. DIY Car Seat Protector

You'll need fabric, cotton batting, elastic, and a 1/2-inch grosgrain ribbon to make for a pretty car seat protector. This seat will protect the back of the car seat from dust and accidental footprints.
4. Cute Car Seat Covers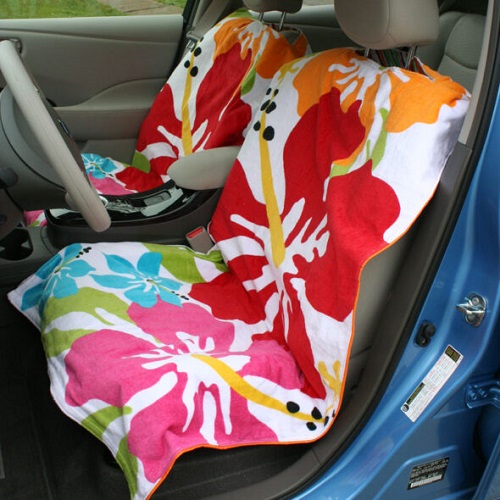 This cute car seat covers not only keep the upholstery mess-free but also enhance the overall look. Choose fabrics that are machine washable and resistant to stains for added convenience. Read more here.
5. Steering Wheel Cover

Add a funky touch to your car's steering wheel with a multicolor cover. This is one of the DIY car interior decoration ideas that allow you to customize the cover based on your personality and liking. The correct fabric choice and stitching technique ensure a comfortable grip and a sleek look. Read more here.
6. Flower Car Seat Covers

You only need a cheap seat cover, thread, fabric, elastic, and a sewing machine to create this beautiful floral-patterned car seat cover. Feel free to experiment with the choice of fabric.
7. Colorful LED Lights for Car Interior Decor

Make your car's interior look and feel unique by personalizing it with led strip lights. Various colors and settings will let you to change the ambiance of the interior to suit different moods. This makes your car stand out from the rest of the crowd.
8. Aftermarket Car Audio

Fail to determine which aftermarket car audio system is best for your car? Don't fret, and check out this article.
9. DIY Skeleton Gear Shift Knob

Having no decor idea for your car's plain old gear shift knob? No worries, try this instructable to make an eerie skeleton gear shift knob. With crafting skills and a few supplies, you can add pizzazz to your car interior.
10. Decorate Car Interior with Photos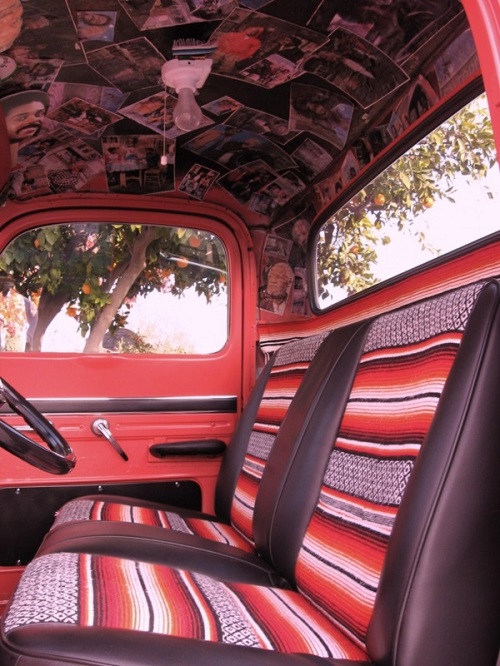 Personalize your vehicle by decorating its roof with lots of photos. Whether family memories or inspiring images, they create a unique atmosphere inside the vehicle. Use hot glue to complete this car roof decoration project.
11. Interior Dome Light

Not satisfied with the car's interior dome light? Replace it with LED lights for a brighter and more energy-efficient solution. Various designs allow customization according to the car's interior design. Watch the video to upgrade dome lights.
12. Wood Trunk Floor

Here's another of the best DIY car interior decoration ideas that need wood liners to create an elegant wooden trunk floor. The wood finish not only adds an aesthetic appeal but also provides durability and can be tailored to match other interior elements. Watch the video to learn the steps.
13. DIY Flip Flop Hinges

Upgrade your usual car trunk to a modern and stylish one using flip-flop hinges. This updation not only improves the appearance but enhances functionality. Among the DIY car interior decoration ideas, this one is truly innovative. Here's the video for more info.
14. Car Full Floor PVC Mat

This PVC mat not only makes your car look classy but also complements the overall interior decor. With PVC installed, you no longer have to worry about your car seats getting stained.
15. Pants Saver Universal Cargo Trunk Mat

Keep your vehicle carpet clean and prevent stored items from shifting in your trunk space with this cargo trunk mat. Plus, this mat adds texture and a unique look to the car interior. Learn more here.
16. Interior Vinyl Wrap In Light Blue Chrome

Turn your car interior panels into light blue chrome using the vinyl wrap film. This DIY requires precision and patience, but the results are quite satisfactory. Watch this video for more info.
17. DIY Bohemian Car Charms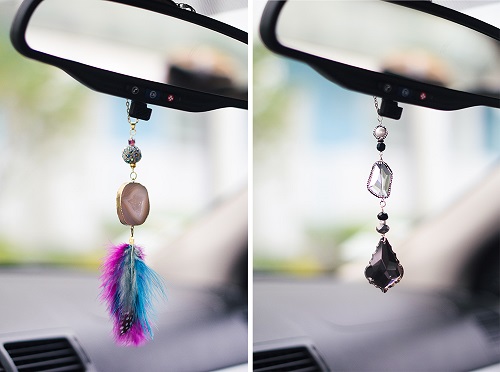 Create an attractive charm for your dream machine using a mix of crystals, stones, pave beads, and more for a truly bohemian look. This charm can hang from the rearview mirror, adding personal flair to your vehicle.
18. DIY Car Dreamcatcher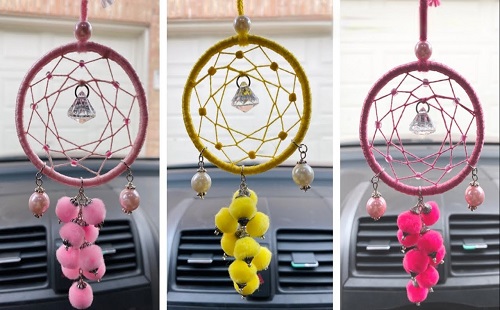 Dreamcatchers add a spiritual touch, making them a lovely addition to DIY car interior decoration ideas. Learn how to create lovely dreamcatchers for your beloved vehicle using this easy-to-understand visual tutorial.
19. DIY Back Seat Bag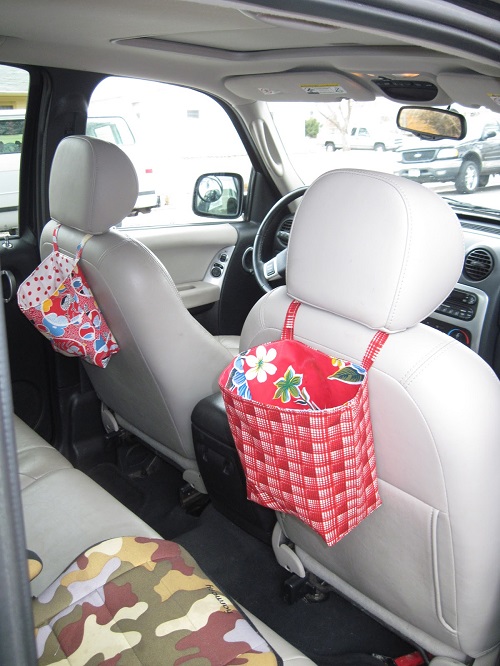 Besides corraling kids' toys and other small stuff, this backseat bag is a great decorative addition. Its functionality and aesthetics can be customized to match your car's interior.
20. License Plate Car Floor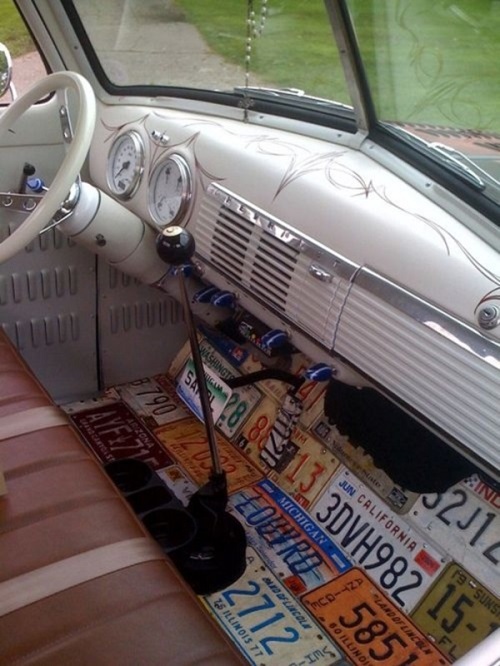 Cover your vehicle's floor with old license plates for a vintage touch. This creative and recycled idea adds character to your vehicle, showcasing a blend of history and art.
21. DIY Hanging Plant Air Freshener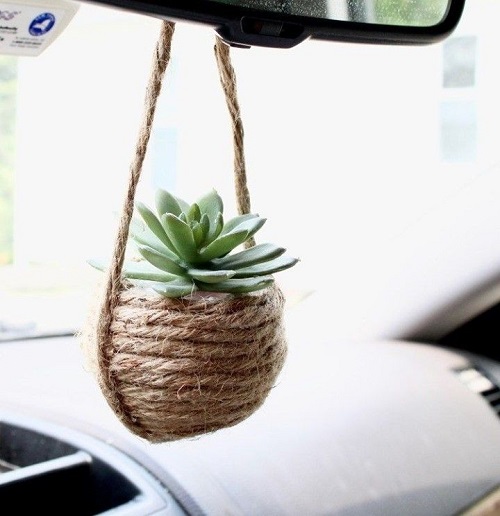 Doubles up as a soothing air freshener, this faux hanging plant gives beachy vibes. It's an environmentally friendly alternative to traditional air fresheners. Get the tutorial here.
22. Grow Plants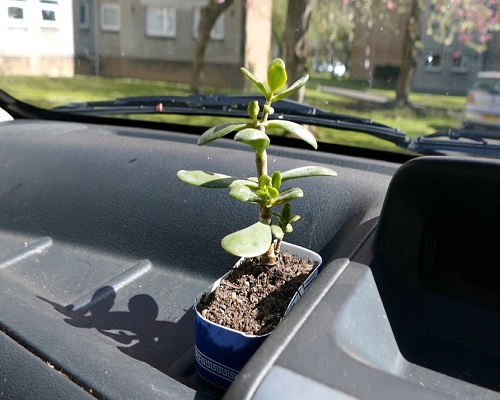 Growing gorgeous succulents is one of the DIY car interior decoration ideas that brings a touch of greenery into your dream machine. It's a perfect way to connect with nature while on the road. Learn more here.
23. Reupholster Car Back Seat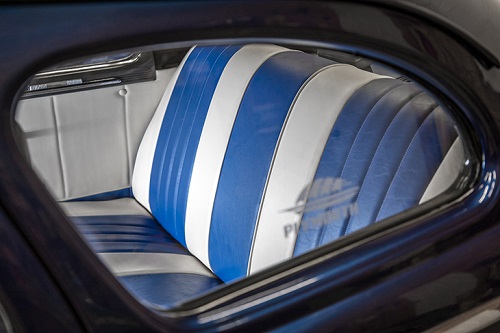 If you own a classic car like the '46 Plymouth, transform its interior by reupholstering the back seats, backrests, and seat bottom. Choosing the right material and style can revive the vintage charm. The details are here.
24. DIY Vinyl Leather Car Dashboard Decoration Idea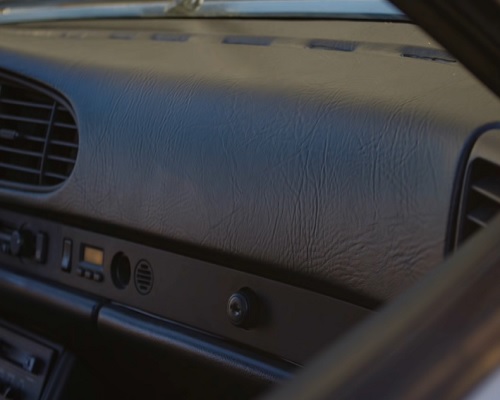 Look at this YouTube video to give your old vehicle a premium look with vinyl leather. A well-chosen vinyl can mimic authentic leather, enhancing the luxury feel of your car's interior.
25. DIY Seat Belt Cover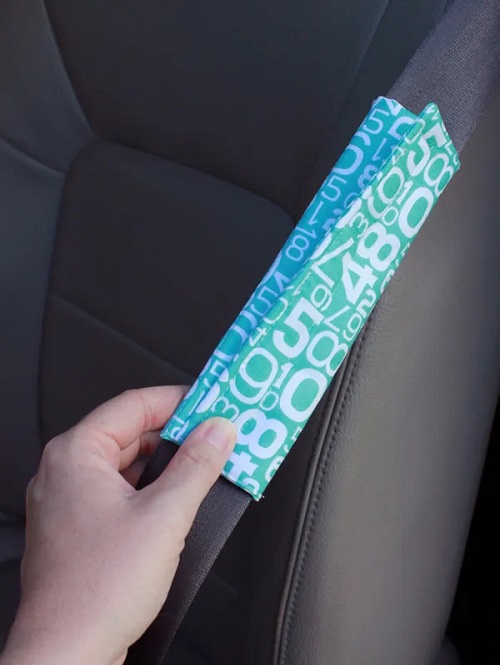 Festoon your boring-looking car seat belts with these amazing, easy-to-make covers. Among the DIY car interior decoration ideas, this one offers beauty and comfort to your driving experience. Click here for more info.
26. Car Halloween Decoration Idea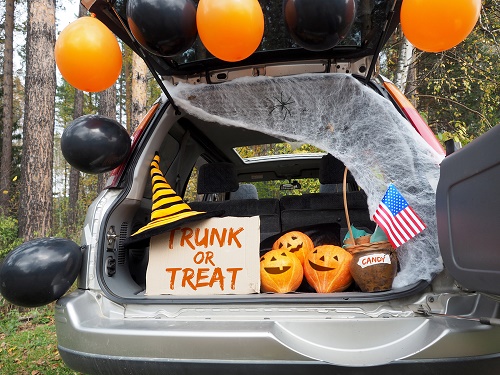 Get into the Halloween spirit by turning your car trunk into a festive display. Arrange a whimsical witch hat, bright pumpkins, a candy-filled pot, and balloons within the trunk space. This cohesive and fun ensemble creates an eye-catching visual, perfect for trunk-or-treat events or showing off your holiday enthusiasm.
27. Christmas Car Decoration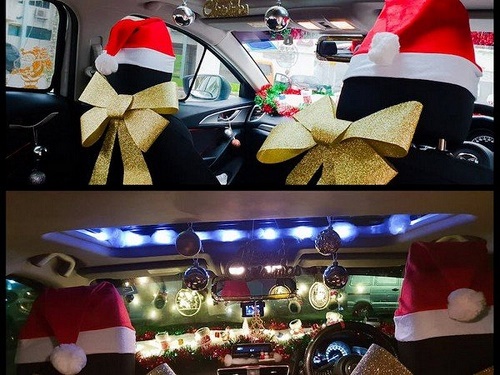 Transform your vehicle's interior into a festive wonderland with a combination of Santa hats, ribbons, Christmas tree ornaments, string lights, and garlands. Ideal for adding a touch of holiday magic to your daily commute, these simple yet eye-catching decorations spread joy and warmth wherever you go.
28. Birthday Car Decorating Idea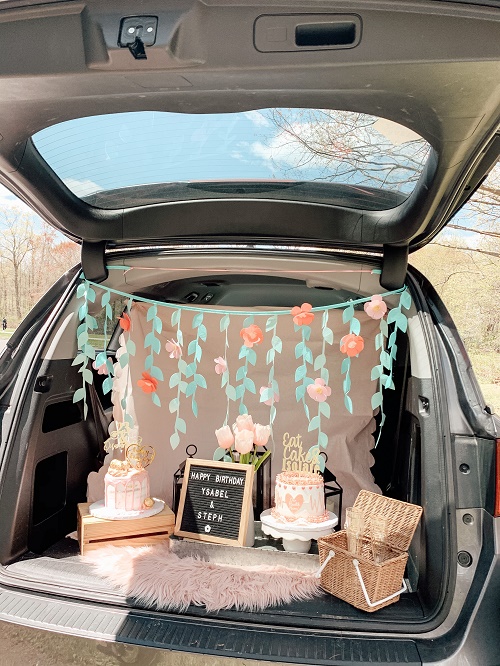 Celebrate your loved one's birthday with this unique car interior decorating idea that makes the special day even more unforgettable. With a faux garland, cakes, and a lantern, this creative concept transforms the car trunk into a festive haven. A mini woven basket and sheepskin rug add to the charm.
29. Crochet Bobblehead Sunflower Car Dashboard Decoration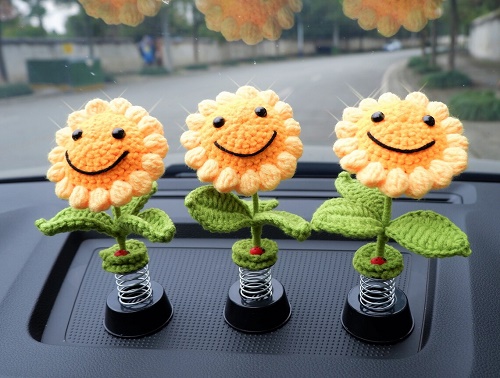 Enhance your driving experience with these sunflower bobblehead dashboard decorations. These charming ornaments not only decorate your car interior but also have a fragrant scented pad to make your ride more enjoyable.
30. Cute Steering Wheel, Gear, and Handrabke Cover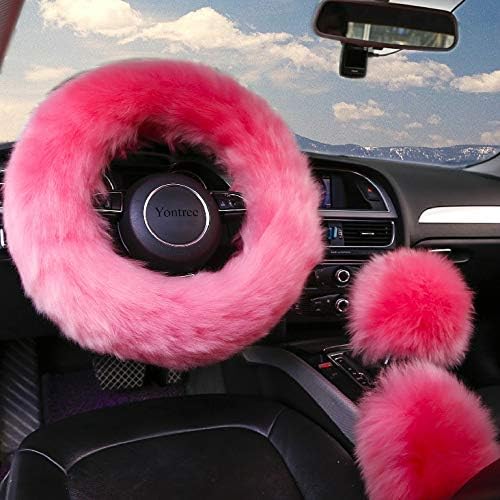 The sheepskin cover not only gives your dream machine an aesthetic boost but also absorbs sweat and warms your hands. This interior decoration adds a touch of elegance to your car, making it look more plush and cozy.
Learn how to clean car seats with shaving cream here