I am SO excited about this DIY! It's one of the projects I had envisioned in my mind and it turned out exactly how I wanted it too! Not to mention, this is something I know I will be doing a lot of in the future. It has so many possibilities! You can do virtually any kind of design on any surface – the wheels in my mind are spinning like crazy! I'm thinking some sort of geometric element next!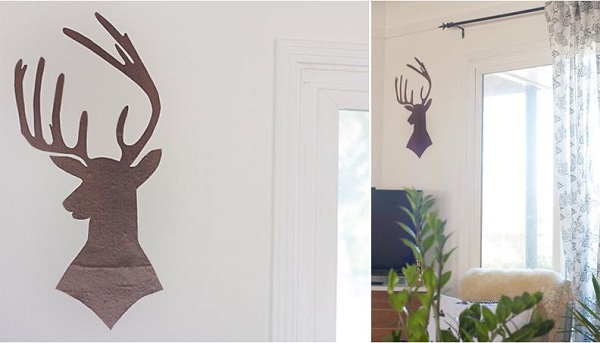 While doing a little shopping at the dollar store, I came across Magic Cover Self-Adhesive shelf coverings. I thought it would be fun to make a design out of it and see if it would work well on the wall. Sure enough, it works like MAGIC! It's super easy to create your design using the grids on the back. Plus, it goes on the wall so easily!  If you make a mistake placing it off center or you decide you don't like it where you placed it, it comes off effortlessly.
What you will need
Magic Cover
Pen or pencil
Scissors
I decided to create a deer bust since it goes with the look of our house. I wanted something that could take up the space of one of our empty walls, but not distract too much from other things we have going on. I loved the wood grain of the magic cover and thought it played off our furniture pieces nicely. Plus, it really pops off our white walls. I freehand drew the deer and carefully cut it out with my scissors. I then peeled off the backing and very slowly starting applying it to the wall from the bottom up. I made sure to rub the design on my wall a few times to ensure the sides wouldn't peel up in any way. You can also add another element to make the design more 3D – hence, the flowers (optional). SO easy! You can do any kind of design, just let your imagination run wild!
I am already thinking of ways to add other design elements to our home using this magic cover self-adhesive! My kids would love to do this project with me I'm sure, they would have all sorts of fun! What do you think?