Make your backyard the ultimate hangout spot with these DIY Fire Pit Swing Ideas that are both functional and fabulous!
Adorn your outdoor area with these DIY Fire Pit Swing Ideas and explore the beauty of nature while enjoying the warmth of a cozy fire.
Check out the best porch swing bed ideas here
---
Fire Pit Swing Ideas
1. Porch-Swing Fire Pit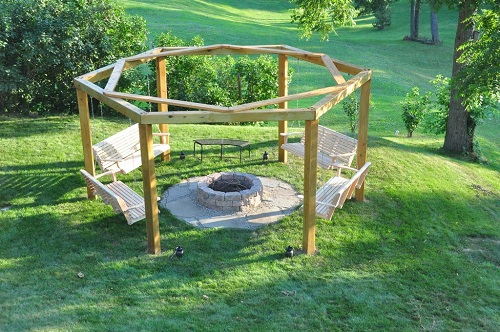 Want to create a unique seating arrangement around your fire pit? Consider making this wooden structure for hanging cypress swings. Get the instructions from here.
2. Three Swings Fire Pit Plan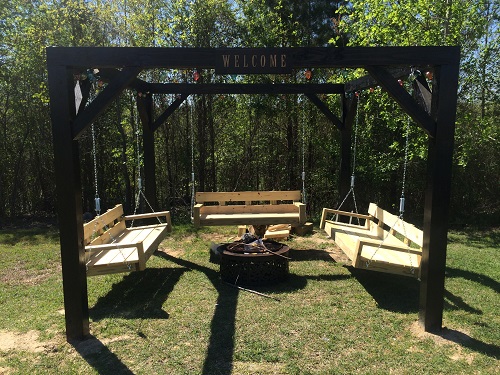 Create a cozy and inviting gathering spot with this three-fire pit swings plan – perfect for cool nights and starry skies.
3. DIY Fire Pit Pergola for Swings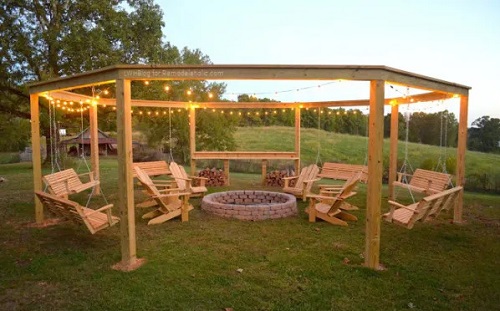 Build a beautiful fire pit pergola for swings. This round open gazebo-style structure can be used to hang swings or hammocks around the fireplace and features an optional outdoor movie screen add-on!
4. DIY Swing for Pergola Smokeless Fire Pit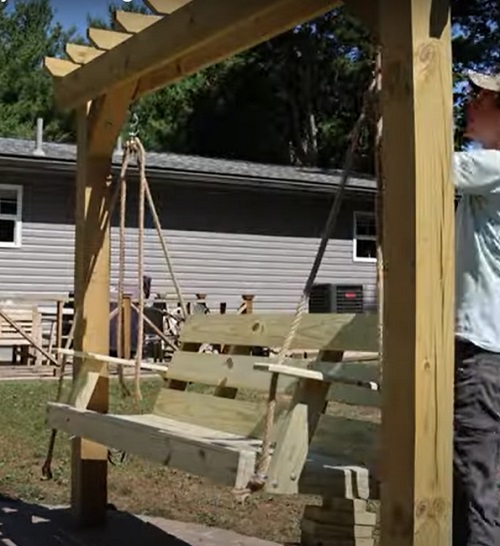 If you want to make a single wooden swing for your fire pit pergola, check out this tutorial. It's one of the best fire pit swing ideas.
5. Hexagon Swing Set With Wagon Wheel Swings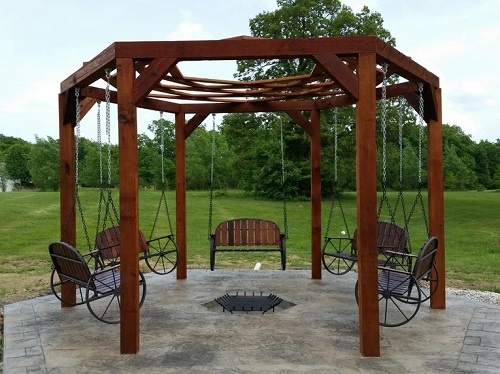 Make your backyard a picturesque haven with this hexagon wagon wheel swing set. This structure not only adds a fun element to the backyard but also fills the space with rustic beauty. Follow the tutorial to recreate this attention-grabbing setup.
6. DIY Fire Pit and Hanging Chairs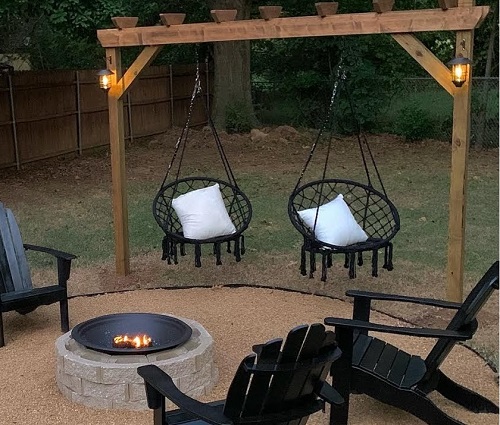 Don't want the regular wooden swings? Use a pair of black hanging chairs like this skilled YouTuber. Click here for more info.
Read the best square fire pit ideas here
7. Epic Hammock Chairs Swing Set & Fire Pit Build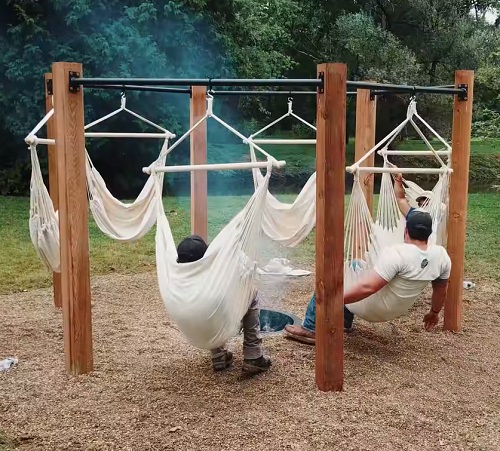 In this visual tutorial, the presenter builds an epic swing set and fire pit for some outdoor enjoyment in the fall. This idea features hammock chairs as swings, giving this setup an added visual appeal.
8. Wood and Rope Swing Seats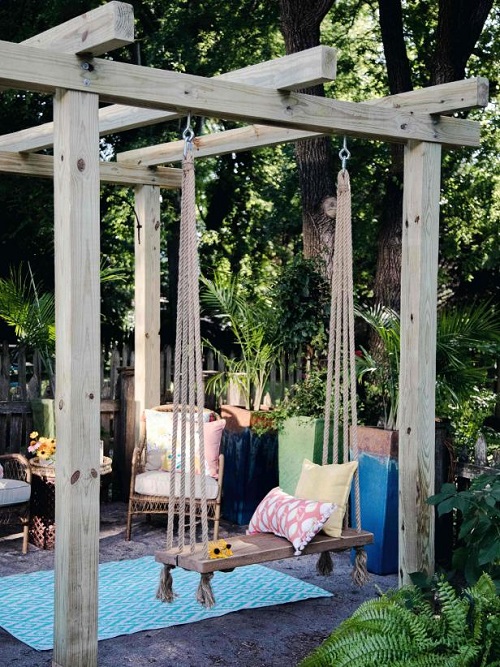 Add a heavy dose of charm to your pergola with this DIY wood-and-rope swinging seat. This fire pit swing idea combines two classic materials to create an elegant and comfortable backyard retreat. Read the details here.
9. Hexagonal Structure with Repurposed Lawn Chairs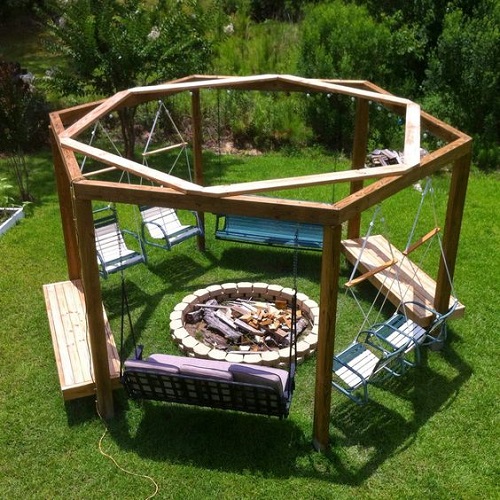 Made from wood, tools, and woodworking skills, this hexagonal fire pit swing set repurposes old lawn chairs as swings. This project is an excellent way to give new life to forgotten furniture.
10. Fire Pit Swings Gazebo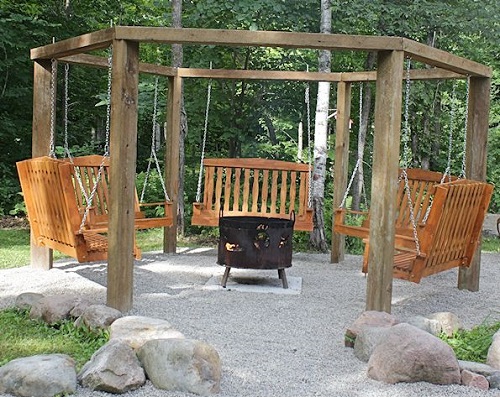 Impress your guests with a stunning fire pit swing gazebo – the ultimate centerpiece for any outdoor gathering. Hardwood swings are used in this project. You can either DIY or purchase them from the local home improvement store.
11. DIY Pallet Swing Seat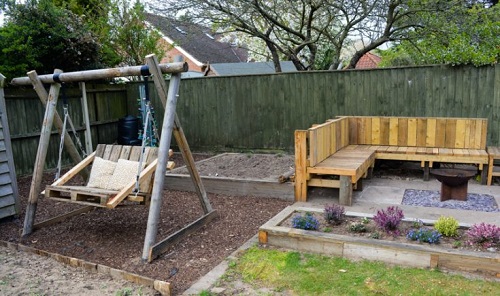 Add a touch of rustic elegance to your garden with this DIY pallet swing set. It's the perfect opportunity to showcase your craftsmanship and create an inviting nook to unwind in. Learn how to recreate this outdoor furniture using an old pallet in this step-by-step tutorial.
Check out the wonderful DIY sunken fire pit ideas here