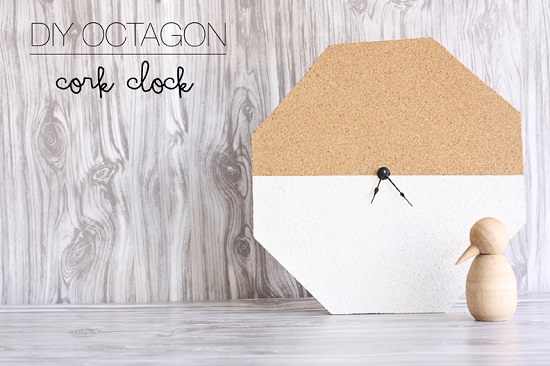 Happy Valentine's Day friends! I am so thankful to have my mom here this year. She has been so generous and SO helpful since she's arrived. I forget how much easier parenting can be when you have family close by to help when things get overwhelming and you're feeling exhausted! She even offered to babysit so we could have a date, I can't even tell you the last time we went on a real date! It's going to be a wonderful Friday! I decided to share a great DIY to help end this week on a happy note on the blog as well!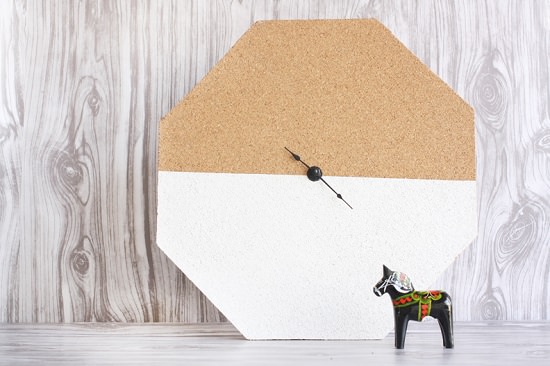 What you will
Cork board
Thick card stock
X-acto

knife

Pencil
Ruler
Glue
Spray Paint
Painters tape
Drill
Clock works
Optional: Depending on your clock works, you might need a thicker width. In that case, you will need plywood, table saw and wood glue.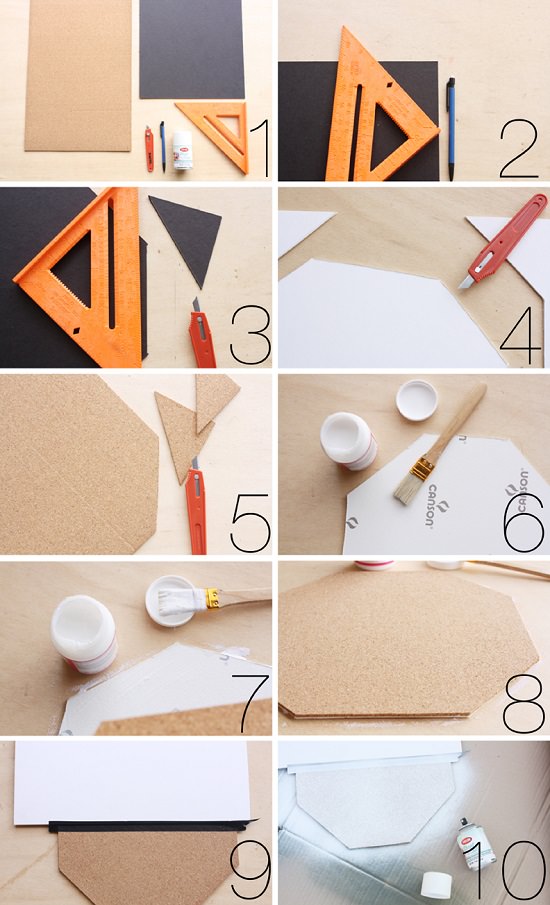 What to do
Gather your supplies
Measure and trace an octagon on your thick card stock using a pencil
Take your x-acto knife and carefully cut your shape (I changed my card stock from black to white, but you can use any color)
Trace your card stock octagon onto your cork board
Cut your shape out of the cork board
Put a nice layer of glue on the back of your card stock
Line up your cork board and card stock and carefully place them together
Push down firmly so all sides are securely attached
Take your tape and tape off the area you want to paint 10. Spray paint your cork! It may take several layers, since cork is very porous.
Not shown: Trace your shape onto your plywood. Cut the shape out of the wood using the table saw. Sand the edges smooth. Glue the plywood to your cork board. Let it dry completely. I spray painted my gold clock works black to create a more modern look, but you can leave yours as is. Drill a hole in the center of the clock. Follow instructions of your clock works and enjoy!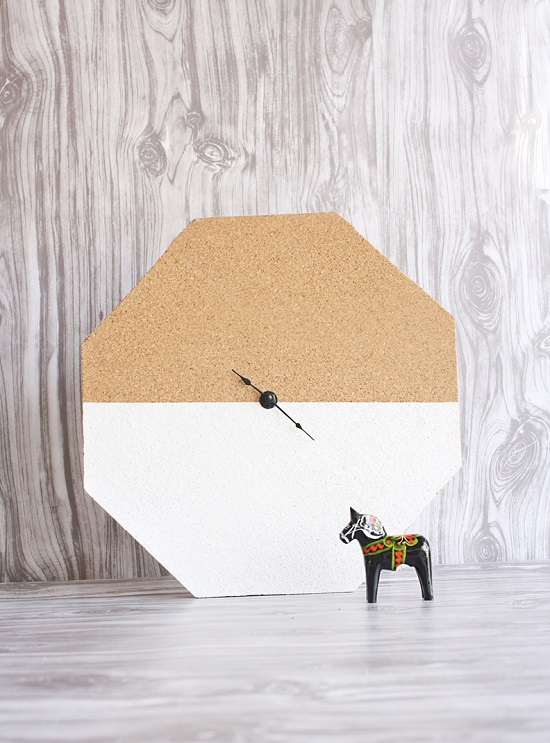 I love the minimal and geometric design! It's certainly more interesting to tell time on! The texture from the cork looks great paired with that pop of color, even if it is just white. A bright color would look fantastic as well, but I am really loving the simplicity of the white! If you choose to use wood for your backing, you can have the option of hanging your clock or just having it sit on a shelf or table! Options are always fun.
What do you think? Do yo have any fun V-day plans?