Deck up your home with these budget-friendly dollar store Christmas decor ideas and enjoy the holiday spirit!
If you are worried about the forthcoming Christmas burning a hole in your pocket, we are at your rescue with some attractive and frugal Dollar Store Christmas Decor Ideas that'll help you enjoy the fiesta with style.
Dollar Store Christmas Decor Ideas
1. DIY Christmas Star & Snowflakes
Check out this tutorial to make DIY stars and snowflakes signs using dollar store supplies for some unique and chic additions to your Christmas decor.
2. DIY Santa Gnome Wreath
Making a fantastic Christmas wreath by combining the persona of Santa and Gnome is quite an ingenious and creative decor idea.
3. DIY Christmas Wreath with Lantern

Get ready for the festivities by decking up your front door with this wreath featuring a glowing lantern.
4. Mini Stockings Table Setting

Smear your otherwise boring kitchen desk in Christmas vibes by adding red-white stockings as cutlery holders.
5. DIY Snowflake Wreath
Recreate this stunning and economical snowflake wreath using little white Christmas trees and fairy lights.
6. Dollar Store Angel

Grab Styrofoam cone, Styrofoam ball, toothpick, paint, pipe cleaner, floral wire, and lace scraps to design this pretty angel. Use it as a Christmas tree topper or a table centerpiece.
7. Mason Jar Snow Globe Soap Dispenser

Use the mason jar as a display-worthy snow globe and a functional soap dispenser this Christmas.
8. DIY Dollar Tree Snow Village

Spruce up your table, mantel, or bar with this dollar tree snow village, a perfect last-minute Christmas decor.
9. Gem Icicle Ornaments

Transform the look and feel of your Christmas tree by lighting it with these gem icicle ornaments to add sparkle, glitter, and an icy bling.
10. Chalkboard Countdown Plate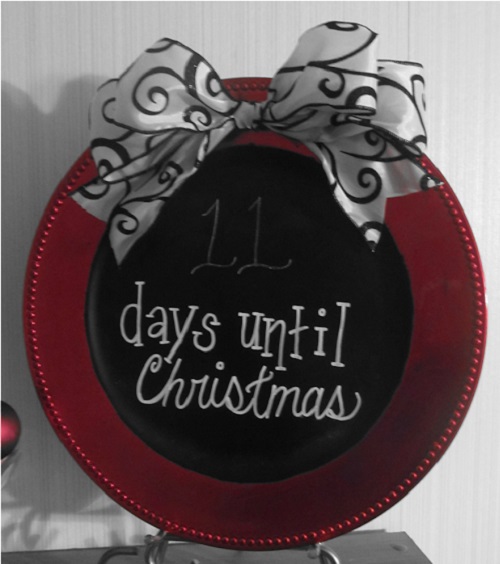 With a dollar store charger plate, ribbon, painter's tape, and chalkboard paint, DIY this lovely Christmas countdown plate to magnify the festive excitement with each passing day.
11. Wooden Snowman Spoons

Wooden spoons with cute little snowman faces make a wonderful Christmas decoration in a dollar. You can place them in jars, small jugs, or tie them onto gifts.
12. DIY Potpourri Christmas Tree

Ditch the traditional pine tree and craft these fun and cute potpourri Christmas trees. Check out the details here.
13. Christmas Menu Holder

Here's the tutorial to make an elegant Christmas recipe holder that also doubles up as a decorative piece for the dining table.
14. Wine Glass Holiday Diorama

This Christmas, prep your tabletop with style using these lovely and artistic holiday dioramas made up of wine glasses, fake snow, small figurines, candles, and other supplies.
15. Dollar Store Ornament Wreath
Shake up your home decor by fastening this simple yet attractive ornament wreath on the front door or the mantel.
16. North Pole Street Light

Cast a merry glow in your living space with this solar-powered North pole street light. It can also be used as a cordless night light.
17. DIY Dollar Tree Feather Christmas Trees
Turn the cheap dollar store items into these gorgeous little decorative Christmas trees. You can add fairy lights to enhance the look.
18. Dollar Store Christmas Tree of Presents

As gift-giving is an ancient Christmas tradition, why not make a Christmas tree out of presents. Read more here.
19. DIY Sock Wreath

All you need is a wreath base, striped tube socks, and a ribbon to craft this fun and eye-catchy DIY sock wreath.
20. Picture Frame Luminaries

A meaningful Christmas decor and a wonderful gift, these picture frame luminaries are enough to prettify your living room area.
21. Dollar Store Candles Snowmen

This Christmas, adorn your home with this candle-turned snowman that will surely become everyone's favorite.
22. DIY Farmhouse Christmas Ornaments

Be super creative this holiday season by giving your Christmas tree a farmhouse touch using a few pretty ornaments.
23. Fish Bowl Snowman
It doesn't feel like Christmas until you add a snowman to your festive decor. This snowman is made up of fishbowls and looks like a big snow globe.
24. Candy Cane Wreath

Show everyone that you've got pro-DIYing skills by crafting a wreath out of dollar store candy canes.
25. DIY Winter Wonderland Snow Globe Forest

This mini wonderland snow globe forest looks stunning not only at Christmas but any time of the year. Make yours like this.
26. DIY Crescent Moon Santa Wreath
As Christmas is incomplete without Santa, craft a sweet crescent moon Santa wreath with this DIY.
27. Snowflake Door Hanger

A snowflake door hanger covered in sparkling glitter is a unique addition to a cheerful Christmas decor. Read more here.
28. Tea Light Snowman Ornaments

With a few dollar store supplies and creativity, you can make these DIY tea light snowman ornaments. It's the best last-minute Christmas decor project.
29. DIY Pinecone Tree
Add a cheerful touch to your living area with this small pinecone tree, making a pleasant centerpiece for the mantel or tablescape this Christmas.
30. Dollar Store Pine Cone Decoration

If you want a Christmas decor that requires less hustle, this impressive pine cone fits the bill. This project costs $5 and can be done in 5 minutes.
31. DIY Christmas Gnome
Make your holiday more memorable by adding this cute Gnome to your collection. It's one of the best dollar store Christmas decor ideas.
32. Christmas Candle Holder

Save pretty bucks by making this DIY candle holder instead of buying a fancy one. All you need are glass beads, a glass candle holder, and a candle.
33. DIY Plastic Spoon or Fork Christmas Trees

Want to jazz up your home's outlook? Take a look at these Christmas tree projects that need unusual craft supplies.
34. Dollar Store Christmas Swags

Duplicate these Christmas swags loaded with gold and red ornaments to revamp your porch railing or front door's appearance.
35. DIY Dollar Tree JOY Plates

Customize a couple of white plates to spell out 'JOY' and some holiday cheer. Display them on an empty wall or the mantelpiece.
36. Christmas Apothecary Jars

Make these cool and cheery Christmas-themed apothecary jars to showcase your candies. Everyone will adore this idea, especially your kids.
37. Easy Dollar Store Jingle Bell Garland

Add a little jing-a-ling to your place with this classic and elegant jingle bell garland that looks amazing on the fireplace mantel, wall, railing, or fence.
38. DIY Christmas Countdown Calendar

Make your festivities more traditional by adding this fabulous countdown calendar to your Christmas decor.
39. Spray Painted Nutcrackers

Give a fancy makeover to the monotonous traditional nutcrackers using paint for a modern and chic touch.
40. Holiday JOY Sign

Feel the Christmas vibes by embellishing this nifty and economical 'Joy' sign in your home. The details of this dollar store craft are here.
41. DIY Christmas Button Tree Tray

Glue some colorful buttons on the serving tray in the shape of a tree, and use the star buttons on the top to make this Christmas decor in no time.
42. Window Christmas Decor

Add bling to the windows with glass ball ornaments, white curling ribbons, a large bow, and a faux garland for an added festive charm.
43. Gift Bow Cabinets

Beautify your kitchen this Christmas by sticking large dollar store gift bows on the cabinets. It's one of the simplest dollar store Christmas decor ideas.
44. Little Mop Gnomes

Tiny Gnomes made up of mops are perfect for pumping up the joyful factor in your living space. Take inspiration from here.
45. Gnome Paint Brush Tree Ornaments
Uplift the charm of your Christmas tree by making these charming little gnomes from paintbrushes to complete the look.
46. Mason Jar Christmas Snow Globe

A mason jar camouflaged and decorated with a hanging tiny ornament looks super adorable. Read this tutorial to learn more.
47. Dollar Store Framed Reindeer Silhouettes

Fill your home with merry vibes by DIYing this thrifty and awesome-looking framed reindeer silhouette out of dollar store stuff.
48. Designer Christmas Tree From Dollar Store

Looking for a magazine-worthy Christmas tree this year? Look no further as this blogger shows how to make one with dollar store supplies.
49. DIY Buffalo Check Christmas Ornaments

Spice up the regular dollar store plastic ornaments into buffalo check Christmas embellishments, ideal for rustic home decor.
50. Floating Ornament Centerpiece
Watch the tutorial of ChiaraDIYWhat to make this gorgeous floating ornament centerpiece this Christmas.
51. DIY Winter Vases

These winter vases created from dollar store finds are appealing, and their white snowy effect is mesmerizing.
52. DIY Dollar Store Berry Wreath

Add a pop of festive color to your front door by making this pretty berry wreath out of dollar store supplies. This Christmas project will cost you only $8.