Get along with this short but informative article to bring back the former glory of your old faded ornaments with these frugal and easiest jewelry cleaner recipes!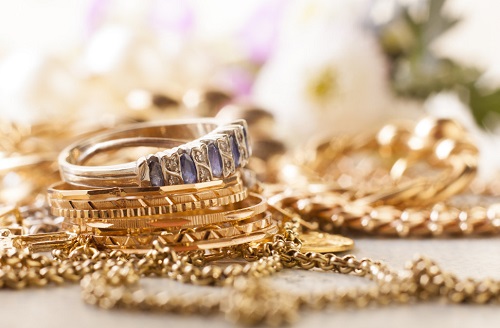 There is nothing much annoying than wearing your favorite piece of jewelry only to find out it's tarnished. Over time, your beautiful shiny ornaments become discolored due to frequent wear and exposure to dirt, lotions, soaps, air, and moisture. To restore their lost sparkle, we have collected some economical and easiest jewelry cleaner recipes below.
Easiest Jewelry Cleaner Recipes
No need to waste your money on store-bought fancy ornament cleaners as they contain harmful chemicals that can ruin your jewels after repeated use. Instead, try the below recipes that soften grime build-up and remove it from the jewelry, making them lustrous and eye-catchy.
1. DIY Dish Soap and Baking Soda Jewelry Cleaner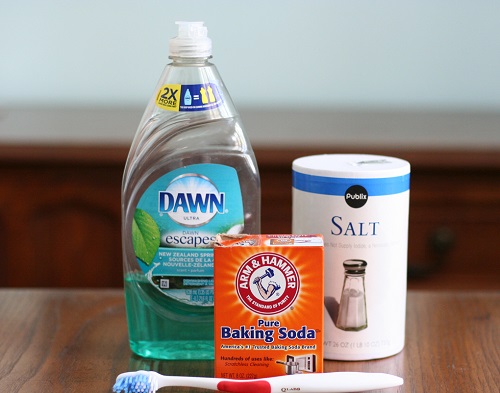 This recipe is ideal and safe for cleaning sterling silver, gold-filled, and brass ornaments.
Supplies
1 Tbsp Salt
1 Tbsp Baking Soda
A Cup Water
1 Tbsp Dawn Dish Soap
Aluminum Foil
A Cooking Pot
Mixing Bowl
Directions
Pour water into a cooking pot and heat it on a medium flame for only 1-2 minutes.
While the water is bubbling, take a bowl and cover its base with a piece of aluminum foil.
Now, empty the warm (not hot) water, baking soda, dawn, and salt into the foiled bowl.
After that, put the dirty jewelry into this solution and wait for 5-10 minutes.
Once it's done, gently scrub the ornaments with a toothbrush momentarily and rinse them with plenty of water and dry them with a soft lint-free cloth.
2. Homemade Two Ingredients Jewelry Cleaner

As the name suggests, this jewelry cleaning recipe calls for only two ingredients. Generally, this recipe is used to clean diamond rings, but you can use it for other ornaments as well.
Supplies
5-10 Drops of Mild Liquid Dish Soap
A Cup of Warm Water
A Bowl
Soft Lint-Free Cloth
New Toothbrush
Directions
Stir 5-10 drops of mild liquid dish soap and a cup of warm water into a bowl.
Next, lay the dingy diamond rings in this liquid and let them sit for 3-5 minutes.
After that, gently brush the jewelry and wash them with water, followed by a quick dry.
If you're cleaning small pieces of jewelry like rings, put them in a strainer before rinsing them with plain water.
3. DIY Essential Oil Jewelry Cleaner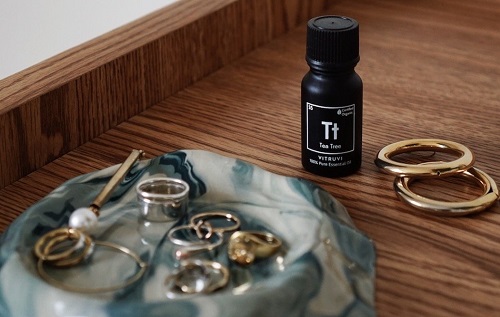 Infused with the goodness of essential oils, this recipe is designed for cleaning high-quality ornaments with sturdy stone settings.
Supplies
1/2 Cup of Witch Hazel
3-5 Drops of Tea Tree Essential Oil
2 Tbsp of Baking Soda
An Old Toothbrush
A Large-sized Bowl
Directions
Empty witch hazel and tea tree essential oil into a bowl and swirl to mix.
Now, put your ornaments in this mixture for 2-3 hours.
Next, take all the jewels out from the solution, sprinkle baking soda all over them, and give them a quick gentle scrub.
Once scrubbing is done, clean your jewelry with water and pat dry with a soft cloth.
4. Pearl Turquoise and Opals Cleaner

People who wear pearl, turquoise, and opals strings can use the below hack to bring back their former luster.
Supplies
Dawn Dish Soap
Warm Water
Empty Spray Bottle
Microfiber Cloth
Directions
Fill an empty spray bottle with 5-8 drops of dawn dish soap and 1/2 cup of tepid water.
Shake the mixture well and spray it on a microfiber cloth.
Next, gently wipe the pearl, turquoise, or opals strings with the damp cloth for a few seconds to remove dirt and other foreign particles.
In the end, pat dry with a clean microfiber cloth.
5. Toothpaste Jewelry Cleaning Recipe

Toothpaste is one of the most frugal and effective ways to restore the beauty and charm of your grimy ornaments.
Supplies
Toothpaste
Toothbrush
Microfiber Cloth
Directions
Grab a soft new toothbrush and white toothpaste.
Next, apply enough amount of toothpaste to the toothbrush.
Brush the dingy jewelry gently for a minute or two.
Once it's done, wash the ornaments with lots of water and wipe them with a microfiber cloth.
6. Homemade Jewelry Cleaner with Vinegar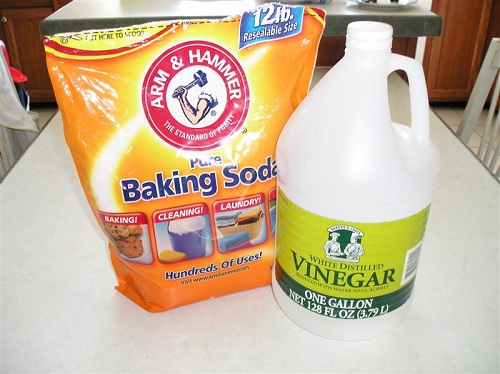 Vinegar is an excellent jewels cleaner, thanks to its acetic acid content. Go one step ahead and combine it with baking soda to create a fizzing action that cleans all kinds of stuff, including soiled ornaments.
Supplies
1/2 Cup of White Vinegar
2 Tbsps of Baking Soda
Small Bowl
Directions
Add white vinegar and baking soda to a bowl.
Next, place your dirty jewelry in the prepared solution.
Wait for 20-25 minutes allowing the fizzing action to do its work.
In the end, scrub the jewelry with a brush and rinse it underwater.
7. Lemon Juice Ornaments Cleaner Recipe

Don't have the above supplies handy? You only need lemon juice and water to clean your tarnished silver and sterling silver jewelry. Since lemon is high in citric acidic, it's a perfect ornaments cleaner.
Supplies
1 Tbsp of Fresh Lemon Juice
1 1/2 Cups of Water
A Glass Bowl
Cotton Flannel or Microfiber Cloth
Baby Toothbrush
Directions
Mix lemon juice and lukewarm water into a glass bowl.
Next, place the jewelry in the solution for 3-5 minutes.
Once the waiting period is over, lightly scrub the ornaments with the baby toothbrush.
Next, clean them thoroughly with tepid water and dry them with a microfiber cloth.
Notes
For rusted costume jewelry, you can use these amazing cleaning hacks.
Check out these homemade recipes to revive the look of your tarnished copper ornaments quickly and easily.
If you have antique ornaments, avoid in-home cleaning hacks and ask a specialist instead.
Guide your kids to stay far away from the treated items and prepared cleaning solutions.
Never soak pearls, turquoise, and opals in any of the above cleaning liquids to avoid significant damage to their appearance and strings.
Don't use lemon juice for cleaning opaque gemstone ornaments.
How Often Should You Clean Jewelry?
The answer to this question varies and totally depends on how much you wear them and how quickly they become dirty. If you wear ornaments daily, clean them twice a week. Jewelry that becomes soiled more often should be cleaned as needed or bi-weekly. Furthermore, remember to give a quick wash to your jewelry box once a month.
How to Take Care of Ornaments?
Follow the below tips to keep your lovely ornaments in tip-top condition so they look as good as new.
Either it's copper, silver, imitation, gold, or other ornaments, store them separately in airtight containers, ziplock bags, or drawstring purses after wrapping them with anti-tarnish clothes.
Don't expose your jewelry to water, body lotions, moisturizers, skin's natural oil, perfumes, and sweat, as they can damage them.
Leaving ornaments in direct sunlight for a longer period of time makes them dull and faded.
Always wipe your jewelry with an anti-tarnish cloth before storage.
Polish your platinum and silver ornaments once or twice a month to protect them from tarnishing.
While swimming, take off your jewelry as chlorine and salt present in the water can damage them.
Get your precious ornaments checked by a reputable jeweler twice a year.
Final Thoughts
With these easiest jewelry cleaner recipes, you'll never have to waste your money and time on expensive chemical-laden jewelry cleansers. If you find this article helpful, kindly share it with your family and loved ones.