Here are some basic and easy ways for cleaning the windows of your home and bring back their original shine like new!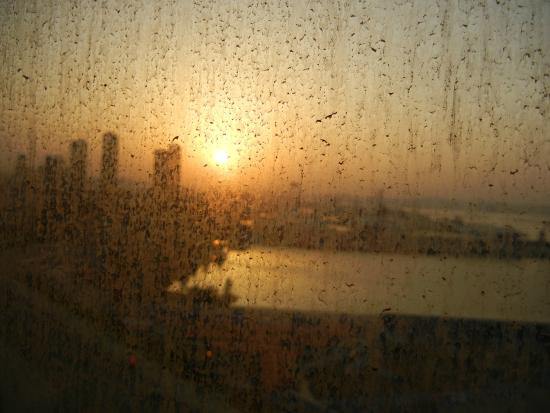 Cleaning your house must be one of the essential tasks that you struggle with. We clean everything very quickly, but windows can be a pain when not cleaned for long. In such a case, vinegar can be your aid since it's nature's gift and carries non-toxic & anti-bacterial properties. Chemical cleaning options may be quite expensive, but you can always choose vinegar as it is quite economical. The dust/bacterial film that usually forms over the glass surface can be easily cleaned with vinegar. It breaks down the film due to the acidic composition. Vinegar gives a sparkling clean surface. When combined with other ingredients, it can do wonders to the windows and restore the original shine. Besides vinegar, you can use different components as well to process a window cleaner at home. Below are some easy ways for cleaning windows.
Easy Ways for Cleaning Windows
1. Vinegar & Dawn
The first step to clean windows is to remove all the dirt and dust using a dry cloth. Take a bucket and add 2 cups of water into it and add ¼ cup of white vinegar and ½ teaspoon of dawn dish soap and mix the solution. Take a soft bristle scrub brush and dip it into the solution. Start scrubbing the window gently. Make sure that you clean it with water before it gets dry and rinse thoroughly. You can use a spray bottle as it may be quite helpful.
If you have long windows and they are at a certain height, use a mop. This will work for you as it makes it easier to clean. Using a ladder may turn out to be dangerous if you don't have someone to assist you. It's better not to clean the windows if they are in direct contact with the sun for a long time, clean them at dawn. Vinegar & dawn are the easiest and best way.
2. Vinegar & rubbing alcohol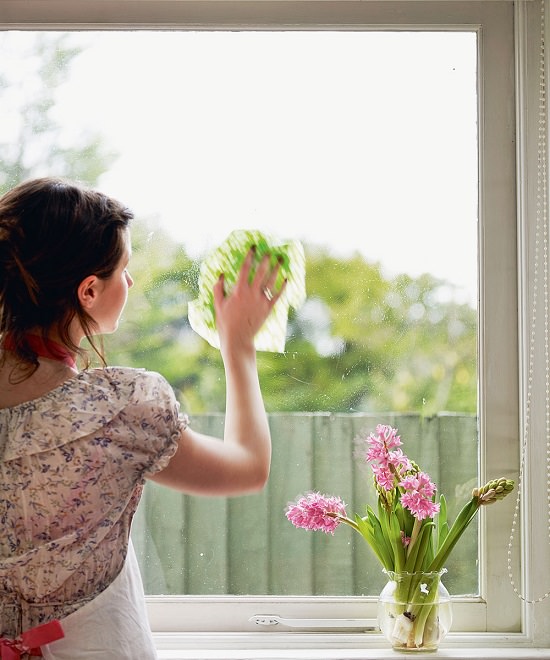 Take 2 cups of water and add ½ cup of white vinegar & ¼ cup of rubbing alcohol. Combine all the ingredients in a spray bottle. Now, take a sponge and clean it by rubbing gently. If you see any stains which are difficult to remove, use a scrub brush. Now, wash the windows with clean water and wipe with either a newspaper or a microfiber cloth.
3. Lemon
Lemon is a multipurpose cleaner and is not only used for eating but also cleaning & other purposes. This is a substitute for window cleaners & has mild abrasive action. Cut half a lemon and start rubbing it all over the window. Once done, start wiping it off with a lint-free cloth. This process is a little intense & may require a lot of hard work.
4. Cornstarch cleaner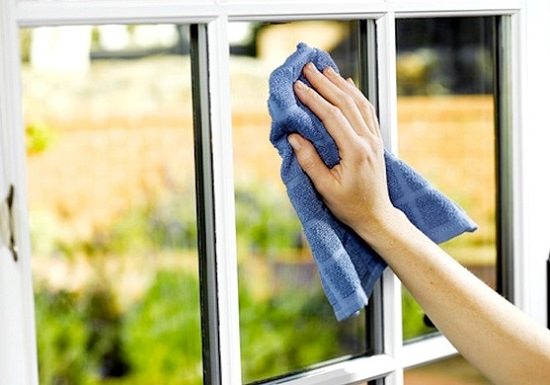 The tiny pits in the glass surface of windows trap water, which causes spots. Cornstarch breaks down the water bonds, which results in a spot-free look. Take 2 cups of water and add ¼ cup of rubbing alcohol & ¼ cup of vinegar. Add one tablespoon of cornstarch and mix the solution in a spray bottle. Alcohol & vinegar acts upon the grease making the window shiny. Spray the mixture on the window and rinse it with clean water. Wipe it with a microfiber cloth.
Commercial Cleaners
Don't have the time to make homemade cleaners? Go for commercial glass cleaners. You can purchase them directly from the market and use them.
Bio-Clean
Unger
Windex
Sparkle commercial glass cleaner
Clean your windows easily using the right tools. They make it easy without leaving streaks. Good luck with your cleaning job.