Show love to your special someone with this witty Eye love your poster. The process is simple and can be carried out without any expertise!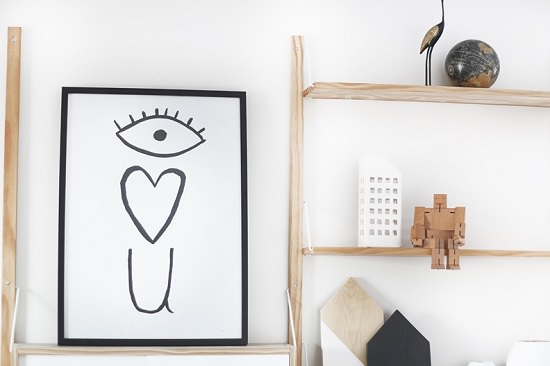 Have you been fascinated by the "eye" trend lately, you can incorporate it into your decor without much difficulty! You'll also love this poster by Fine Little Day. This gorgeous print can also inspire you to build something cool of your own and put your own twist on it. Even though this eye love your poster is great for every day, it might really come in handy for this upcoming Valentine's Day too!
Eye Love You Poster
Take a look at the below helpful tutorial to make this chic eye love your poster to impress your soulmate or just to amp up your home decor inexpensively.
Without any further ado, let's find out the DIY below.
Materials You Will Need
Paper
Pencil
Paint Brush
Paint
Frame
Directions to Follow
Simply sketch out your poster using the pencil as a guide.
Paint over the pencil without any mistake, although it doesn't need to be perfect.
Let this specimen dry for 1-2 hours and then frame it!
Voila! 'Eye love you' poster is ready to complement your home setup. So easy, cheap, and full of character!
It takes no time to bring this art piece to life, and you have a fun little poster to display in your home. You can also go BIG! There's just something about bold, black, graphic pieces that you'll just love! You can get the frame from IKEA – they are cheap but still sturdy. You can also consider painting smaller versions with a few pretty colors, like pale pink, for gifts for fun! Or mix and match different colors to make a funky version of this lovely poster.
What do you think of this eye trend?