Transfigure your existing furniture or thrift finds into stunning custom pieces with these furniture makeover ideas!
Don't have enough budget to swap your old furniture with the new pricey ones? Here're some Furniture Makeover Ideas that not only enhance the look of your space but save a few bucks as well.
Furniture Makeover Ideas
1. Old Sewing Machine Table into a Bar

Transform your antiquated sewing machine table into a fully functional bar. It can hold ice beverages, snacks, and a paper towel holder to wipe the spills. Read more here.
2. Ratty Rattan Bench Makeover

Give a new lease of life to an old bench using floral fabric and a coat of paint. This is one of the most amazing furniture makeover ideas on this list.
3. French Farmhouse Headboard Bench

If you happen to have an old faded French-style headboard and footboard, combine them to make a cute bench that also serves as a storage space. The details are here.
4. Turning a Pump Organ Into a Coffee Bar

This instructable shows how to repurpose an age-old, out-of-tune pump organ into a savvy coffee bar to serve light refreshments.
5. Repurpose a Hutch Into a Tea Space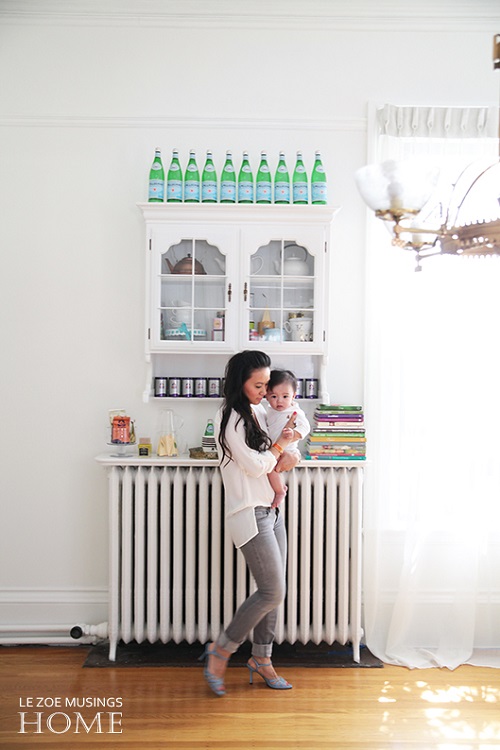 Spruce up the look and functionality of a hutch by converting it into an organized tea space. It's perfect for storing a collection of leaf tea and teapots.
6. Bar Made Out of Old Hutch
Make your parties more interesting by upcycling an old-fashioned hutch into a thrifty bar to keep wine and other beverages. It's a time-consuming project but totally worth it.
7. DIY Play Kitchen Using Vintage RCA Hi-Fi

Colorful fabric, coats of paint, knobs, faucet, sink, and burners are all you need to remodel a vintage RCA Hi-Fi into a stylish play kitchen for your little girl.
8. Turn Old Chairs Into Dog Feeders

Instead of abandoning your old chairs, revamp them into elevated dog feeders to stop your canines from moving the bowls around.
9. Old Armoire to Kitchen Pantry

Go through this DIY to modify your outdated armoire into a pantry storage solution or display white containers and wooden utensils.
10. DIY Dresser Kitchen Island

Convert your six-drawer dresser into a lovely kitchen island that adds style and statement to your cooking space and offers a ton of drawer space as well.
11. A Bathroom Vanity Out of Vintage Dresser
This vintage dresser-turned bathroom vanity not only adds glamour to space but also lets you store towels, soap, toothbrushes, and other stuff as well. Its DIY is available in Part-I and Part-II.
12. Repurposed Hutch Coat Rack Shelf

Overhaul your old hutch top into a pretty coat rack shelf using primer, a saw, gorilla glue, an extension piece, black paint, hooks, and this tutorial.
13. Computer Armoire Unbelievable Makeover

Give an absolute makeover to your dark, dull, and unorganized computer armoire into a fully functional WFH office table. Plus, it has a chalkboard for weekly reminders.
14. Vintage Deco Vanity Transformation

Don't know what to do with your vintage deco vanity? Remove the mirror, apply paint, and with a few touches, your makeshift dresser is ready to store your stuff.
15. DIY Coat Hangers from Broken Chairs

Reuse the backs of your broken chairs to DIY unusual coat hangers that serve the purpose quite well.
16. Vintage Chair Drink Stand

Don't have enough space to hold extra bottles of wine? Modify a vintage chair into a rustic-looking, moveable drink stand.
17. A Chair Planter

If you're running out of planter to grow your favorite plant, repurpose a thrift store chair or an old one into a planter using this detailed tutorial.
18. Chair Makeover with Chalk Paint
Update your outdated chair into something colorful and chic with the help of chalk paint and this video tutorial.
19. Repurpose a Dresser Into a Planter

Add a wow factor in your garden by upcycling an age-old dresser into a cute shabby chic planter. This is an excellent furniture makeover idea for people with a green thumb.
20. Turn Old Furniture Into Pet Bed and Nightstand

Give a new purpose to your worn-out dresser by transforming it into an elegant storage space and a comfy bed for your pets. Read more here.
21. Towel Rack and Bathroom Shelf from Chair
Watch this video to remodel an antique chair into multipurpose furniture that serves the purpose of a towel hanger and bathroom shelf.
22. DIY Kid Swing From An Old Rocking Chair

Make your kiddos happy by making this cool and funky kid swing from an old rocking chair. The tutorial is here.
23. Frame Photos

Using the back of chairs to showcase your favorite family pics is a clever way to reuse worn-out furniture.
24. French Style High Arm Bench From Old Chairs

With some tools and a little bit of patience, you can easily modify tattered chairs into a french style high arm bench.
25. Repurposed Cupboard Door Bookshelf

Redesign your worn-out cupboard doors into a useful and elegant bookshelf to add visual interest to your living room.
26. Easy Antique Table Makeover

This makeover project is super simple and gives your existing or thrift store antique table a refreshing feel and look.
27. Tall Dresser Makeover

If you don't like the awful appearance of your tall dresser, modernize it into an attractive piece of furniture using this DIY.
28. Reupholstered Foot Stool
Reupholstering a footstool cushion is a smart way to freshen up its appearance without affecting the style of its original design.
29. Dresser Turned TV Stand

No need to purchase a tv stand when you can turn a dresser into one, that goes quite well with the rest of the home decor.
30. DIY Dresser to Bench

Learn how to rebuild an old dresser into a comfy seating bench with this DIY. It's perfect for the mudroom or living room.
31. Diamond Tufted Headboard

Not everyone can afford the expensive diamond-tufted headboard, but you can try this tutorial to DIY a cheap one using the existing headboard.
32. DIY Drawer Ottoman

Have an old drawer? Upcycle it into an ottoman to hide infrequently used personal items.
33. Old Cane Bamboo Chair Makeover

Transform your dated cane bamboo chair into a stylish statement piece using this step-by-step tutorial. This project is beginner-friendly and less expensive too.
34. Paint Your Kitchen Table and Chairs

Give a vibrant makeover to your kitchen table and chairs with this project that won't make a hole in your pocket.
35. Decoupage Coffee Table
Add character and drama to your boring coffee table using this decoupage DIY. This furniture makeover is easy and compliments your home decor too.
36. Farmhouse Style Coffee Table

Give an old thrift store coffee table a farmhouse-style look with this tutorial. It's one of the best furniture makeover ideas to take inspiration from.
37. Curbside Dresser into a Bar

Rebuild your old curbside dresser into a small practical bar with this furniture makeover idea.
38. Bold Media Center

With a bright coat of coral paint and stylish, midcentury legs, you can easily revamp a white dresser into a bold media center.