Kill germs and viruses with these easy-to-make homemade disinfecting wipes recipes that are effective and not to mention, they are inexpensive!
What Are Disinfecting Wipes?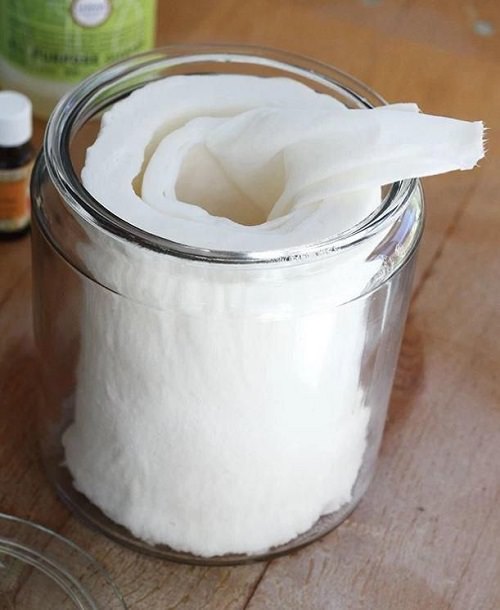 Disinfectant wipes are disposable, single-use wipes, pre-soaked in a disinfecting solution that can eliminate germs and viruses. However, commercial wipes can cost you a fortune in the long run. Follow these homemade disinfecting wipes recipes to DIY make a set of cheap yet effective wipes for yourself. They are safe to use on hard, non-porous surfaces like laminate, sealed granite, vinyl, fiberglass, doorknobs, touchpads, appliances handles, and phones. However, it's wise to test the product on a small area to see the result.
Homemade Disinfecting Wipes Recipes
1. DIY Reusable Washable Disinfecting Wipes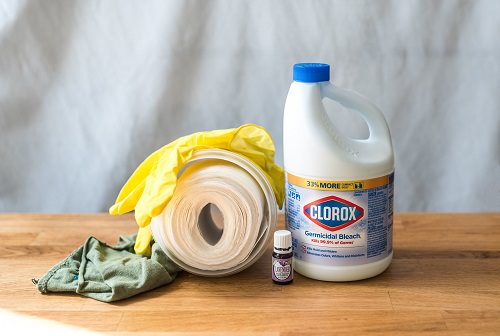 Loaded with the germicidal and virucidal properties of Clorox bleach, these homemade wipes eliminate viruses, including coronavirus, and germs in no time. The best part, they are reusable and washable too.
Supplies
Small Microfiber Kitchen Cloths
5 Tbsps of Clorox Disinfecting Bleach
1 Gallon Water
An Airtight Container with a Lid (large enough to fit cloths)
A Bucket
Directions
Put on a pair of gloves and deal carefully with the bleach.
Pour 1-gallon water into a bucket and add 5 tbsps of Clorox disinfecting bleach.
Toss a bunch of microfiber cloths in this solution and let them soak for 3-5 minutes.
After that, store them in an airtight container or in plastic zip-top bags to carry on-the-go.
Bleach loses its effectiveness after 24 hours, so use these wipes within the time period and make a new batch afterward.
After using the wipes, avoid touching the surface for 5 minutes, as the solution kills any possible virus and germs in this period.
2. DIY Alcohol Homemade Disinfecting Wipes
Infused with the goodness of isopropyl alcohol, these disinfecting wipes ensure a bacteria and virus-free home.
Supplies
1 Cup of Isopropyl Alcohol (70-91% concentration)
1 Tbsp of Dawn Dish Soap
2 Cups of Distilled water
1 Heavy Duty Paper Towel Roll
A Mason Jar with Lid
A Serrated Knife
Directions
First, cut the paper towel roll according to the mason jar's size and put it inside the jar.
Combine distilled water, rubbing alcohol, and dawn dish soap into a bowl.
Next, empty the mix on the top of the paper towel roll and let it absorb the solution.
Once it's done, take out the cardboard tube from the center of the roll, and voila, your homemade disinfecting wipes are ready.
Cover the jar with the lid properly when not in use.
3. DIY Homemade Lysol Disinfecting Wipes
Run out of Lysol disinfecting wipes? Make them at home easily and inexpensively with this excellent recipe.
Supplies
1 Heavy Duty Paper Towel Roll
1 Airtight Plastic Container
4 Cups of Lysol Multi-Surface Cleaner
A Serrated Knife
Directions
Trim the paper towel roll using the serrated knife as per the container's size.
Place the roll into the container and pour 4 cups of Lysol multi-surface cleaner all over the paper towel.
Once the roll soaks Lysol, remove the cardboard tube from the center of the roll, and you are good to go.
After using the disinfecting wipes, don't touch the surface for up to 10 minutes.
Don't forget to close the container after using it.
How to Use Disinfecting Wipes?
To disinfect a vertical surface, start from its top and wipe down. In case if you are handling a horizontal surface, wipe slowly to the opposite end. Use multiple wipes to cover a large area. The treated surface should be wet and shiny. Leave the area unattended for 5 minutes. If you're using commercial disposable wipes, don't throw them in the toilet as it can clog the septic system. However, we'll suggest you to use homemade reusable wipes to cut down the cost as well as the waste and save the environment.
Precautions
While using the above recipes, please adhere to the following precautions to avoid any mishaps.
Before using Clorox bleach, always wear rubber gloves, a face mask, and a full-sleeve shirt, as it can irritate your eyes, skin, and nose. Bleach discolors clothing as well.
Never combine bleach with ammonia, as it creates toxic fumes, which may cause serious health-related problems.
If you've used the wipes on a utensil or toy, wait for 4-5 minutes, then don't let your kids chew or lick them.
Keep the bottle or jar of bleach disinfecting wipes away from children and pets.
Don't use the above homemade wipes on food and any body part.
Final Thoughts
After trying the homemade disinfecting wipes recipes, you'll not be out of disinfecting wipes anymore. However, do follow the above-mentioned precautions as instructed.