With a multitude of health benefits, sea moss is a legit superfood. If you are wondering How Long Does Sea Moss Gel Last, read on!
Sea moss is super beneficial and serves plenty of health, skin, and hair benefits. In case you are wondering, How Long Does Sea Moss Gel Last? Here's an informative guide to help you out!
---
What Is Sea Moss?
Sea moss, alias Irish moss or carrageen moss, is a red seaweed that thrives on the seashores of North America, Europe, and the West Indies. Although thousands of sea moss varieties are available globally, there are two main varieties, namely 'Gracilaria' and 'Chondrus Crispus.'
Sea moss is used topically and orally for its astounding health benefits. However, it is important to learn How Long Does Sea Moss Gel Lasts to reap its maximum benefits.
---
Sea Moss Nutritional Value
Being a legit superfood, sea moss has several vital vitamins, minerals, essential fatty acids, and micronutrients needed to nourish and flourish the human body. It contains anti-oxidant, anti-viral, and anti-inflammatory qualities too.
100 gms of sea moss contains:
Calories 49
Total Carbohydrate 12.3 g
Omega-3 47.0 mg
Omega-6 2.0 mg
Protein 1.5 g
Cholesterol 0.0 mg
Vitamins & Minerals
Vitamin A 118 IU
Riboflavin 0.5 mg
Vitamin C 3.0 mg
Vitamin E 0.9 mg
Folate 182 mcg
Vitamin K 5.0 mcg
Vitamin B6 0.1 mg
Calcium 72.0 mg
Iron 8.9 mg
Magnesium 144 mg
Potassium 63.0 mg
Sodium 67.0 mg
Water 81.3 g
---
How Long Does Sea Moss Gel Last?
Sea moss shelf life can surpass a month if left unopened or preserved the right way, but if you are wondering how long does sea moss gel last—it does only a month if stored in a well-sealed jar in a refrigerator and 2-3 months in the freezer.
However, if it smells foul or looks discolored, it is better discarded. So now that you know how long does sea moss gel last, it is advisable to make a sea moss gel recipe in small batches rather than in large quantities.
---
Sea Moss Recipes
Reap the numerous skin and hair advantages of sea moss by adding this superfood to your daily personal care routine. You can also consume the sea moss by adding its gel to smoothies and drinks or as a thickener in desserts. To cut your hassle, pick your favorite sea moss gel recipe from the ones compiled below!
#1 Sea Moss Skin Gel Recipe
Infused with the goodness of sea moss, this amazing sea moss gel recipe offers soft, shining, and supple skin naturally.
Supplies
One Cup of Dried Sea Moss
Two Cups of Water
A Mixing Bowl
A Lidded Glass Jar
Blender
Directions
Add a cup of dried sea moss into a bowl and wash it properly.
Then, soak the moss in the bowl with enough water for a whole night.
The following morning, discharge the excess water and cut the moss into small pieces.
Next, blend the pieces into the blender with two cups of water until you get a lump-free, white creamy paste.
Once it's done, transfer the mixture into a glass jar, close the lid properly, and place it into the refrigerator for longer shelf life.
How to Apply
Take a sufficient amount of sea moss gel and spread it on your face as a mask. Leave it for 25-30 minutes and wash it with lukewarm water to get soft and supple skin.
#2 Sea Moss With Essential Oils Hair Gel Recipe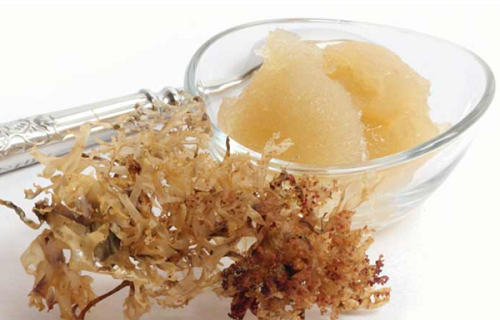 Packed with lavender, rosemary, and cedarwood essential oils with sea moss, this natural homemade gel favors strand growth and prevents dandruff as well.
Supplies
4-6 Drops of Rosemary Oil
1/4 Cup of Water
3-5 Drops of Cedarwood Oil
Two Tbsps of Irish Moss Gel
2-4 Drops of Lavender Oil
A Mixing Bowl
A Spoon
Mason Jar With Lid
A Saucepan
Directions
First, prepare the sea moss gel using the above recipe.
Next, pour two tbsps of the sea moss gel along with 1/4 cup of water into a saucepan and heat it on the stove for a couple of minutes.
Once you're done, combine the liquified sea moss with rosemary, cedarwood, and lavender essential oils in a bowl using a spoon.
Now, empty the mix into a mason jar and secure it with a lid.
Lastly, put the jar into the refrigerator for 7-8 hours to solidify the mixture, and you're done.
How to Apply
Apply the sea moss on your strands like a hair mask and let it sit for 20-25 minutes. After that, wash your hair with lots of water, followed by regular shampooing.
---
Health Benefits of Sea Moss
Helps in Weight Loss: Irish moss is said to be an effective way to combat obesity. It's a low-calorie food that is a good addition to an ideal weight loss regime.
Promotes Skin Health: Sea moss softens the skin, reduces wrinkles, and provides relief in the condition of eczema and psoriasis, thanks to its essential vitamins.
Improves Hair Growth: As sea moss contains a high amount of vitamin E, it promotes hair growth only if used topically on a regular basis.