Learn How to Clean Ninja Coffee Maker and begin your day with a tastier, richer, and fresh cup of morning brew!
Is your coffee tasting a little bitter lately? It can be due to the built-up coffee oil residue of the pot. Get back the rich and exotic taste of your brew by learning How to Clean Ninja Coffee Maker in a few simple steps.
---
When to Clean Ninja Coffee Maker?
Before learning How to Clean a Ninja Coffee Maker, it is important to understand when to clean it. To find out when your coffee maker needs a thorough cleaning, check the clean button at the bottom right of the unit.
When it illuminates, it means your machine requires cleaning. You can brew yourself a cup of coffee, but it will taste a little bitter due to the caffeine deposits in the pot. Infact, we'd suggest you follow a cleaning schedule daily or every alternate day to have your coffee fresh and nutty every time you sip it.
So you need not wait for the button to alert you; learn How to Clean Ninja Coffee Maker today and include this in your daily routine.
---
How to Clean Ninja Coffee Maker With White Vinegar?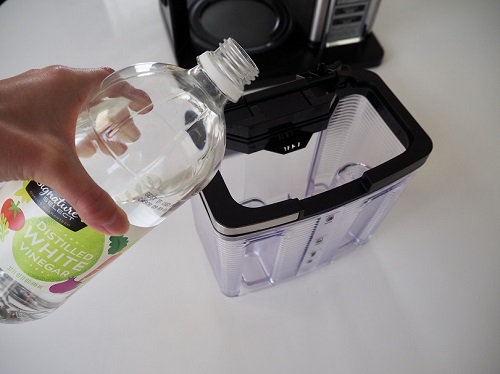 To maintain your ninja coffee maker in pristine condition, you learn How to clean a Ninja Coffee Maker systematically. Hard water deposits get settled in the machine, thereby hampering its efficiency. The ninja coffee maker has an inbuilt clean cycle function to keep your next pot of coffee fresh and tasty. This feature is simple to use and requires the combination of white vinegar and water to do the trick. Read on to learn how much vinegar to clean coffee pot and the post-cleaning rituals.
Supplies
Two Cups of White Vinegar
Water
Carafe
Brush
Directions
First, discard any water or coffee grounds from the unit's reservoir and add two cups of white vinegar.
Next, fill the rest of the reservoir with enough amount of water. But don't overfill it.
Then, place the carafe under the brew basket and set the dial on the machine to "Full Carafe."
Now, press the "Clean" button. This ninja cycle will take almost an hour to descale and clean the machine fully.
After an hour, empty the carafe's water into the sink.
Clean the carafe, mesh basket, and water reservoir with a scrub brush and lots of water.
Again put the carafe under the brew basket and fill the reservoir with water fully.
Push the clean button and wait for the process to end.
Finally, dump out the water, and you're done.
Note: Empty the carafe carefully as the liquid is hot, like a fresh pot of coffee. Don't press any button while the cleaning cycle is underway.
---
Why Is White Vinegar Effective?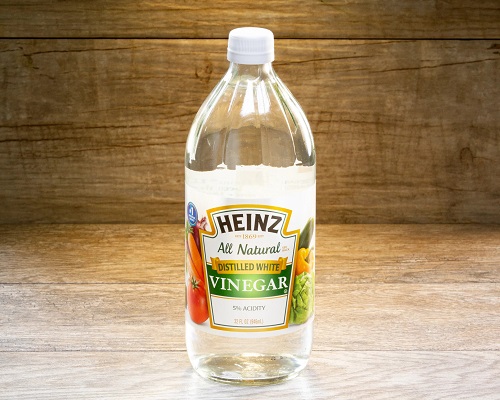 You must be wondering why we did suggest you to clean ninja coffee maker with vinegar or if you can use apple cider vinegar to clean coffee maker. As white vinegar is acidic in nature, it's an ideal candidate to remove the stubborn coffee stains and hard water calcium deposits present in the ninja coffee maker.
White vinegar, better known as spirit vinegar, is obtained by fermenting grain alcohol, in which leavening is used to kickstart the bacterial fermentation method. It consists of 4-7% acetic acid and 93-96% water.
However, using rice, balsamic, or apple cider vinegar to clean coffee maker will not give you the desired results due to the less acidic content as compared to the white vinegar.